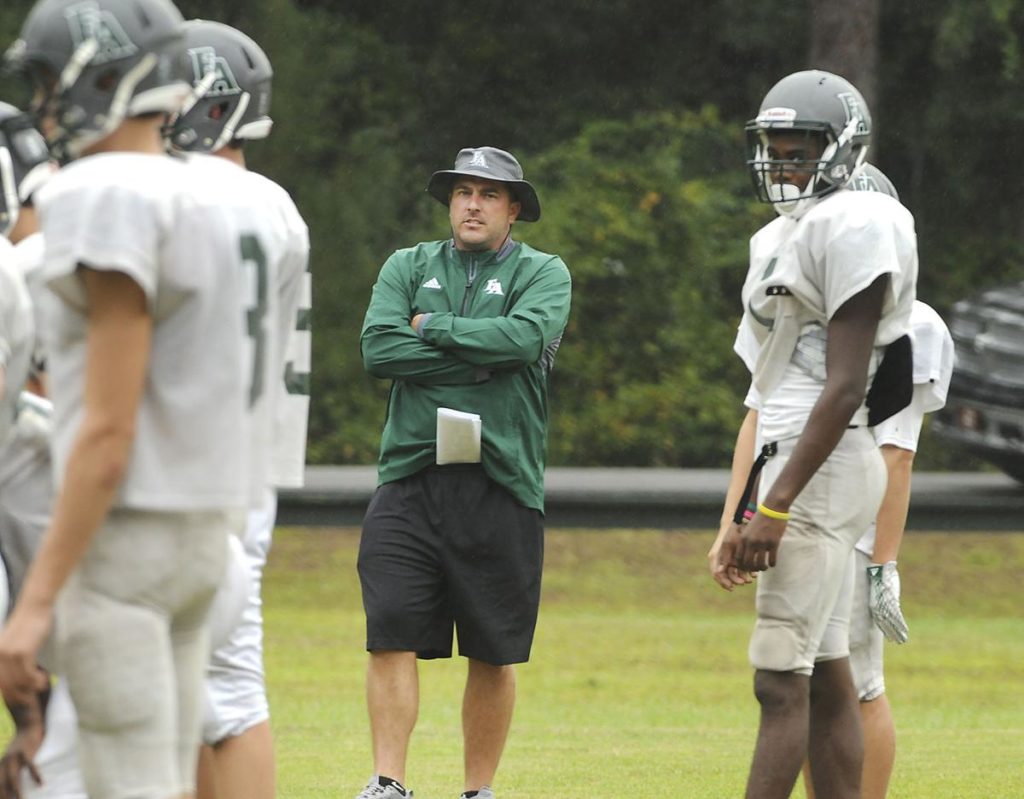 Local high school football teams have been busy preparing for the upcoming 2018 season for most of the summer.
But, Wednesday is really the first day that prep teams across the state can begin official preseason practices in both the Georgia Independent School Association and Georgia High School Association.
"It's go-time now," said Frederica head coach Brandon Derrick.
Well, almost.
What might be considered "real football" practice can begin next week for both GISA and GHSA schools when their governing bodies allow their member programs to put on full pads.
Those full-padded practices can begin next Wednesday, Aug. 1.
The first five days of practice – Wednesday through Friday this week and Monday and Tuesday next week – are considered acclimation practices.
For GISA schools like Frederica, this means they can practice in shoulder pads and helmets only for the first five practice sessions.
In the GHSA, which includes Brunswick and Glynn Academy, teams are allowed a certain amount of padded practices against other teams in voluntary summer workouts.
However, in these first five conditioning practices which coaches can make mandatory for their players, team personnel can only wear helmets and mouthpieces for these non-contact sessions.
Regardless of the equipment that is allowed, local coaches plan to use these initial practices to build on what their teams have been working on  throughout the summer.
On St. Simons Island, the Knights were scheduled to be on the practice field bright and early Wednesday morning.
With 35 players expected to report for preseason camp, the Knights will practice a good three hours during the first several days of official practices.
"This summer, we've mainly been working out and staying in shape," Derrick said.
"But, we've got our base defense in. We've worked on our blitz packages, and we've already put in our run game and pass game."
Derrick said the Knights will place a heavy emphasis on special teams this week as they await full-gear practices to start in the middle of next week.
"We'll get our special teams in, do some 7-on-7 work and a lot of drill work," the coach noted.
Under GHSA rules, Glynn and Brunswick can be on the field for no more than two hours during conditioning practices.
BHS coach Sean Pender, who is starting his second year with the Pirates, said his team will make the most of the allotted time on the field in these first five days of camp.
"We're going to talk about how to practice and how we'll go about it and go through a simulated practice with conditioning," he said of the first day. "We'll work like we would if we were in full pads. Everything will be fast and efficient."
Pender expects close to 100 players to be on the field with the Pirates at the start of camp. Brunswick lost a huge senior class to graduation and has been in rebuilding mode since winter workouts.
The rebuilding process will continue as the Pirates open preseason drills.
"It's acclimation, conditioning and learning, and that's practice to me," Pender said. "It's mandatory football time.
"We'll run through our plays, put in our special teams and do a lot more running and conditioning to get our kids in better shape."
At Glynn, the Terrors are expecting 100 varsity players and another 50 ninth-graders to be on the field for Wednesday's 8 a.m. practice to open preseason camp.
"We lift (weights) and run and practice," said Glynn coach Rocky Hidalgo. "We'll do a lot of installation the next five days, install all our special teams and do a lot of teaching, concentrating on all the little things that help you win football games."
Hidalgo said the Red Terrors have had a productive summer but still have a long way to go in their development for a team that could start several young and inexperienced varsity players in key spots in the season opener.
"We've been working on ourselves, doing a lot of fundamental stuff and working on broad ideas such as our base formations and base packages," he said.
"Now, we'll get more specific. We know how to line up, now we're trying to learn our assignments, and once we get those down, we'll refine how we do things."
This weekend, as their teams take a two-day break from practices, the local coaches will attend the annual Southeast Georgia High School Media Day sponsored by In the Game magazine. The season kickoff event is set for Saturday morning at Epworth By The Sea on St. Simons Island.
Coaches representing teams from around Southeast Georgia will take turns at the podium to discuss their teams and the upcoming season and will be accompanied by several players who also will be introduced to those in attendance.
AllOnGeorgia will have a reporter on site to file quick-hitting reports on area teams of interest throughout the weekend.
Also next week, look for a more in-depth report on the local teams as they get set for practice in full-pads in mid-week.
The local squads are working toward scrimmages on Aug. 10 with their season openers set for Aug. 17.