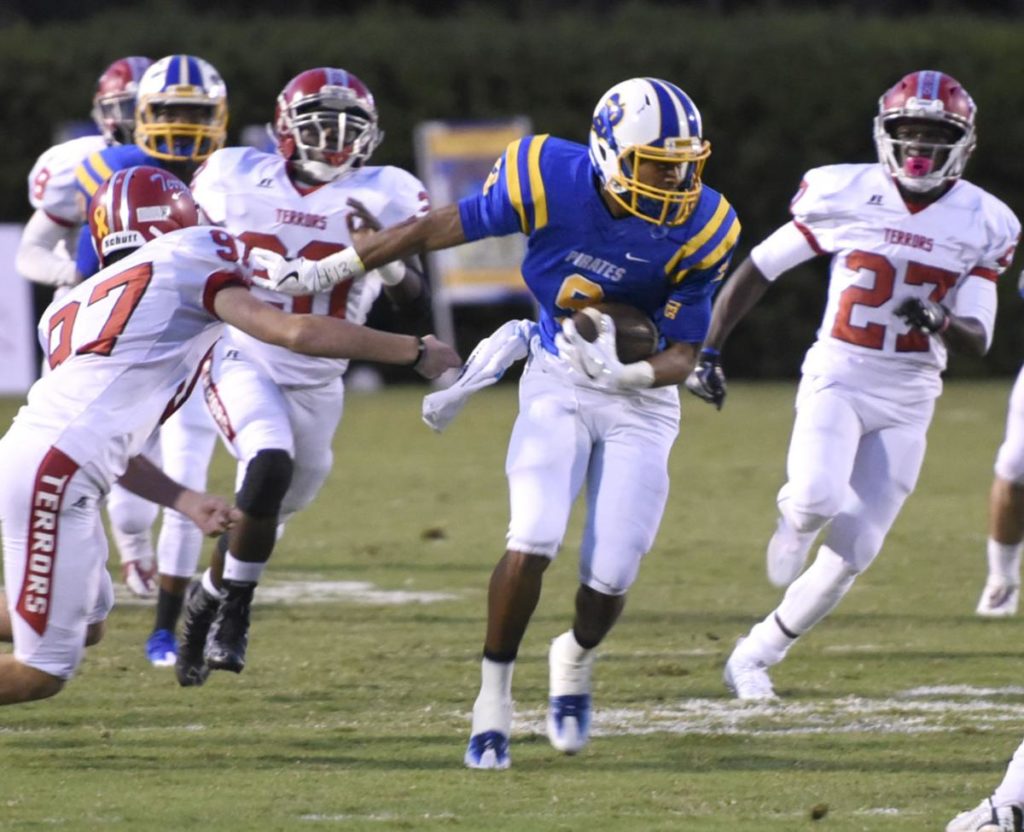 The high school football season is right around the corner and season tickets are now on sale in Glynn County.

The Glynn County Schools Athletic Department began selling season tickets for both the Brunswick Pirates and Glynn Academy Red Terrors this week.
For both teams, season tickets are $60 each and are good for all home games and also the city championship game between the Pirates and Terrors.
The Pirates play five home games at Glynn County Stadium counting the showdown with the Terrors.
Glynn will play five true home games and also the BHS game at the local stadium.
A Family Season Ticket Package, which includes four tickets to either Brunswick or Glynn games, is available for $220, providing a savings of $20.
Those purchasing this special package also can buy additional season tickets for $50 each.
The school system is also offering All-Sports Passes for both schools, and these have become popular among supporters of the two local schools, according to Glynn County Schools athletic director Steve Waters.
These passes can be purchased for $125 and will get fans into all athletic competitions for either Glynn or Brunswick, excluding any playoff games involving either school. These passes are good for any games played between the two crosstown rivals, again with the exception of possibly playoff matchups.
Anyone purchasing four All-Sports Passes can get them for $110, a savings of $15 per each individual pass.
Also, local fans can purchase VIP All-Sports Passes for $180. These passes are good for any middle-school or high-school athletic competition within Glynn County, excluding postseason and tournament games.
Advanced ticket sales are important to the overall fiscal success of the athletic department, Waters noted.
"All of our athletic programs are self-supporting and do not receive any tax dollars," he said. "Our only sources of revenue are ticket sales and fundraising, and 80 percent of our annual revenue comes from football ticket sales and corporate sponsorships."
Waters said community support, be it through advance ticket sales, game-day ticket purchases or corporate sponsorships, is vital to having successful athletic programs in the local schools.
"Across the board, we have winning teams, but to keep doing that, the community has to invest in these programs," Waters said. "We need community support and certainly appreciate all the support we do get.
"The money we get up front through season tickets and the sports passes, that's a big boost to our annual income and gives us what we need to get started every year."
Tickets can be purchased at the athletic offices Monday through Friday during regular working hours.
For more information on season tickets or the special passes, call the athletic department at (912) 267-4100, extension 1301.
Both the Pirates and Terrors open their 2018 seasons on Aug. 17. Glynn hosts Fort Dorchester (S.C.) while Brunswick plays at Coffee.
The Pirates, who start out with three straight road games, play their first home game on Sept. 14 against Camden County.
The City Championship Game between GA and BHS is scheduled for Oct. 19.
For complete schedules for both Glynn and Brunswick, visit www.maxpreps.com