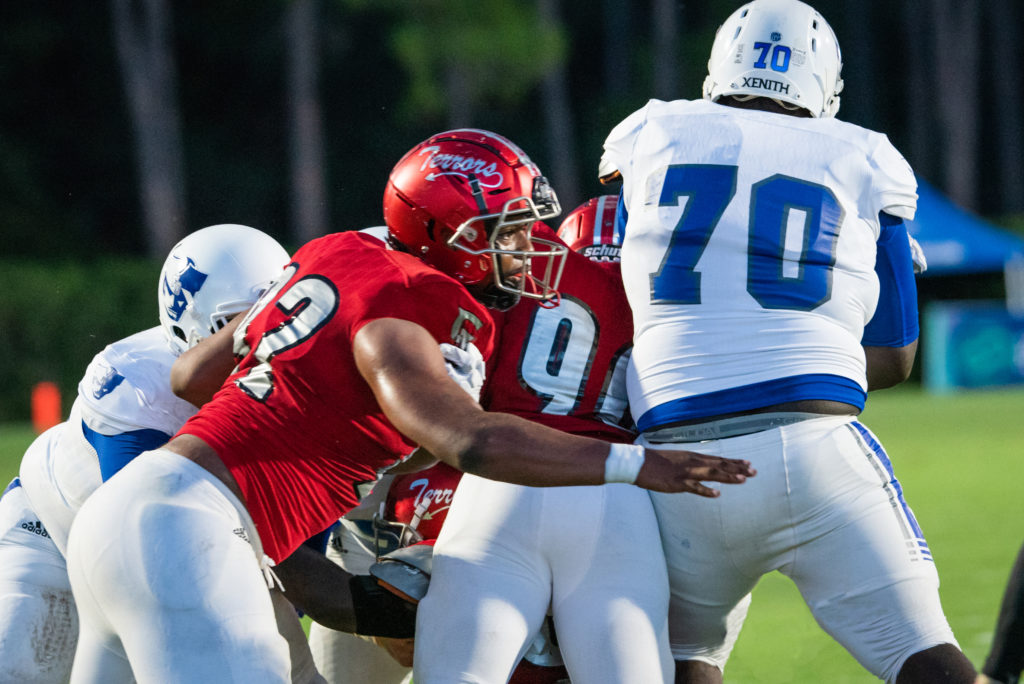 Marlon Taylor is about as soft-spoken and mild-mannered a kid as you will find on the Glynn Academy football team.

From that standpoint, he would be considered a coach's dream, and yes, his head coach does love him.
"He's a good kid. I like his personality," says Glynn Academy coach Rocky Hidalgo who enjoys talking about one of the best players on his Red Terrors roster. "He's a vocal kid, but in a good kind of way.
"He plays really, really hard, does what we ask him to do."
And Taylor does it really well.
Despite his easy-going, happy-go-lucky demeanor off the football field, Taylor turns into a real Terror when the ball is kicked off on Friday nights.
In today's vernacular, the 6-foot-3, 275-pound  left end is a beast on Glynn's defensive line.
He's about as unstoppable as someone can be on the defensive side of the football and that figures to show most every game Glynn plays in the 2018 season.
"He could have as many as 30 sacks this year and numerous tackles for loss", says his head coach.
There's a good chance also that Taylor will be up for all sorts of superlative honors after the season including another all-region selection, possibly an all-state honor and perhaps top player accolades from the various media agencies and others that give out such awards each fall.
In the season opener last Friday, Taylor wreaked havoc against a Fort Dorchester (S.C.) offense that featured a pretty strong offensive front.
The Patriots did a good job blocking Glynn as a whole, but they really didn't have an answer for Taylor who displayed his physical prowess in the trenches throughout the game.
That may become a common occurrence this season in spite of what teams might do to game plan for Glynn's play-maker on the defensive line.
Against the Patriots, Taylor finished the game with three sacks, four tackles for loss and three quarterback pressures. The Terrors named him their defensive player of the week in the 37-21 home loss to open the new campaign.
"He had a pretty good night," Hidalgo said with a boyish grin.
"I hope so," the coach added when asked if Taylor could record similar statistics on a weekly basis.
"You better know where he is. He's a heckuva player."
As he was talking, Hidalgo reached for the remote control and the film of the Dorchester game. As if he needed to back up his praise for Taylor, he showed the three sacks that the senior end had in the game.
No commentary was needed. Taylor simply powered his way in the offense backfield to make plays time and again.
On the first sack he made, Taylor ran through the blocker with ease and dropped the quarterback on the spot.
And then came the next one when he plowed through the middle of the line and made a bee line to the quarterback, also dropping him before he could escape the pocket or Taylor's grasp.
Hidalgo turned off the film after showing Taylor's third and final sack of the night.
The Glynn coach then looked toward his audience with a look that suggested they'd be a fool to ask what he brings to the field for the Terrors.
Hidalgo also suggested looking at his highlight tape that shows many more great defensive plays including the ones he made in last season's state semifinal game against Lee County which had an offensive line stacked with big-time college prospects.
"He had five sacks against them. They had Power 5 guys," Hidalgo said, alluding to Lee's linemen who were recruited by some of the major schools in the premier conferences in college football.
"It didn't matter. No one has really blocked him."
That's because Taylor is physically strong and gifted.
Hidalgo refers to him as a "1,000-pound guy." Taylor can bench press 315 pounds. He squats 500 pounds and power clings 275 pounds.
Just to put all of that in perspective, according to Livestrong.com, an advanced weight lifter with multiple years of experience might average 390 pounds on the squat and 290 pounds in the bench press.
Clearly, Taylor is capable of reaching those numbers in the weight room, and thus the biggest reason he becomes a strong force up front for the Terrors on the field.
But, he is more than a strong guy, says his coach.
"He plays with great pad level," Hidalgo said. "He has a great take-off. He's a very powerful kid, a very explosive kid."
Taylor saw time on Glynn's defensive line as a sophomore in 2016 and started last season as a junior. Hidalgo identified him as a player with a lot of upside when he stepped onto the GA campus as a freshman.
"You could see it. Guys like him shoot up the page," the GA coach noted.
Taylor just had to fill out physically and learn the tricks of the trade. Taylor has certainly done that, in football but also as standout member of the school's track and field team as a shot-put and discus thrower.
This past spring, Taylor finished fourth in Class 6A in the shot-put competition at the state meet in Carrollton.
Last Friday, Taylor took the field as a captain for the opening coin toss prior to the game against Dorchester, a state-title contender in South Carolina's largest classification.
Whether he is a game captain or not this Friday when the Terrors take on Washington (Atlanta) at Glynn County Stadium, the Terrors will rely on Taylor for his leadership on the field and off throughout the rest of the season.
He admits to taking on a greater leadership role in the locker room as a senior this season, especially on the defensive side of the room.
But Taylor likes to think of himself as the right-hand man for his coaches.
"I'm coachable," he said. "I wouldn't be as good as I am in track or football without the coaches telling me what to do and me doing it like they tell me.
"I see myself as someone the other guys can come to for help. I think they know I'll try to help them learn to do things the right way. I don't always take charge, but they know I'm there to help them and I'll push the younger kids to give us 100 percent."
Taylor has already gotten the attention of several colleges and has scholarship offers from a few schools such as Tulane, Middle Tennessee State, Coastal Carolina and Troy.
Bigger schools, though, have also expressed an interest in Taylor. He attended camps at both Georgia and Kentucky this summer and also took an unofficial visit to Georgia Tech.
Taylor loves football and knows it appears the game will get him a free ticket to college.
But he desires to be more than a good football player and his choice of schools will ultimately involve more than which football program seems to be the best fit for him, he says.
Taylor plans to look at what all the schools who offer him a scholarship can provide away from the football field, too.
That will include what they provide academically, he mentioned.
"I'm a perfectionist. If I do something, I want to be good at it," he says, noting football is included. "I try to do the best I can. I don't want to disappoint anyone.
"Football will get me to college. I need it to get me into college, but I want to grow up to do something in technology. I want to discover something one day."
What might that be? He doesn't really know.
Right now, though, opponents and colleges are discovering that Taylor has grown up to become a pretty good defensive lineman at Glynn Academy.
Taylor moved with his parents several times as a kid, but he is happy he landed in Brunswick and also at GA for his four years of high school where he has thrived on the field, in the classroom and as a well-respected student-athlete on campus.
He credits his coaches, especially Hidalgo, for inspiring him to realize his potential and flourish as a result.
"Coach Rock is a great head coach," Taylor says. "You might not see it, but he actually cares about us.
"I know at first I would not have been able to talk to you or visit schools and talk to coaches. I would have been too nervous.
"But, he told me that I'm good, don't worry about it and go show out for them. That motivated me, and once I did it, knew I could do it."
The same respect Taylor has for Coach Rock, the coach has for him.
"He's special. Let me tell you, he's special," Hidalgo says.
♦ For Taylor's highlights in the Dorchester game, click here.
 ♦ For Taylor's junior season highlights, click here.