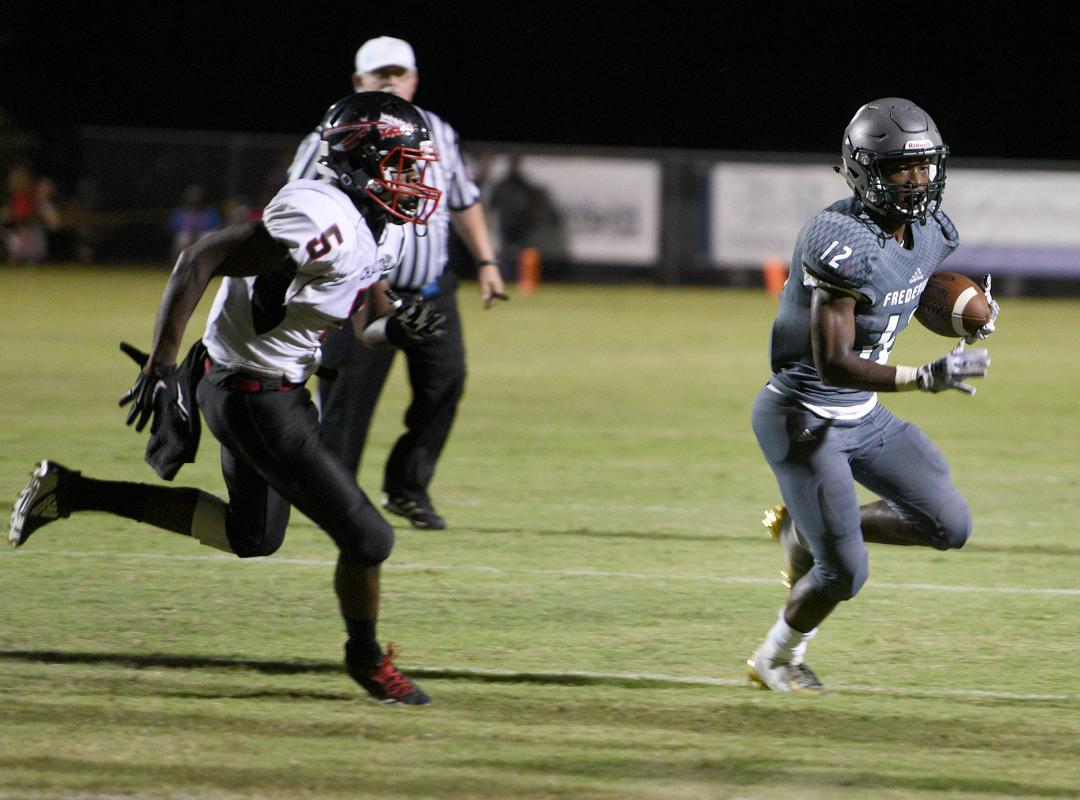 The Frederica Academy football team is beaten and battered following their emotional loss last Friday night in their season opener and physical battle against Charlton County.
The 28-21 loss they absorbed when the Indians, members of the Georgia High School Association, returned an interception for the game-deciding touchdown in the closing moments might normally make it hard for the Knights to bounce back with another inspired effort.
But their motivation to go out and lay in on the line again this week comes in the form of one simple simple seven-letter word.
That would be Valwood, the opponent that will come to play the Knights under the oaks Friday night at their home field on St. Simons Island in what is easily the biggest game in the Georgia Independent School Association on the second weekend of the 2018 season.
"Oh yeah, I don't like them in any sport we play, really," said Frederica senior linebacker Harry Veal, who also plays basketball and baseball for the Knights.
Friday's game pits the top two teams in the GISA Class 3A ranks, with the Knights and Valiants ranked first and second in either order depending on the poll.
According to MaxPreps, Valwood is the top-ranked team after winning 21-20 last week at Bowdon, whih like Charlton is a GHSA Class A public-school team.
"It should be a good game, but hopefully we're the ones scoring late to win this week," said senior center Michael Tindle.
Frederica has lost its last two games in gut-wrenching fashion.
Going back to last season, it was Valwood who scored in the final seconds to topple the Knights 14-10 on the island in the state semifinals before going on to claim their second state championship in three years.
Veal said the "revenge factor" is definitely on the Knights' side in this one.
"We're going to give another great effort this week," said Veal, who had 16 tackles in last week's opening game. "We're going to be missing a few guy with injuries, but the guys playing will give that same effort. We know this is the team that took us out last year."
The Knights and Valiants were also supposed to play in a non-region matchup early last season, but the game was washed out by Hurricane Irma.
There figures to be a good chance this is just the first of two meetings this season between the two heavyweight private-school programs that could easily see each other again in this year's postseason.
The Knights and Valiants have met four times previously with Valwood winning three of the four games. Frederica won at Valwood back in the 2016 season after losing to the Valiants in both the previous two seasons.
This is another game for the Knights to test themselves against a quality opponent, said FA head coach Brandon Derrick.
"It's a chance to see how we measure up, see what we have to correct, what we have to fix," he said.
Valwood has reloaded with several new players after losing key starters to graduation after last year's championship campaign.
They also have a new coach in Justin Henderson who was promoted from defensive coordinator after his brother Ashley Henderson accepted the head coaching position at Thomas County Central in the offseason.
Valwood will still have some familiar names in their starting lineup including senior quarterback Caleb Burns and running back Cam Carter.
Derrick expects the Valiants to play power football behind a big offensive line.
He's worried that his defense, which will be missing linebacker Deke Jernigan a second straight week and also defensive tackle Lachlan Wood, won't be able to get the football out of the Valiants hands to get his offense ample touches.
Derrick also said that senior quarteraback and Auburn commit Jaylin Simpson is questionable with turf toe while left guard Mason Neubauer will be sidelined Friday night due to injury.
If he can go, the Knights might use him sparingly especially in the run game, which likely would mean more carries for running backs Isaiah Jackson and all-purpose threat Jashawn Sheffield.
"We will be playing some young kids. We're beaten up in spots," Derrick said. "A lot of my kids told me at the start of the week they were beaten up and bruised up, but they'd be ready to go for this game. They realize what we've got to do."
Kickoff is set for 7:30 p.m.