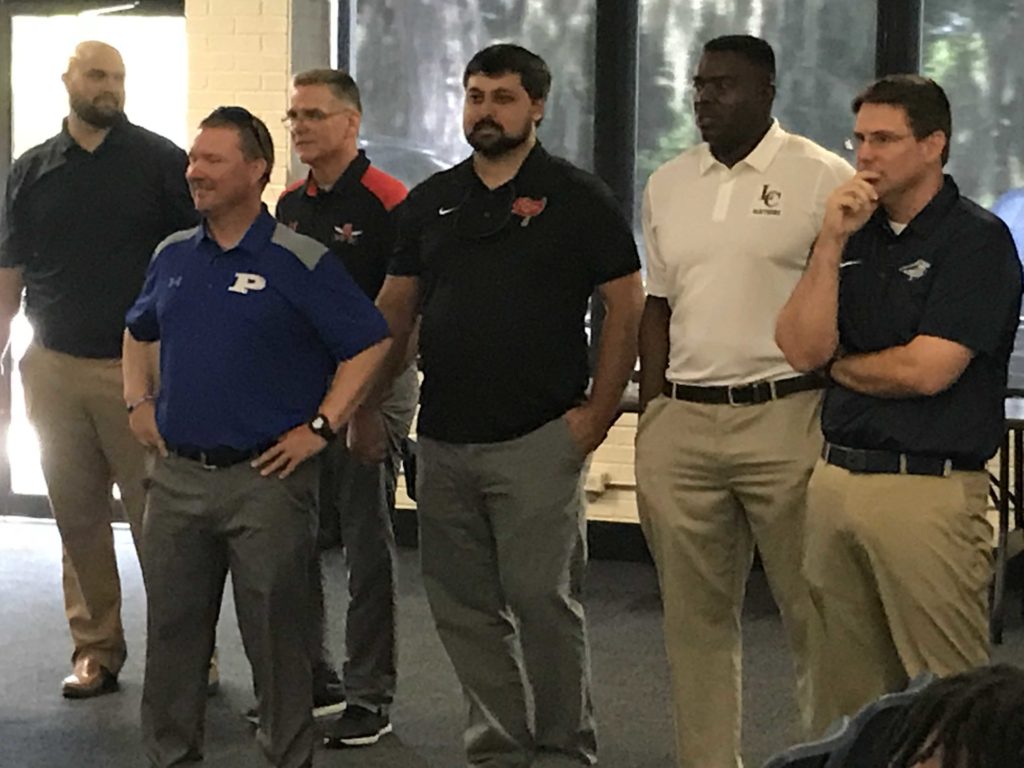 The Southeast Georgia High School Football Media Day gave coaches a platform to publicize their teams and their players.

But also the event held last Saturday at Epworth by the Sea on St. Simons Island gave the coaches a chance to talk about broader and perhaps more important topics and issues.
And many who took the stage Saturday to talk in front of fellow coaches, numerous players representing all the schools participating, fans and of course the media used their time on stage to deliver messages to the audience, particularly all the players who were in the crowd.
Today, AllOnGeorgia has pulled out some of the sound bites the coaches offered on various topics while they had the platform Saturday at the 2018 season kickoff event.
Brandon Derrick, Frederica Academy, on players representing their family name:
"Remember, you're not just representing your school, but you're also representing the name on the back of the jersey. You go out there and represent your parents, don't let them down.
"That's what my dad used to tell me all the time. He said whatever you do son, go out there, work hard and don't let me down. That's all you can ask. At the end of the day, it takes zero talent to not let people down. Be on time, go do the little things. If you can do the little things right, the big things will take care of themselves."
Rich McWhorter, Charlton County, on the dangers of social media.
"Charlton County has been blessed to have a lot of players be able to play college football. In my opinion, it's more difficult now to be recruited than ever before.
"Three years ago, I had a Division I football player lose his full scholarship because of social media. Understand, you are being followed, you are being watched with whatever you put on that thing or whatever you share.
His problem was he received something and he shared it. And when he shared it, he owned it. And, the Division I school he was offered by and had committed to saw that and said that's not who we want to be. So, they took back the offer.
Understand that guys. If that's what you want to do, that stuff is out there and that stuff happens. It really does. I can tell you first-hand."
Tony Glazer, McIntosh County Academy, on players taking advantage of being role models:
"You guys are here for a reason. You're not here just because you're a good football player. You're here because you're good students, good in the community, good people.
"You walk down the hallway, and other students look at you in a different way. Kids look up to you, kids in the community. Be in your community. Go watch the little kids play. I promise you they'll say there's so and so and so and so. You'll make their day.
"Take advantage of the platform you're already on. You wouldn't be here if you weren't high-character kids, a good player, good athlete, well-respected and good academics. Be smart, continue to do what you're doing."
Rick Tomberlin, Appling County, on the coaching profession:
"Reverend Billy Graham said that a coach will have more influence in one year than most people do in a lifetime. Having stepped away for a short period of time twice, and looking at coaching from outside of coaching, I think he's 100 percent right.
"There's not a profession out there, not an occupation out there that's more honorable than coaching, especially high-school coaching. I really mean that.
"A lot of people come up here and talk to the players. I want to talk to the coaches. What we do in coaching is one of the most honorable things that anybody can absolutely do."
Kirk Warner, Liberty County, on players putting in extra work:
"I would love to have a team of players with everybody running a 4.4 (seconds) 40-(yard dash), but they don't. I would love to have a team of players with everybody bench-pressing over 400 pounds, but you can't.
"You can't control how fast you run to an extent or how strong you are. But, you can control how hard you can work everyday. That's what we dwell on. There is no limit on how hard you can work, how much time you can put in when the coaches are gone.
"My challenge to you is to be the best player you can be, you've got to put in some extra work. I tell my guys all the time, what we do in two and a half hours at Liberty County High School is not gonna get you to where you want to get. You have to put in some extra time.
"Just like academically, unless you are just an outstanding math student, you can't qualify for a college graduate if you don't do things outside the classroom. If the only thing you do in that teacher's match class is whatever she says, then you're not going to be successful if you don't put in the time outside.
"My challenge to you is put in as much time outside of the classroom and outside of football as you do on the field and it's going to help you out."
Jason Strickland, Pierce County, on why players should play football:
"In this realm of recruiting that is so now publicized, I want you guys to remember why you play high school football. If the reason you play high school football is to try and get a scholarship, then my advice is just don't play.
"The reason you need to play is because it's dang fun. When you're 40 years old and you're 50 years old and you're sitting down at the barber shop, the conversations you're gonna have are about what took place on Friday nights. You're gonna talk about kissing the pretty girl after homecoming. But those are the things you're going to talk about. And, it's a special, special memory.
"When you take the helmet off, it's over. You'll never get to do it again. If you're worried about getting a scholarship, take care of what you've got to in the building because there is a lot more academic money out there for scholarships than there is for athletics.
"You need to play this game for the same reason you played it when you were 8 years old, because it's fun. And, that's where all your best friends are and where your memories are gonna be made.
"I appreciate your effort. I know it's tough. It's hot. But, you guys are something special. All of your communities need you. This state needs you. This country needs more football players because this is what makes this place great. Thanks for being a football player."
Ken Cribb, Wayne County, on making the most of high school football:
"Do it the right way, and do it for the right reason. I think that's important. Make memories. Don't get caught up in just wins, or the final win-loss record. Enjoy the ride, enjoy your teammates.
"One thing we stress at Wayne County is being family, being a brotherhood. Love your brother, look out for each other. And it's not just Wayne County. We went over and did padded camp at Glynn Academy. What a great, great event. It was just fun to see all the guys, the kids from all the schools, how well they got along and friendships that they made. It was a great event.
"Football is a great life-lesson. Make the most of it. Get as much as you can. Make as many memories as you can. Like Coach Strickland said earlier, that's what you're going to talk about the rest of your lives, making memories and just enjoying building relationships with your coaches and teammates."