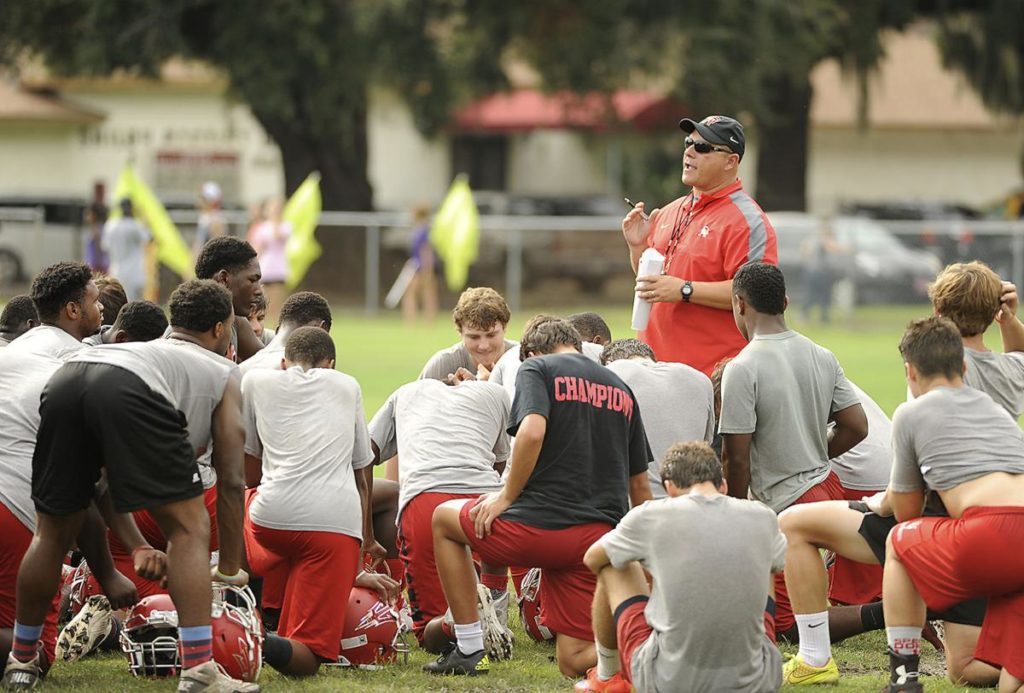 Preseason camp began last week for the local high school football teams.
But, they couldn't practice in full pads until this week, and couldn't do so until Wednesday to be exact.
So today, the Frederica Academy Knights, Brunswick Pirates and Glynn Academy Red Terrors will dress in full gear for their first true contact practices of the preseason.
All three teams now have seven days left in camp before they scrimmage other opponents on Aug. 10.
A week after that, on Aug. 17, all three Glynn County teams will kick off their 2018 seasons with their opening games.
Of the three teams, Frederica is the only one taking part in a spend-the-night camp which is customary for many local prep teams in the preseason.
The Knights are headed to Lyons and will practice against Robert Toombs Academy today through Friday which is allowed under Georgia Independent School Association rules.
"We hope to build camaraderie between our kids and get a lot of work in, too," said Frederica coach Brandon Derrick.
Three days last week and the first two days of this week, the Knights worked out on their practice field on St. Simons Island and spent a lot of time doing fundamental work while also implementing their special teams packages.
They spent the summer conditioning and installing their offenses and defenses.
As they work toward the season, the Knights are looking to shore up their rotations along the offensive and defensive lines. With only 34 players on the roster, several players will be asked to play on both sides of the ball, and Derrick said his coaches will have to be smart with substituting personnel especially on both lines of scrimmage.
"We lost two seniors on the offensive line and one on the defensive line," he said. "We're returning a pretty good crew, but we've really got to get better depth and more experience up front on both sides of the ball so we don't have a big drop off when we substitute.
"Skill-wise, we're pretty good. We've got some guys that look pretty and can run fast outside, but football is won in the trenches, and both lines of scrimmage are crucial for us. If we can get those ironed out, we'll be OK."
The Knights' skill-group is led by seniors and Auburn commits Jaylen Simpson and Jashawn Sheffield. Simpson is slated to start at quarterback while Sheffield will line up in several positions for the Knights this fall.
Derrick said the Knights currently have open auditions for a place-kicker.
At Glynn and Brunswick, the Terrors and Pirates could line up against other opponents during summer workouts in their limited contact practices in pads.
During official preseason practice, though, they can only face another opponent in their scrimmage game.
Glynn has planned two practices Wednesday for the first day in full pads. It will be their only two-a-day practice in camp.
During their five conditioning practices, the Terrors spent a lot of time installing special teams and running through their offensive and defensive schemes.
"We're obviously preparing to play a game," said GA coach Rocky Hidalgo.
Glynn could start as many as nine sophomores among its 22 starting players, the coach noted.
One of those will be quarterback TJ Lewis who won the starting job following a solid spring and early summer.
"We feel like we can develop around him," Hidalgo said.
Offensively, Hidalgo said the Terrors are still working to solidify the front where eight guys are competing for the five starting spots.
"We're figuring out the center and two guards, but I think we're going to be better on the offensive line than we were last year," he said.
Defensively, the Terrors still have a competition going at one linebacking position, Hidalgo noted.
As for the Pirates, who are rebuilding after losing 31 seniors, head coach Sean Pender expects competition for playing time at positions on both sides of the ball to continue well into the season.
"Oh my goodness, yes," he said when asked if position battles were still taking place.
One of the most noted battles is taking place at quarterback where sophomore K.J. Lee and junior Anthony Mountain, who transferred from Glynn Academy, are both expected to play early.
"Right now, it's too close to call," Pender said in terms of naming a starter. "Both do different things better than the other."
The Pirates were hit hard by graduation especially on defense where they lost nine starters. One of the returnees, senior defensive back Stacey Young, was limited all summer by injury.
Last week, the Pirates worked fast and efficient while not wearing pads. Pender said the Pirates won't have any two-a-day sessions as they go to full pads, but the practices will be longer and of course more intense with contact involved.
The Pirates were roughed up in their spring game at Ware County, largely because of self-inflicted wounds resulting from having so many new faces on the field for the first time on the varsity level.
"We made mistake after mistake after mistake, and it snowballed like crazy," Pender said.
He thinks the Pirates have made great strides over the summer and noted they looked better against their outside competition in the padded workouts.
But, the Pirates' second-year coach is anxious to see the team in scrimmage situations in practice and also in the upcoming preseason scrimmage against the Beach Bulldogs.
"We won't really know how much better we've gotten until we get in those competitive situations," he said. "We'll find out more then."