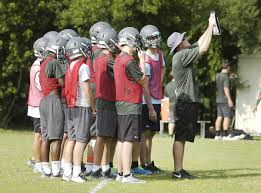 AllOnGeorgia writer Kevin Price will visit with area high school football coaches over the next several days about spring practice and Price will provide reports on each team in the days ahead. The probable lineup looks like this so far:

Tuesday – Brunswick High
Wednesday – Glynn Academy
Thursday – Brantley County
Friday – Camden County
Spring football practices are nothing new to Geoff Cannon.
But the upcoming spring drills with the Brantley County Herons will be different in one major way for him.
Cannon will be the man in charge.
A former assistant coach with several schools, Cannon became a head coach for the first time when he accepted the head coaching position with the Herons back in December.
He has been on the job in Nahunta since January and is set to hit the practice field for the first time with his new team on Monday when the Herons hold the first of their allotted practices leading into their spring game on May 18 at Wayne County.
Cannon replaces Mark Walker as the Brantley head coach. Walker stepped down as the Herons' coach last November following a 1-9 season. Walker was 27-52 over eight seasons with the program.
Cannon, who played prep football at Walton in metro Atlanta, is no stranger to football in South Georgia. His previous coaching stints included time as an assistant at Glynn Academy and also Frederica Academy where he was associate head coach and offensive coordinator for four years.
Cannon left the Georgia Independent School Association Class 3A program on St. Simons Island last summer to take an assistant coaching job at Allatoona which defeated Glynn Academy in the Class 5A state championship game in 2015.
Cannon said he went to the Cobb County school to bolster his coaching resume in hopes of becoming a head coach in the future. He just didn't expect that opportunity to come so soon.
"The plan was to teach and coach at Allatoona for two or three seasons and apply for the 'right' job," he said. "The principal, athletic director and head coach (Gary Varner) were aware of that plan and were on board.
"We wanted to get back down to the area for sure, but figured it would be a few years. I was thrilled when a good friend of mine called and told me Brantley was coming open if I was interested. It's a dream come true for me and my family even to get a shot at this job."
Cannon is expecting a large turnout for spring drills. He issued equipment to 65 rising sophomores, juniors and seniors while 30-plus rising freshmen signed up to play and will be fitted for their equipment on Friday.
"We will have close to 100 (players) which they haven't seen here in some time," the coach noted. "There is some excitement in town which is typical during a transition like this."
Cannon and former Frederica defensive coordinator Ben Burkett are the only new faces on the Brantley coaching staff. Burkett will also coordinate the Herons defense.
Offensive coordinator Clent Cannon remained on staff along with several other assistant coaches.
"Coach Burkett filled the only vacancy I had," Cannon said. "I'm jacked that the rest of the guys chose to stay. We have a great coaching staff here."
Cannon said there will be open competition for every position on the field when the Herons open spring workouts.
"Right now, we have zero starters," he stressed. "The entire starting offensive line is back from last year, so that's good. But every position is open. We will learn how to compete."
Cannon plans to run a multiple offense and a base 3-4 defense, but said the coaches will evaluate their personnel throughout the spring and adjust the offensive and defensive schemes to fit their talents and strengths going into summer workouts.
He said he hopes to have nearly all of the offensive playbook involving running plays installed after spring with probably no more than 60 percent of the passing offense getting implemented over the next two weeks.
The Herons have already been going over the offensive playbook with chalk-talks that included those who could be the team's quarterbacks.
Several players have impressed Cannon during winter weightlifting including seniors Dalton Hodge, Bryson Flowers, Josh Davis and Jaylin Williams, the 6-foot-8, 200-pound highly-touted basketball prospect who already has offers from Memphis, Louisville, Georgia and Georgia Tech among others.
"Fundamentals and learning how to work," Cannon said when asked what he will emphasize during spring camp. "We need to all be on the same page when it comes to expectations and terminology and those type things. We want to do things with focus and purpose. We want to practice intentionally, so everything we do will be a key component in building this program. We want to be mentally and physically tough, so we will create opportunities for our kids to build those attributes in practice."
Following spring drills, the Herons will continue their preparations for the 2018 season throughout the summer as they await preseason practice. Cannon said the Knights will participate in 7-on-7 competitions in June and July and will also attend a Fellowship of Christian Athletes team camp in mid-July.
"I'm looking forward to that camp the most," he said.
The Herons are slated to play at Charlton County in their Aug. 24 opener.