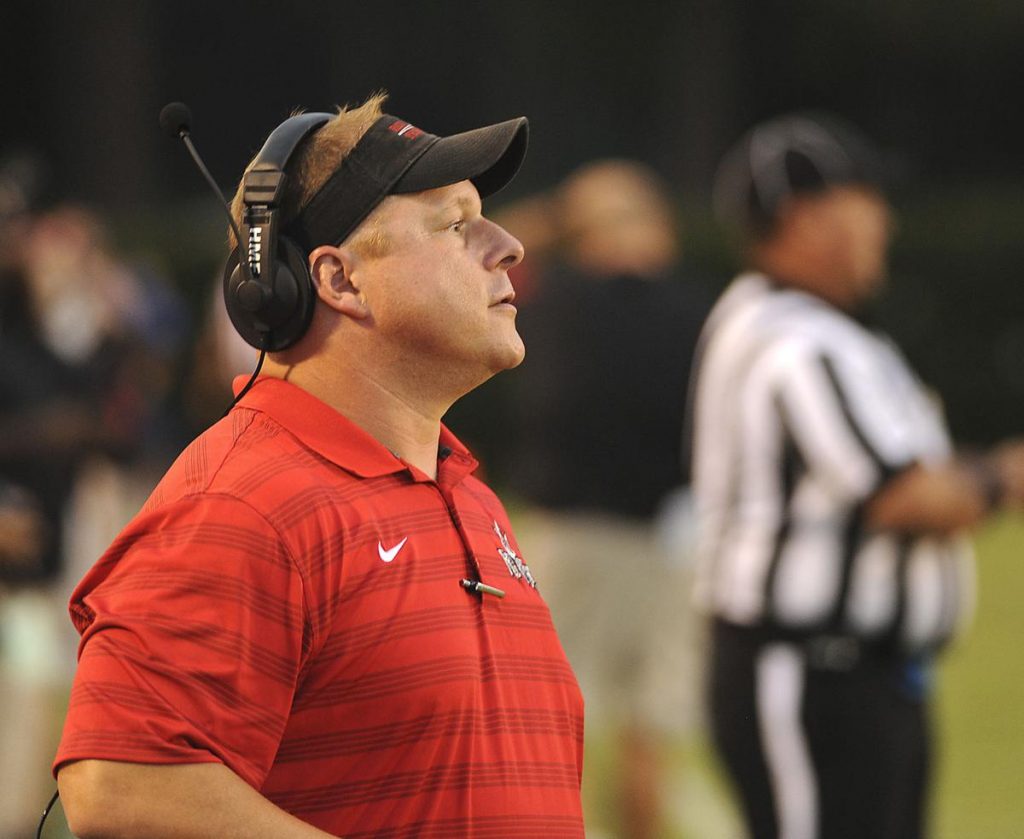 AllOnGeorgia writer Kevin Price will visit with area high school football coaches over the next several days about spring practice and Price will provide reports on each team in the days ahead. The probable lineup looks like this so far:

Tuesday – Brunswick High
Wednesday – Glynn Academy
Thursday – Brantley County
Friday – Camden County
The last time Glynn Academy was on the football field the Red Terrors suffered a gut-wrenching loss to eventual state champion Lee County in the Class 6A state semifinals.
On Wednesday, the Terrors will return to the field for spring practice as they attempt to put together another team capable of making a deep run in the state playoffs this coming fall.
Glynn head coach Rocky Hidalgo said he expects as many as 170 players to dress out for spring practice. He added that the Terrors have had a good offseason to this point.
"It's been good as a whole," Hidalgo said. "We are going to be a lot stronger team at the start than we were last year. Physically, we will just be more physical. Our big kids were young last year. They're juniors now. They're a year older and stronger."
The Terrors will practice Wednesday and Thursday this week. Next week, they will practice Monday through Thursday with a scrimmage on Thursday to close out the week. The following week, they will practice Monday through Wednesday and will hold a lift-a-thon on that Thursday to raise money for the program.
The Terrors will not play another opponent in their spring game. Instead, they will hold a team scrimmage on May 18 to finish out their spring workouts. The scrimmage is scheduled for Glynn County Stadium.
Glynn hardly ever practices in full pads, and Hidalgo said they'll be in helmets and shoulder pads for spring drills. This doesn't mean the Terrors will be holding light practices, however.
"We practice football," Hidalgo said. "It'll be practice, football practice."
The Terrors will open spring with eight returning starters.
The returnees on offense include junior lineman Drez Wilcox, senior lineman Shane Wells and junior running back Nolan Grant.
The returning defensive starters include standout senior lineman Marlon Taylor who figures to be a highly-touted prospect in the coming months and junior lineman James Dyal.
Also back are senior linebackers EJ Thomas and T'Shawn Lang and junior safety Byron Bacon.
The focal point on offense this spring will be the quarterback position. The past three seasons the Terrors have had dynamic athletes Deejay Dallas, now a running back at Miami, and Randon Jernigan, a baseball signee with Georgia – in that spot.
Right now, though, the quarterback position in Glynn's shotgun triple-option offense is up for grabs.
"We've got to find out who the quarterback will be and the starting 11 on offense," Hidalgo said.
Going into spring drills, the Terrors have three viable candidates for the starting quarterback job including senior Sam Wagner, who was the backup quarterback last season, and sophomores Rayquan Benn and TJ Lewis.
Hidalgo said the Terrors know what Wagner can do, so he wants to give the majority of the snaps in spring to the two sophomores.
"We're going to take a hard look at the sophomores and see where we are coming out of spring before we make a decision on what to do at quarterback," the coach noted. "We feel good about Sam being our quarterback, but the two sophomores are special athletes and bring something different to the table.
"Rayquan is Deejay- and Randon-esque. He's athletic and can really take off with the ball. TJ is an exceptional athlete, a coachable kid with a calm demeanor.
"After two good weeks of spring practice, we'll have a good idea if either of them are ready or not."
Hidalgo emphasized that all three quarterback candidates would play elsewhere if they aren't the starting quarterback come the fall.
"Sam would be a wide receiver, Rayquan would be a slot receiver or cornerback and TJ would play wide receiver or safety," he noted.
Hidalgo said he feels good about the Glynn defense entering spring due to the experience the unit has across the board.
"A lot of the kids who played will be back, guys like (senior linebacker) Jamarcus Sims, (junior defensive back) Che Foy, (senior defensive back) Malincoln Smith and (senior defensive back) Travis Clinch.
"We feel good about the kids we have back. Our defense could end up being as strong as the one we had when we played for the state championship (in 2015)."
Hidalgo said the competition for starting spots on the defensive front, and also the offensive line, will be fun to watch.
Seven returning players who saw varsity action last season will be battling for the starting spots on the defensive line while as many as 10 are in the running to be on the first-string offensive line.
"We just have to figure out who will start on the defensive line, and all our offensive linemen could be good. We just have to find who the first five will be," Hidalgo said.
Hidalgo added that junior Chase Gabriel has the inside track on being the team's placekicker.
He said he plans on having an open competition for the punting job and would like a skill-position player such as a quarterback, wideout or running back to win the job and bring the "fake-game" into play more often this coming season.
The Terrors, who were 9-4 last season, have won or shared each of the last three Region 2-6A championships and have advanced to at least the quarterfinals in each of their four previous seasons under Hidalgo.
"We're going to play defense, run the football and try to be great on special teams. That strategy wins a lot of games," Hidalgo said.