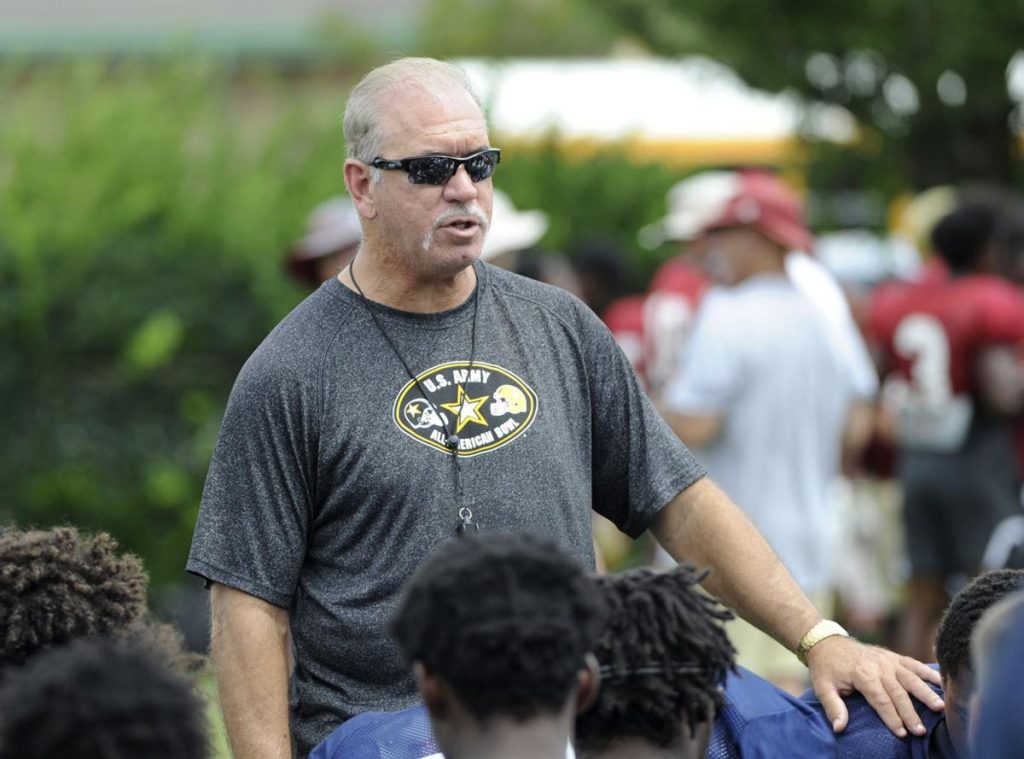 AllOnGeorgia writer Kevin Price will visit with area high school football coaches over the next several days about spring practice and Price will provide reports on each team in the days ahead. The probable lineup looks like this so far:

Tuesday – Brunswick High
Wednesday – Glynn Academy
Thursday – Brantley County
Friday – Camden County
Bob Sphire pulls a sheet of paper out of a folder that sits on his desk and hands it to the other person in the room.
Printed on the sheet are the 11 principles that all Camden County football players are graded on every day. The list includes ideals such as attendance, attitude, effort, discipline, academics, nutrition/body composition, strength, power/explosiveness, speed, football preparedness and the "love" factor.
While some of these principles may not seem pertinent to being a good football player, Sphire believes all of them play a role in the development of quality student-athletes who can become great players and thus help the football program be successful when it comes to winning games and championships.
"An 80 is the baseline score that a player can get," Sphire explains. "If we get to where everyone gets at least an 80 across the board, then you better watch out on Friday nights. You're going to be in for a tough battle against us."
Games against the Wildcats haven't been so tough the past couple of seasons. Sphire was hired in January to change that, but it wasn't going to be a quick fix.
He knew it and so did those who hired him away from North Gwinnett which he built into a state power – one that won the Class 7A state title last season against Colquitt County, a perennial power from Region 1, which is also the region the Wildcats play in.
This once-proud Camden program that won three state championships under Jeff Herron has won just five games in the last two seasons combined, going 2-7 in 2016 under Welton Coffey and finishing 3-7 last year in their first season under Sphire.
"Going 3-7 is quite humbling," Sphire said, noting that he hadn't been through a losing season since 1992 when his first team at Lexington (Ky.) Catholic finished 5-6 after losing in the first round of the playoffs. "But, I'm not freaking out over that."
Sphire knew the 2017 schedule would be tough to navigate, especially the three region games against state runner-up Colquitt County, Lowdnes and Tift County, as the Wildcats were making a complete overhaul in their offensive and defensive schemes and truthfully didn't have the physical prowess to match up with those teams like they once did.
"We tried to do everything we could last year to give the kids the most success we could, and it was a good group of kids. They played hard," Sphire said. "But really, we just weren't very good."
As the Wildcats get set to return to the field for spring drills, Camden's second-year coach feels the team is better than it was this time year ago, and said the Wildcats did make strides during the 2017 season though it didn't necessarily show up on the scoreboard. He specifically mentioned four games that tell the story of the team's growth last fall.
The first was a 35-3 home loss in Week 2 to Venice (Fla.) which won the Class 7A state title last year in the Sunshine State.
"The kids knew we were beat before we even kicked off, and I didn't like that," Sphire said. "I coached like a maniac in the fourth quarter of that game because I wasn't going to accept anything other than playing hard every play.
"I think we bounced back from that and started trying. The kids decided they weren't going to back up and accept anything other than a great effort either."
Three games later against Georgia power McEachern, Sphire was proud of his team's competitiveness despite a 38-13 loss in metro Atlanta.
"Our kids made that a business trip," he said. "We had them on the ropes, but we didn't have enough bullets and they did.
"But, I think our kids walked out of there knowing if we let (the coaches) coach us, there might be something to this."
Following a 53-7 win the next week over Forest Park – the third and final victory for the Wildcats – they gave Colquitt a run for its money in their region opener before losing 27-6 at home to the Packers.
"It was a war midway through the third quarter, but they made a couple of plays and we just weren't physical enough to match up with them," Sphire said.
Three weeks later, Camden closed its season with an inspired effort in a 21-10 road loss to Tift County.
"That game we didn't win and our kids felt like it was a game they deserved to win," Sphire said. "I knew when they started feeling like that, they'd gone to a different spot."
Sphire said the energy and enthusiasm the players had that night against the Blue Devils has carried over into the offseason.
"The first two or three months I was here, I didn't get a good feeling when I walked in the weight room. It didn't feel like a championship football team," the coach noted. "But, I think we've started learning how to do the right things, and the Monday right after the Tift game when I walked in the weight room, it felt like what a football team is supposed to feel like."
And also, Sphire said it has already been more of a normal offseason than last year, though it's one in which he is very much still trying to put his stamp on the Camden team.
"Now, we're really starting to build a program. It really takes two offseasons to build a program. Individuals can catch on faster, but to really get an entire program going, it takes two offseasons," Sphire said.
As for him, that building process has started back at square one. Since the end of last year, Sphire has been recruiting players – as in those who are slated to come to the high school from the local middle schools.
"Much like (Alabama's) Nick Saban and (Georgia's) Kirby Smart, I'm selling kids on coming out and being a part of Camden football," he said. "I'm doing the same thing they are."
Sphire gets a thumbs up there. This week, Camden has had 65 rising freshmen in its eighth-grade camp, whereas last year only 35 freshman came out for spring ball.
Also, the Camden coaches recently led 165 sixth- and seventh-graders through a skills camp.
Sphire expects roughly 100 sophomores, juniors and seniors to report for the first day of spring workouts on Monday.
The Camden coach stressed that player development is also a key component for any successful team. That has happened in the winter workouts and must continue into spring and summer, Sphire noted.
"Now, we're really just starting to see that," he said.
Sphire said the third component in building a program is developing strategies. This is the schemes, the X's and O's, if you will.
"This is where we started season one," Sphire said, noting the switch from the Wing-T offense to the spread and also the change from an odd-stack defense to a multiple defense with lots of movement, blitz packages and coverage schemes.
"But really, if you don't do the first two things it takes to have a program – getting the players and developing them – this doesn't mean a hill of beans. But, we made the most dramatic switch possible offensively and it's a longer process than it would have been if they were doing this stuff all along. And defensively, we made a pretty dramatic switch, too."
Sphire said the Wildcats really just touched the surfaces of his spread offense last year. They will continue to work on improving their execution of the offense, but he noted the coaches will tailor the scheme to the personnel they have at present time.
"We were different every year at North Gwinnett and also Lexington Catholic. "Some years, we'd run the screen game more. Other years, we'd be play-action and throw it down the field, take shots," he explained.
Just like last year, Sphire will be looking for a quarterback to run the attack following the graduation of senior Brooks Bryan who won the job last year.
"It's wide-open," he said of the competition for the job. "We're going to look at four or five guys there."
Defensively, Sphire said one focal point this spring will be improving the team's ability to play man coverage.
Sphire said numerous players have made gains in the offseason, but he has been particularly pleased with several players on both sides of the ball.
Offensively, he said sophomore running backs Daryl Williams and Shawn Hardy have had solid offseasons along with linemen Micah Morris, Gabriel Powers and Hayden Malson.
Defensive standouts include senior linebackers Jalen Davis, Tristan Berryhill and Myson Livingston, senior safeties Devin Harris and Ronnin Wright and junior lineman Hunter Guarino.
Sphire also noted that junior cornerback Jordan Billups will be held out of contact this spring while still recovering from a torn ACL and senior lineman Chris Hunt will miss the spring after breaking an ankle in wrestling.
The Wildcats will practice four days next week and the following week before practicing again the following Monday and then playing their spring game at home on Tuesday, May 22, against Charlton County.