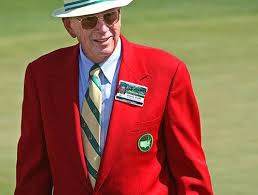 Golf fans are familiar with that saying that the Masters doesn't begin until the back nine on Sunday.

That might be true. Johnny Paulk isn't going to challenge that notion.
But for him, the 1986 Masters started at least one hole earlier when Jack Nicklaus made a birdie 3 on the par-fourth ninth before heading to the back nine where he would shoot 30 on his way to winning a record sixth Green Jacket.
At age 46, Nicklaus, nicknamed the Golden Bear, became the oldest Masters champion. And Paulk got to call out his name and all of his accomplishments as the green-side announcer on the ninth hole during one of the most talked about Masters in the history of the tournament.
"That was something else," Paulk says now. "I was on nine then. He birdied nine and then went crazy on the back side. He was always a very nice person, too."
Seven years earlier, Paulk saw Masters rookie Fuzzy Zoeller win at Augusta National Golf Club on his first try. That Masters was also Paulk's first as an announcer.
"It was the first time for both of us," Paulk says with a laugh.
Fast forward 38 years to last April when Paulk was the announcer on the 18th hole where he had been for the last 18 years as the announcer after spending 20 years on the ninth. Paulk witnessed Sergio Garcia's birdie putt on the first hole of a playoff to win his first-ever major championship.
That life-changing putt for the Spaniard spelled the end of a great experience at the Masters for the longtime Jekyll Island golf pro. The 2017 tournament was Paulk's last as an announcer at Augusta National.
"I discussed it with my family back at the hotel after the tournament last year," he said. "All of them had been up here with me for many, many years. They might have been a little disappointed, but they knew it was my decision to make."
It wasn't long after last year's tournament that Paulk made his resignation official in a letter he wrote to both Buzzy Johnson, senior director of the Masters tournament, and Toby Wilt, head of the starters and announcers committee for the tournament.
"I didn't want to put it out there publicly," he said. "I wanted to give them time to find someone else and didn't want people hounding them about the position."
Paulk said he believes Scott Davenport, the former director of golf at Sea Island who is now head professional at Quail Hollow in Charlotte, N.C., will replace him at the 18th hole. Davenport also took Paulk's spot on the ninth hole when he became the announcer on 18.
Now 83, Paulk, a member of the Georgia Golf Hall of Fame and Glynn County Sports Hall of Fame, said it was time for him to step aside.
"I have an eye problem and that also affects my balance," he said. "I didn't think I was doing as good a job as I used to because of my age. It was a good run. It was time for me to retire. The Augusta National folks were extremely nice to me. I just decided it was time to go."
Paulk said he received a plaque from Augusta National along with a letter, thanking him for his service to the Masters tournament.
Paulk didn't get paid a dime to serve as an announcer at the Masters, a job he stumbled on when a friend recommended him for one of the vacant positions.
It was a labor of love for both Paulk and his wife Virginia who always helped him condense the player bios onto note cards to use during the tournament. He also had information prepared for all of the players when he announced their names and accomplishments during the annual par-3 contest on Wednesday of Masters week.
Paulk passed a lot of his material on to Davenport prior to this year's tournament.
"I've talked to him a number of times and sent him stuff he could use. If he wants to use it or doesn't, that's fine," Paulk said.
This year, Paulk will watch the coverage of the tournament on television. He joked that he might see things he's never seen in the past.
"It'll be fun to watch other parts of the golf course, I guess," he said. "I'm not gonna sit here all day and watch it, but I will watch it."
Paulk admitted he already misses not being there. He does have two badges for the tournament, but will give those to family members to enjoy.
"I'd be there right now," he said in a phone interview Tuesday from his home on Jekyll Island. "I told Virginia yesterday that we'd be checking in today and hanging out tomorrow and getting ready for the par-3 tournament on Wednesday.
"To be honest, yes, I already miss it. I enjoyed being there, seeing people. But, it was a good run. I can't complain."
Paulk, of course, met a lot of people sitting around the two greens he worked on through the years including many who come back year after year like he did. And of course, he saw some of the top moments in golf history as well.
Another one that he specifically mentioned was Arnold Palmer's last appearance as a competitor in the Masters.
"It was very emotional on 18 that day. It really was," Paulk said. "His family was sitting there next to where I was. He came over and hugged and kissed them all. It was real, real nice."
Of course, the 18th hole at Augusta is one of the best-known holes in golf. And to have a front-row seat at the finishing hole of the Masters is something that Paulk hasn't ever taken for granted.
"How many 18th holes at the Masters are there? There's one. There's no such thing as another," he says. "You pinch yourself when you're sitting there. That's when you do pinch yourself."