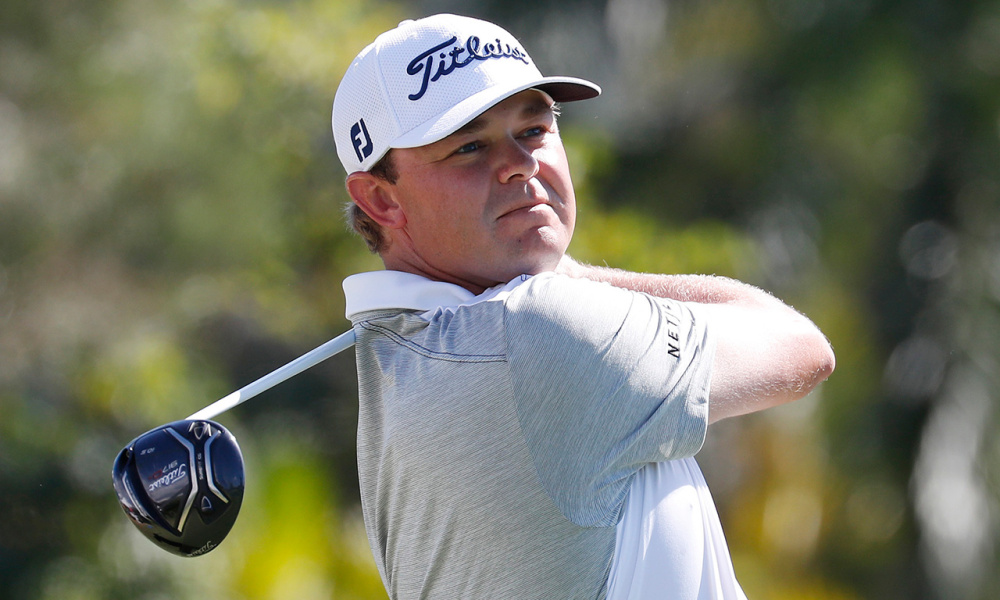 Patton Kizzire is living out his dream by playing professional golf.
And this week, he will live the dream of almost anyone who has ever picked up a golf club and taken a serious liking to the game.
He is set to play in the Masters tournament for the first time at Augusta National Golf Club, something he has longed to do since he was a young boy growing up in Alabama.
"My dad took me to the Masters several times as a kid and I watched it on television like everyone else," Kizzire said. "I've dreamed of playing in it and I'm looking forward to living that dream and shooting for the Green Jacket."
Kizzire, a St. Simons Island resident, played Augusta National for fun a handful of times before he qualified to compete in the Masters by winning for the first time on the
PGA Tour last fall at the OHL Classic at Mayoka, defeating Rickie Fowler by a stroke.
He followed up that victory with his second win at the Sony Open in Hawaii in January, shooting four rounds in the 60s before winning in a playoff that went six holes.
Since qualifying to play in the Masters for the first time, the 6-foot-5, 215-pounder has played four practice rounds at Augusta including two just last week with fellow St. Simons Island resident Brian Harman.
With the bulk of his prep work done, the 32-year old planned to limit his practice to "27 or 36 holes" during official tournament practice this week. He hoped to play at least once with Zach Johnson, a fellow Sea Island golfer who has a Masters win on his resume.
"Hopefully, I'll be prepared and ready to make it happen," Kizzire said.
History doesn't bode well for Kizzire and the other 14 players competing in the Masters for the first time this week. Only three first-time players in the previous 81 tournaments at Augusta have walked away with the Green Jacket in their debut appearance. The last player to do it was 27-year old Fuzzy Zoeller back in 1979.
Kizzire is well aware of what the history says, but he's not counting himself out before he hits his first tee shot.
"I expect a lot of myself, but try not to put too much pressure on myself," he said. "But, I want to win every time I tee it up. I'm not going just to play. I hope to play like I can and see where that puts me. Most of the field, if they play their best game, they can win the tournament."
Kizzire planned to soak up the Masters experience early in the week before getting down to business when the tournament opens Thursday with the first of four rounds.
Part of that will be playing in Wednesday's par-3 tournament, a Masters tradition, with his wife Kari serving as his caddie.
"I'll take a couple hours to take it all in, look around and see everything and get settled in" Kizzire said.
Kizzire will play in one of the featured pairings for the first round on Thursday. He will tee off at 10:09 in the morning along with Hideki Matsuyama and Paul Casey.
This will be the 12th Masters appearance for Casey who has finished in the top-10 the last three years. Matsuyama is making his seventh appearance at Augusta. His best finish is a tie for fifth in 2015.
"I'll be excited, I'm sure, just because I've been looking forward to this for so long and it means so much to me," Kizzire said.
"I'm really looking forward to that first tee shot. A lot of people – family, friends, people who have supported me over the years, will be there."
That will forever be one of the most memorable shots of Kizzire's career. But once that is out of the way, he'll be off to take on the challenge that Augusta National presents the players.
Kizzire believes he has the game to win at Augusta which demands a variety of shot-making skills along with a strong putter to get around the course in par or better.
"You have to hit a lot of different shots, shape the ball both ways off the tee," he said. "You have to hit some left to right and some right to left. Your second shot, you get a lot of uneven lies in the fairway, and of course the greens are fast and you really need to be below the hole.
"I hit it fairly long, nothing crazy, but better than average. That's the beauty of Augusta, though. The shorter hitters have won, too. It boils down to who executes best and obviously who putts well, which is the strength of my game."
Kizzire enters the Masters ranked 70th on the PGA Tour in driving distance (298.6 yards) and is 10th in greens in regulation (71.43 percent). He ranks 24th in total putting (131.0) and 14th in putting average 1.73)
With two wins already this season, he owns four top-10 finishes and currently ranks second in the FedEx Cup rankings.
"I've played with Tiger Woods, Phil Mickelson and Rickie Fowler already this year," Kizzire said, "so I've been part of some pretty exciting pairings that hopefully have helped prepare me for this week.
Kizzire gets to make one of golf's most famous drives several times this week as he rides down famous Magnolia Lane to the Augusta National clubhouse each day.
He'd love to come back home next week and drive down Sea Island's Avenue of the Oaks wearing the Masters' top prize.
"The Green Jacket is what everyone wants," he said. "I'd like to have one in my closet."