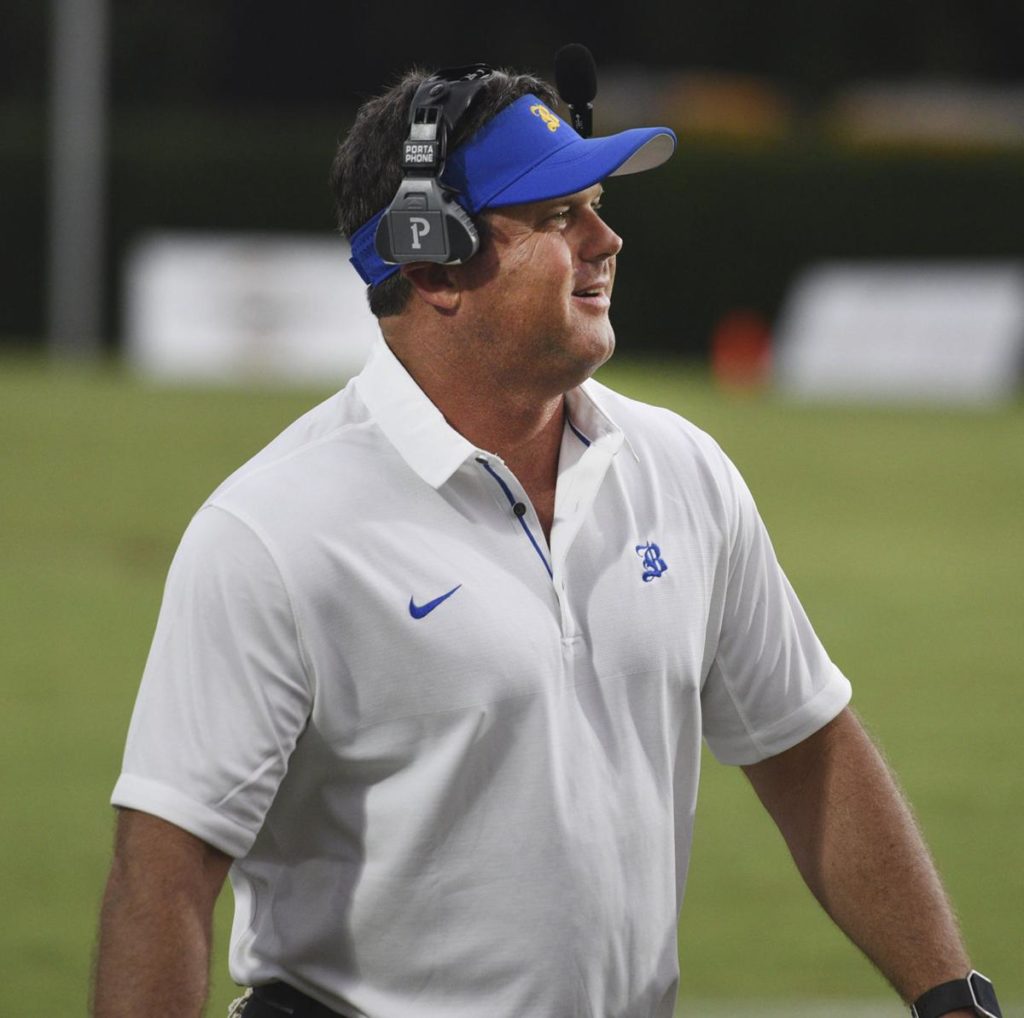 AllOnGeorgia writer Kevin Price will visit with area high school football coaches over the next several days about spring practice and Price will provide reports on each team in the days ahead. The lineup looks like this so far: 

Tuesday – Brunswick High
Wednesday – Glynn Academy
Thursday – Camden County
The Brunswick Pirates football team hit the practice field Monday for what head coach Sean Pender called an acclimation day.
"We're just going to run them around a little bit," said Pender who is beginning his second season with the Pirates.
Brunswick is set to hold its first official spring practice Tuesday in full pads. The Pirates will also practice Wednesday and Friday this week before going Monday, Wednesday and Friday next week.
The following week, Brunswick will try to simulate a regular-season game week with practices and a walk-through on Thursday before squaring off in its May 18 spring game against Ware County scheduled for Glynn County Stadium.
This time last year, Pender was getting set to run the Pirates through spring workouts for the first time after accepting the BHS head coaching job last January. His task last spring was to learn the players and install his offensive and defensive schemes.
The chore was made at least a little bit easier because Pender was working with an experienced team that was led by 31 seniors. Last year's team would go on to finish 7-3, losing to perennial power Northside 24-21 in the first round of the Class 6A state playoffs.
This year, the Pirates are at least familiar with the playbook on both sides of the ball, but Brunswick enters spring practice with a young team that will be working largely with players who saw limited varsity action last fall or played on the junior varsity or freshman teams.
"We're truly rebuilding," said Pender, who has coached previously at several other schools including Pierce County which he left to take over the Brunswick program. "It's the biggest rebuild I've ever had to do. I love my team, but we're just young. It's going to be an exciting spring just because we have so much to learn.
"I think you're going to see this team grow up throughout the year. We're going to make mistakes early, but I think we're going to mature as we go."
The Pirates are facing a major overhaul on the defensive side of the ball where they lost 13 seniors who either started or saw significant playing time including Georgia Tech signee Jaylen Jackson.
The Pirates also lost would-be starting linebacker and college prospect Xantavian Pierce who was killed in an accidental shooting earlier this spring.
The defense does include two returning starters – senior defensive back Stacy Young and junior defensive end Justin Akra.
Others who could make major impacts for the defense are safeties Peter Sheffield and Devin Lafayette.
"We're going to have position battles everywhere to be honest," Pender said. "We're so young, we don't know what we have. We've had a lot of kids make big strides in the weight room, and we'll see how that transitions to the field during the spring."
Offensively, the Pirates were a pass-happy team last year in Pender's spread offense that featured senior quarterback Jamarius Stephens and a receiving corps with several athletic pass-catchers including seniors D.J. Whitfield, Alonzo Brown, Maliek Alston and Jackson who starred on both sides of the ball.
Going into spring, sophomore K.J. Lee is the front-runner to become the starting quarterback. He showed promise last year in mop-up situations in varsity games.
Pender likes Lee's makeup. "He's a smart quarterback and he can throw it," the coach noted. "I think he can be just as effective as Jamarius. It's just a matter of getting experience."
The Pirates will need some new playmakers to emerge in the receiving positions. Those who could fill those roles include senior Jailyn Jones who saw limited varsity action last fall, juniors Marlon Carmena and Freddy Towns and sophomore Xavier Bean.
Brunswick's offensive coaches will also be taking long looks at running backs Jaylen Trimmings, a rising senior who had a 100-yard game against Camden County last season and Demetrius Hardee, a junior who played receiver last season.
Also, the Pirates will be looking to develop senior Ulee Mullens as he transitions from linebacker to blocking back.
Brunswick's most experienced position group is the offensive line which will be anchored by senior right tackle Warren McClendon, a 6-foot-5, 300-pound 4-star recruit who has offers from several major schools including Georgia, Alabama, Auburn, South Carolina and Clemson.
Other experienced linemen include junior left tackle Xavier Ramsey, senior A.J. Kirkland who will move from guard to center and senior Brett Hall who has moved to guard after playing on the defensive line.
"We're going to try to run our offense, but we might rely more on our run game because that's where we're senior-loaded and most experienced with our linemen and running backs," Pender said.
Pender said he expects some 100 players to be in uniform this spring. Brunswick's freshman and sophomore classes are larger than the junior and senior groups, Pender noted.
"It's gonna be fun," he said, again alluding to the team's overall lack of varsity experience. "This is why we coach. After spring practice, 7-on-7s and (organized team activities) will be big this summer for our entire team."