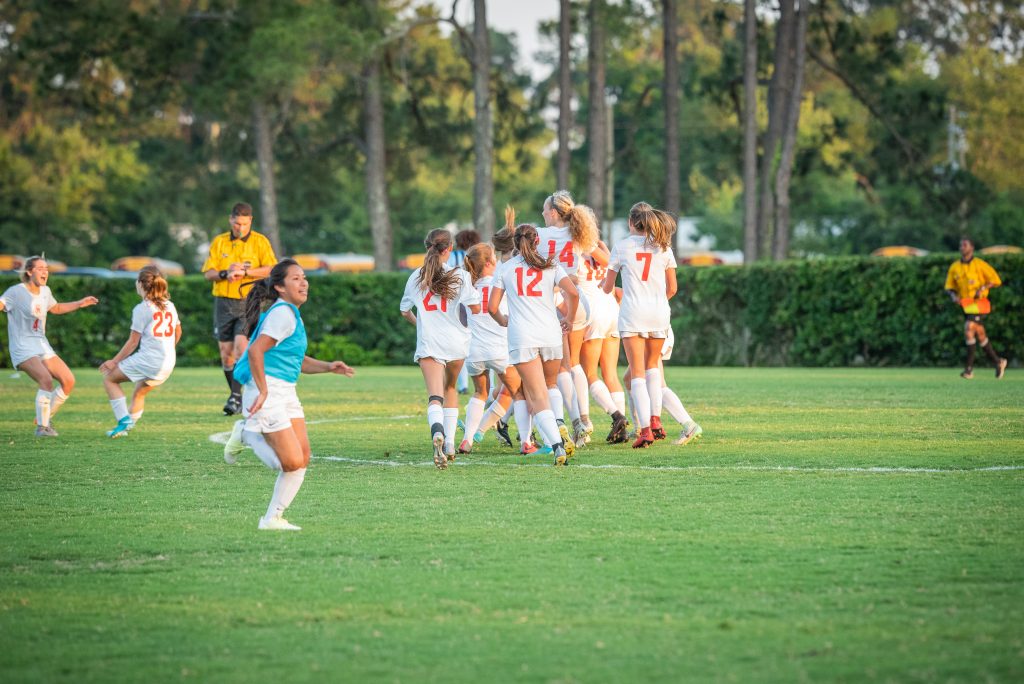 The Glynn Academy girls soccer team has now won 21 straight games, and the Lady Terrors will have an opportunity to make that total 22 on Saturday.

And that victory would be the biggest one of all as it would come in the Class 6A state final.
The unbeaten and top-ranked Lady Terrors advanced to the state championship game with a 1-0 win over third-ranked Pope (15-6-1) Tuesday night in the state semifinals at Glynn County Stadium.
Glynn scored the lone goal in the match when Mady Carroll found the back of the Pope net with just under 30 minutes left in the contest.
The usually-strong Glynn defense, including senior goal keeper Bliss Hutchings, managed to protect that lead for the remainder of the night.
The Lady Terrors will face off against Alpharetta (14-6-3) in the state title game set for noon on Saturday. The neutral-site meeting will be played at McEachern High in Powder Springs.
Fourth-ranked Alpharetta defeated Johns Creek 1-0 in Tuesday's other semifinal matchup. The loss was the first of the season for Johns Creek (18-1-3) which defeated the Raiders 1-0 in their Region 7 game back in February.
Johns Creek won the region and was the league's No. 1 seed for the state tournament. Pope was the second seed and Alpharetta is the fourth seed.
The Raiders lost to Pope 3-0 in their region matchup in late March.
Glynn, which is coached by Tom Lemmon, is the Region 2 champion and the league's top seed for the state tournament. The Lady Terrors were making their first-ever appearance in the state semifinals on Tuesday and will be playing for their first state crown on Saturday.
The Lady Terrors have now posted 16 shutouts in 21 matches including six in a row. They have not been scored on in the state tournament.
Glynn blanked Northside 9-0 in their playoff opener before knocking off Heritage-Conyers 2-0 in round two and then winning 1-0 at Creekview last Friday in the quarterfinals before notching their second-straight win by that same score against the Greyhounds on Tuesday.
For the season, the Lady Terrors have outscored their opponents 109-6.
The most goals they have allowed in a single game is two when they defeated Columbus 4-2 on March 8.