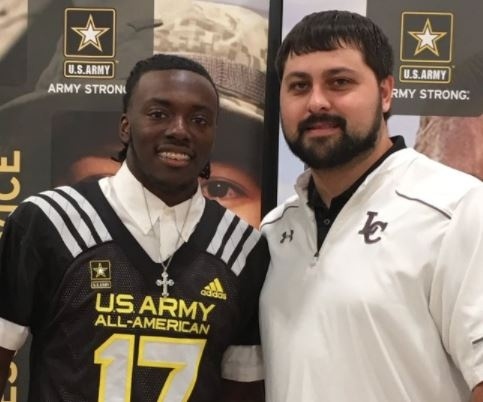 AllOnGeorgia writer Kevin Price has been visiting with area high school football coaches recently about spring practice and providing reports on each team. The lineup has looked like this:
Last Week
This Week
Today – McIntosh County Academy
Next up – Wayne County
Tony Glazer has been splitting his time between Liberty County and McIntosh County Academy the past few months after being named the new head football coach for the Buccaneers in March.
Glazer was on the MCA campus, however, every day last week and then again this week as the first-time head coach has guided the Bucs through spring practice as the new man in charge.
The team will end its spring on Friday when it goes to Richmond Hill for a scrimmage that also involves the hometown Wildcats and Bryan County. The scrimmage is set for 5:30 p.m., and McIntosh is scheduled to play a half against both the Wildcats and Redskins.
Glazer fitted 42 players for equipment prior to the first spring practice. He inherits a team that went 3-6 last season after reaching the Class A public schools state title game in 2016.
Glazer is the Bucs' fifth head coach in the last eight seasons. A graduate of Richmond Hill, Glazer previously spent several seasons as the defensive coordinator at Liberty County where he coached major college recruits Raekwon McMillan and Richard LeCounte.
Last year's Liberty County team reached the Elite 8 in Class AAA before losing to eventual state champion Calhoun. The Panthers defeated Dougherty 43-6 in the first round and Westside-Macon 21-0 in the second round before falling 31-7 to Calhoun in the quarterfinals.
"We will be a very young football team this season," Glazer said of the Bucs. "But if we do the right things and hit the weight room extremely hard, we will have the ability to be a good football team."
This summer, a heavy emphasis will be placed on the strength program, Glazer noted.
MCA will also continue to implement its new offensive and defensive schemes. The installation process started on the practice field this spring.
Glazer plans to run a spread offense and a multiple 40 defense with the Buccaneers.
"We are going to get in that weight room and turn up the intensity," he said. "We just want to make sure that we are putting in the work that is required to help us improve every day."
Glazer said there has been open competition at every position on both sides of the ball during spring drills.
In addition to building the depth chart, the new MCA coach is looking for team leaders to emerge before the start of preseason camp in August.
He has been impressed this spring with a handful of players including junior offensive lineman Stanley Rush, junior linebacker Josh Amerson and sophomore running back Isaiah Jason.
Glazer is looking forward to returning the Bucs to Friday night glory in the future.
"Being a head football coach has always been a goal of mine," he said. "But at the same time, it needed to be the right situation to get me to leave my current job. McIntosh County Academy is a great opportunity for me to go and have an opportunity to run a great program."