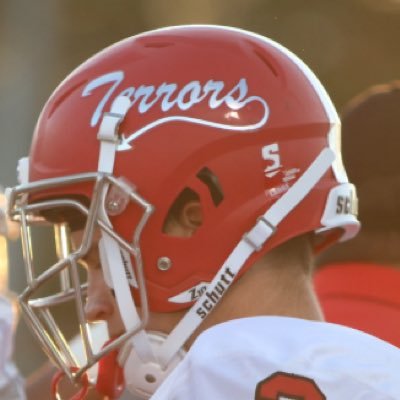 The Glynn Academy Red Terrors have something in common with the Georgia Bulldogs going into the 2018 football season.

The Bulldogs can't escape the questions about the finish to last season when Alabama hurled that long touchdown pass in overtime on second-and-forever to deny Georgia its first national championship since the 1980 season.
And the Terrors can't escape the talk about their four straight turnovers in the fourth quarter of the state semifinal last fall at Lee County that cost them that game and possibly their first state crown since the glorious 1964 season.
But like Georgia, Glynn is ready to move on. In fact, the Terrors did that a long time ago, according to their head coach.
"Are you disappointed? Sure," says GA coach Rocky Hidalgo who enters his fifth season with the Terrors. "You wish that didn't happen, but you can't dwell on the past. I'm a forward-looking person.
"We're focused on 2018, not what happened last year. There's nothing you can do about it. That plays zero roll in our performance this year. You just move on, and eventually we'll win one."
The Terrors will field a young team at the start of this season with as many as nine sophomores possibly being in the starting lineup for the season opener next Friday versus Fort Dorchester (S.C.) at Glynn County Stadium.
Glynn, which finished 9-4 last year, might not look like a state-title contender in August, but Hidalgo hopes the Terrors will be one come November when the playoffs begin.
Championships, starting with a fifth straight city title but also including a fourth consecutive region crown and a then a possible state title, are still the goals for the Terrors, the coach says.
"Ain't that everyone's goal?" Hidalgo asks. "If not, why are you doing this?"
Glynn will open the new season with only six returning starters, so game experience is what the Terrors need most, according to their head coach.
He says to expect the miscues a young team might commit early in the season, but he hopes the Terrors will be playing good football before too long.
"I think we're gonna be good. We just have to develop some young kids, get some grit and some perseverance," Hidalgo said.
One of the young kids is sophomore quarterback TJ Lewis (6-3, 175) who won the starting job in Glynn's option-based offense in the spring.
Hidalgo said Lewis is a good athlete with a big upside and bright future.
"He has a good arm and spins it really well. He's just the best fit for our football team and what we want to do," he noted.
Glynn's featured running back will be junior Nolan Grant (5-5, 175) who ran for almost 800 yards a year ago. Hidalgo calls Grant a special talent who appears poised for a big season.
"He's pretty good," the coach said.
Grant will be joined in the backfield by a pair of sophomores, Alan Partin (6-0, 210) and Caden Hutchinson (5-7, 175).
Glynn's receiving corps will feature seniors Sam Wagner (5-10, 180), also the backup quarterback, Quantavious Bostic (5-8, 175), who also could play some running back, and TJ Bradley (6-1, 165) as well as sophomore Jaiden Miller (5-10, 165).
The offensive line, which Hidalgo says is already better than last year's despite the fact that three sophomores could start, is led by junior guard Drez Wilcox (6-1, 260) and junior tight end Jordan Swain (6-3, 245).
Also up front are sophomore tackle Trevor Timmons (6-2, 240), sophomore guard Nick Demarza (6-2, 245) and centers Paul Hegeman (6-1, 235), a junior, and Clayton Ketcham (5-10, 200), a sophomore.
Hidalgo says the Terrors will stick with the tried-and-true offense they've used in the past despite some lack of varsity experience on the line and other skill positions.
"We're gonna run the offense that wins region championships. That's the offense we're going to run," he said.
Defensively, the Terrors are returning four starters which include a pair of stout tackles in senior Marlon Taylor (6-3, 275) and junior James Dyal (6-0, 230). Also returning are senior linebacker T'Shawn Lang (5-10, 195) and junior safety Byron Bacon (6-0, 180).
The defensive backfield also will include talented sophomore cornerback Rayquan Benn who competed for the starting quarterback spot and could still see time on offense as a potential big-play threat.
"I think we can be good on defense," Hidalgo said. "We need to develop another corner and we lost three starters at linebacker, but I like our kids there. We'll just have to give them what they can do.
"I think our defensive line will be really good. We've got good starters and backups. Honestly, we have six or seven really good players up there."
Junior Chase Gabriel, who has a strong leg, will handle the punting and kicking duties for the Terrors.
"I think we'll be good. Our kids just need to play games," Hidalgo said.