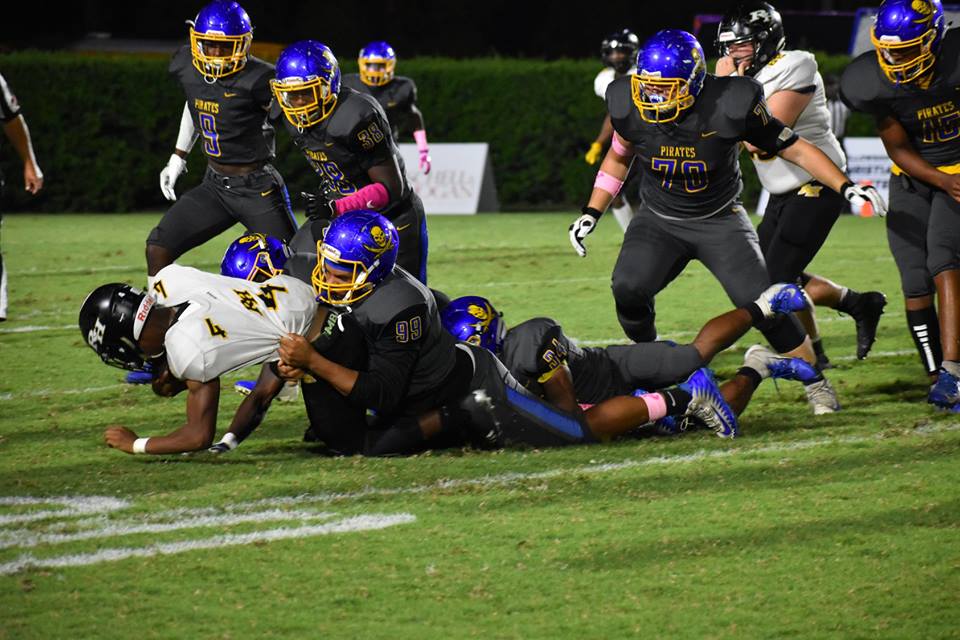 The plan is still for Glynn Academy, Brunswick High and Frederica Academy to play their football games on Friday night.
As of Thursday morning, it didn't appear that the remnants of Hurricane Michael would affect any of their games a day from now.
But, the storm did alter the teams' preparations for their respective games.
Glynn and Brunswick both held early-afternoon practices Wednesday that were shorter than usual so they could get their players off their campuses by mid-afternoon. Frederica also held a 1 p.m. practice that concluded shortly after 3 p.m. on Wednesday after school let out early for the day.
The Red Terrors and Pirates will not practice Thursday as their schools will be closed as a precautionary measure with strong winds and maybe some rain in the forecast as the storm makes it way through the state.
Frederica is also closed Thursday, but the Knights planned to hold their final practice before Friday's home game against Trinity Christian at 10 a.m. if possible.
The altered practice routine didn't seem to overly bother the coaches at any of the three schools.
But, Brunswick head coach Sean Pender said his team needs to get all the practice it can as the Pirates prepare for their key Region 2-6A game at Effingham on Friday.
"We have to do things like we're learning math," Pender said. "For us, it's repetition, repetition, repetition. We're not getting to do that this week. We got in as many reps as we could Tuesday and Wednesday."
Brunswick, which usually holds its final walk-through practice on Thursday mornings, plans to hold that same practice Friday before making the trip to Effingham later in the day.
Glynn coach Rocky Hidalgo didn't offer much when asked about his team's altered routine going into the region opener for the Red Terrors against Richmond Hill Friday at Glynn County Stadium.
"We just have to deal with it," he said while noting the Terrors also will probably have some semblance of a walk-through practice on Friday before playing later that evening.
Hidalgo was in a bit of a bad mood Wednesday morning while sitting down to talk about Friday's game.
And really, he has good reason to be disgruntled these days. His team has been through possibly its worst stretch of football in the last three weeks since he took over the Glynn program in time for the 2014 season.
Granted the Terrors lost to three quality opponents – Wayne County, Ware County and Camden County – in succession, but Glynn was its own worst enemy in several ways in those games.
It hasn't helped that Glynn (3-3) has dealt with injuries and other issues with personnel that has hurt them on Friday nights, too. But their biggest issue has been lack of effort and an overall lack of execution.
"If our kids will do what they are coached to do and play hard, we'll win," Hidalgo said when addressing Friday's matchup with Richmond Hill. "If we don't, we probably won't."
Hidalgo watched from the sidelines last Friday as the Wildcats defeated Brunswick 41-7 at GC Stadium as the Terrors had an off week.
He thought the Wildcats (3-3) looked good on their way to the win.
"They've got a good team. They looked good against Brunswick. That was the best I've seen them look," Hidalgo said.
The Wildcats scored touchdowns on their first two possessions and never looked back. They took advantage of favorable field position the night long. The scored a touchdown or field goal on every possession until Brunswick blocked a field-goal try in the fourth quarter.
Brunswick's lone touchdown of the game came early in the second quarter at the end of a 16-play, 80-yard drive that made the score 14-7. But, the Wildcats scored another touchdown and a field goal before halftime to take a 27-7 cushion into the break.
"Their quarterback (Luke Carter) did a good job, they ran well and played good up front. They've got good skill players, some talented kids," Hidalgo said. "They also looked good on defense. We've gotta play well offensively."
That's something the Terrors didn't do in the last three games. Hidalgo said the Terrors played well enough to win defensively two weeks ago against Camden, but didn't make plays offensively when they were there to be made and the Terrors would ultimately lose 20-9 to the Wildcats in Kingsland.
During the off week, the Glynn coach mentioned that the Terrors were planning offensive changes but he didn't elaborate as to what those might be. He remained tight-lipped when asked about that very subject again this week.
All he said is "we have a plan."
Glynn's plan to begin the season was also to win the region title again. And while the Terrors could still be the favorite in a region that appears to be down overall this season, they aren't a sure bet to hoist the trophy due to their inner struggles in recent weeks.
Hidalgo hopes his team can make a good enough turnaround to win the league title a fourth straight time, but even if they do, it remains to be seen if they can improve enough to make any kind of run in the postseason.
"We talk about it all the time," Hidalgo said of winning the region crown. "But, it's not gonna just happen. We have to make it happen."
Brunswick hopes to make something happen Friday in Springfield, perhaps the toughest place for a visiting team to play in the league.
Of course, Bradwell Institute didn't seem to be fazed by the environment last Friday as the Tigers went there and took it to the hometown Rebels on the way to a 27-8 victory in the region opener for both teams.
Friday's game is important because it's the next game, said Brunswick's Pender. But with teams in the five-team region needing to win at least one league game to have a chance to make the playoffs, both teams will be looking for that win Friday after losing their region openers last week.
"Offensively, we just have to execute the game plan," Pender said. "They're big up front, so running between the tackles won't be easy. But, we have to do that and we need to have a balanced attack.
"It's very important that we sustain drives, and if we don't finish in the end zone, we have to at least be able to change field position which is something we didn't do last week."
When the Rebels have the ball, they also like to run power plays off tackle, which is something the Wildcats hurt the Pirates with the majority of the time last week.
"We gotta have a strong emphasis on stopping that," Pender said.
Should the effects of the hurricane make it impossible for Brunswick and Effingham to play Friday, the backup plan is to try and play the game Saturday afternoon in Springfield.
Glynn County Schools athletic director Steve Waters said the plan would be the same for the Glynn-Richmond Hill game should something prevent the game from taking place as scheduled on Friday.
At Frederica, the Knights will play their second region game of the season when they take on Trinity Christian on St. Simons Island on Friday night.
The game is the Region 2-AAA opener, though, for the Crusaders who are 4-2 overall on the season in the Georgia Independent School Association.
The Knights are 5-2 for the season, having won five in a row since their 0-2 start to the year. They won their region opener two weeks ago 39-16 at Pinewood Christian, but played perhaps their best overall game of the season last week when they powered past the Westfield School 48-3 at home.
Frederica is 3-1 all-time against Trinity. The Knights have won the last three games in the series and all three were by double-digit margins.
"They're another team that is big up front, so they'll challenge us with our smaller line. Of course, we've been challenged before because we're not big, but we're scrappy and try to use our speed to our advantage," said FA coach Brandon Derrick.
Derrick said the Crusaders like to run power plays from the I-formation, but they also will run spread looks and throw the ball.
"Offensively, they're going to give us a mix, so we've got to be prepared for that," Derrick said.
The Crusaders have played both three- and four-man fronts defensively and like to bring pressure off the edges, Derrick noted.
"We're going to try and play fast again, play as fast as we can and hopefully wear them down," he said.
Also this week, Frederica held a press conference to announce senior standout Jashawn Sheffield's selection to the Under Armour All-America game. The Auburn commit was presented his jersey for the game during the announcement at the school on Tuesday.
The annual all-star game features 100 of the nation's top high-school prospects. The game is scheduled for Jan. 3 and will be played in Orlando. It will be broadcast live on ESPN2.