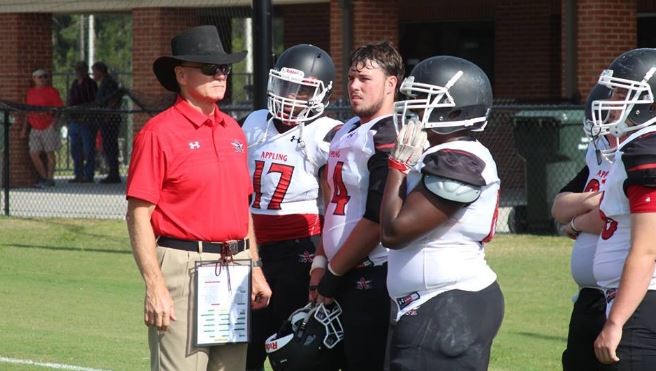 Liberty County and Appling County are both ranked in the Southeast Georgia High School Football Power Poll which is released each Monday by AllOnGeorgia.

On Friday night, the Region 2-3A rivals will meet in a key league game in Baxley.
The Panthers come into the contest with a 5-1 record and are ranked seventh in this week's power poll. They are coming off a 21-7 victory last week at Tattnall County in their region opener.
Appling is 3-3 for the year, and the Pirates won their region opener last week 41-7 at Long County. The Pirates, who are ranked 10th in the power poll, have lost two games to teams ranked in the state polls for their respective classifications. One of their losses was to Class 5A power Wayne County which occupies the top spot in our power rankings.
Both the Panthers and Pirates pride themselves on running the ball. Liberty averages 272 yards per game on the ground and is led by senior running back Kris Coleman who is averaging 184 yards per game. He has scored 12 rushing touchdowns this season.
The Pirates have rushed for 207 yards a game and have five players who have gained over 100 yards each.
Other Southeast Georgia games on Friday night include the following:
South Effingham at Wayne County
Wayne County will be a heavy favorite over South Effingham in their Region 2-5A game at Jaycee Stadium in Jesup.
The Yellow Jackets survived a scare last week at Statesboro in their league opener, winning 21-20 in overtime to keep their hopes for a unbeaten season alive. They are 7-0 overall.
South Effingham limps into the game with a 2-5 record which includes a 34-16 loss last week against New Hampstead at home in its first region game.
The Mustangs defeated Long County in their season opener and then lost four in a row before knocking off Tattnall County two weeks ago.
Long County at Pierce County
The struggling Blue Tide will go to Blackshear Friday where an unbeaten Pierce County team awaits.
The Bears have allowed just 21 points all season while shutting out four of their first six opponents. Pierce won its Region 2-3A opener last week 49-7 at Brantley County.
John Jones, a senior running back, scored three touchdowns in the game and accounted for 290 all-purpose yards while winning the Southeast Georgia High School Football Player of the Week honor for his outstanding performance.
Pierce is ranked 10th this week in the Georgia sports writers poll.
Long is 0-6 for the season and has scored only 27 points in its six games combined while getting shut out three times. The Blue Tide lost last week at Appling, 41-7, as noted above.
Statesboro at Ware County
Ware County will open its Region 2-5A slate against Statesboro Friday night at Memorial Stadium in Waycross.
The Gators, who were off last week, are fourth in the power rankings. They are 4-2 for the season with losses to Coffee and Lowndes, two teams from higher classifications which are ranked in their respective state polls.
Ware is averaging 194 yards rushing and 135 yards passing per game.
Freshman quarterback Thomas Castellanous has performed admirably for the Gators in his first prep season. He has thrown for 687 yards and four touchdowns while rushing for another 396 yards and eight scores.
Dream Gainer, though, is the team's leading rusher. Gainer has carried for 459 yards on 63 attempts and is averaging 7.3 yards per carry.
Statesboro is 2-5 for the season after falling tough last week to Wayne County at home.
Wilcox County at Charlton County
Charlton's game against Wilcox has actually been moved to Saturday.
Kickoff will be at 7:30 p.m.
It is the annual Homecoming game for the Indians who are 4-2 overall and 2-1 in Region 2-A. Ranked fifth in the power rankings, Charlton was off last week.
Wilcox is also 4-2 and 2-1. The Patriots also did not have a game last week.
Brantley County at Tattnall County
Both teams will be looking for a league win when they clash in Region 2-3A action.
The Herons (1-5) lost their league opener last Friday against Pierce as noted earlier while Tattnall (0-6) also lost its first region game against Liberty as previously mentioned.
Of course, the Battle Creek Warriors are still searching for that elusive first victory, period. They have not scored more than 14 points in any game this season.
Brantley has been outscored 179-76. The Herons' lone win thus far was their 21-7 victory over winless McIntosh County Academy on Sept. 28.
McIntosh County Academy at Savannah Christian
The Buccaneers are big underdogs in their game against the Raiders who are now ranked seventh in the state following their24-21 victory last week over previously unbeaten Calvary Day School.
That win lifted the Raiders to 5-1 for the season and 2-0 in Region 2-A games.
One of Savannah Christian's top players is senior offensive and defensive lineman Dylan McMahon who is committed to N.C. State.
The 6-foot-3, 290-pounder paved the way for the Raiders who gained 262 yards rushing last week against the Cavaliers.
On defense, he had seven tackles, a sack and two quarterback hurries. The Savannah Morning News recognized McMahon as their prep player of the week for his performance.
McIntosh is 0-6 on the season. The Bucs lost their first two region games to Calvary and Savannah Country Day. Last week against the Hornets, MCA flirted with an upset win before falling 13-6.