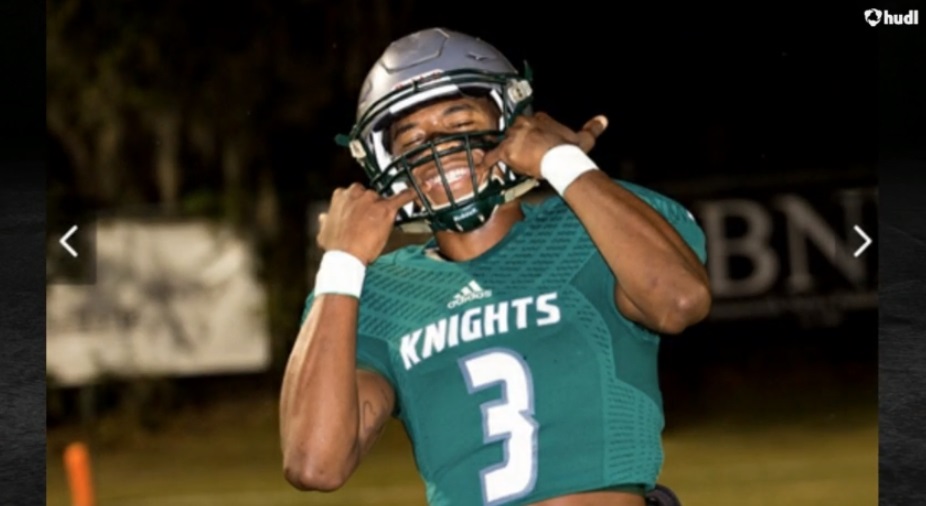 The Frederica Academy Knights won a state championship this past Friday night with an all-around dominant performance.

And like Frederica head coach Brandon Derrick said after the game, so many of the standouts that shined for the Knights played evenly.
That would be evenly, as in evenly well, of course.
But among those who stood out the most for the Knights in the 48-0 rout of previously unbeaten John Milledge Academy was their senior quarterback Jaylin Simpson who was certainly a key cog in the run to the Georgia Independent School Association Class 3A title for the Knights.
And in Friday's championship contest at Five Star Stadium on the campus of Mercer University in Macon, Simpson had a huge performance for the Knights that has earned him this week's Southeast Georgia High School Football Player of the Week honor.
Simpson, an Auburn commit as an athlete, delivered the ball with pinpoint accuracy against the Trojans' overmatched defense. He finished 13-of-15 passing for 184 yards and two touchdowns according to the Frederica team statistics compiled by the coaching staff.
His best pass of the night came on the Knights' first play of the third quarter when he unleashed a 53-yard touchdown strike to fellow senior Patrick Brunson over the top of the John Milledge defense on a double-reverse flea-flicker play that worked to perfection.
Also, Simpson carried the ball six times for 32 yards and a touchdown.
A two-way player for the Knights, Simpson also made his presence felt on defense as he recorded three solo tackles and four assists while helping Frederica post its first shutout of the season.
Derrick said the FA offense executed and clicked once it got rolling, and obviously, Simpson did a good job directing the show as the quarterback.
"It was pretty crazy how well we executed," Derrick said. "We spread the ball around, and I think we had five different players score touchdowns in the game Friday night. It was a pretty good night offensively."
This is the final player of the week award for the 2018 season now that the season is complete for area teams.
The list of all the weekly winners throughout the season is below:
Regular Season
Week 1 – Logan Watson (Camden County)
Week 2 – Kris Coleman (Liberty County)
Week 3 – Isaiah Jackson (Frederica Academy)
Week 4 – MJ Fuller (Wayne County)
Week 5 – Kevin Harris (Bradwell Institute)
Week 6 – Shamar Taylor (Wayne County)
Week 7 – KJ Lee (Brunswick)
Week 8 – John Jones (Pierce County)
Week 9 – T'Shawn Lang (Glynn Academy)
Week 10 – Jamal Polite (Richmond Hill)
Week 11 – Deon Bell (Pierce County)
Week 12 – Sam Wagner (Glynn Academy)
Playoffs
Week 1 – Thomas Castellanos (Ware County)
Week 2 – Dee Bethea (Pierce County)
Week 3 – Harry Veal (Frederica Academy)
Week 4 – Jaylin Simpson (Frederica Academy)