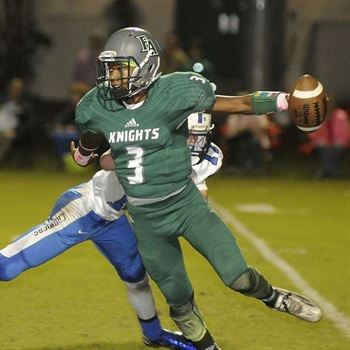 The Frederica Academy Knights are set for a big finish to their regular-season schedule as they are looking at facing a pair of quality opponents in the next two games.

On Friday night, the Knights will clash with John Milledge Academy, another Georgia Independent School Associationn power. And then next week, the Knights will close out the season against Region 3-AAA rival Bulloch Academy in a game that will decide the region championship.
Friday's game against John Milledge is slated for 7:30 p.m. on St. Simons Island.
The Trojans will come to Frederica sporting a perfect 8-0 record as they have wins over several of the same teams that the Knights have beaten this season including Bethlehem Christian who they destroyed 49-0 last week. Frederica trounced Bethelem 60-21 back in early September.
"We're gonna have to compete Friday night," said FA coach Brandon Derrick. "They're good, well-coached and are gonna play hard. I'm worried to death about it, but I think our kids will be ready to play."
John Milledge has already secured the Region 4 championship. Frederica has also beaten other teams from the region including the Westfield School and Augusta Prep as Region 2 and Region 4 are playing each other in cross-over games this season. They cross-over matchups will be used to help determine the playoff teams from both regions in addition to the region winners which will receive opening-round byes.
The Knights and Trojans are really just playing for bragging rights as Frederica will be a first- or second-seed for the GISA postseason based on the result off next week's matchup with Bulloch Academy in Statesboro.
"John Milledge is always good. They have a steep tradition," Derrick said.
The Trojans, from Milledgeville, won a state title under current head coach J.T. Wall in 2016 with a perfect 14-0 record. Wall, who also led them to the region crown that year, is a former fullback at the University of Georgia. He played high school football for the Trojans, starting all four years as a linebacker and fullback.
John Milledge went 10-2 last year and lost to eventual state champion Valwood in the state quarterfinals. The Knights lost to the Valiants the next week in the semifinals.
"They're really physical up front," Derrick said of this year's John Milledge team. "They're gonna run the ball, and they're really good on defense. They have good speed."
Sophomore Amaad Foston is the featured back for the Trojans.
Frederica comes into the game following a bye week. The Knights are 6-2 on the year with six straight wins following their 0-2 start. The Knights have scored at least 39 points in all six wins while hitting the 60-point mark twice and scoring 58 two weeks ago in their region triumph over Trinity Christian.