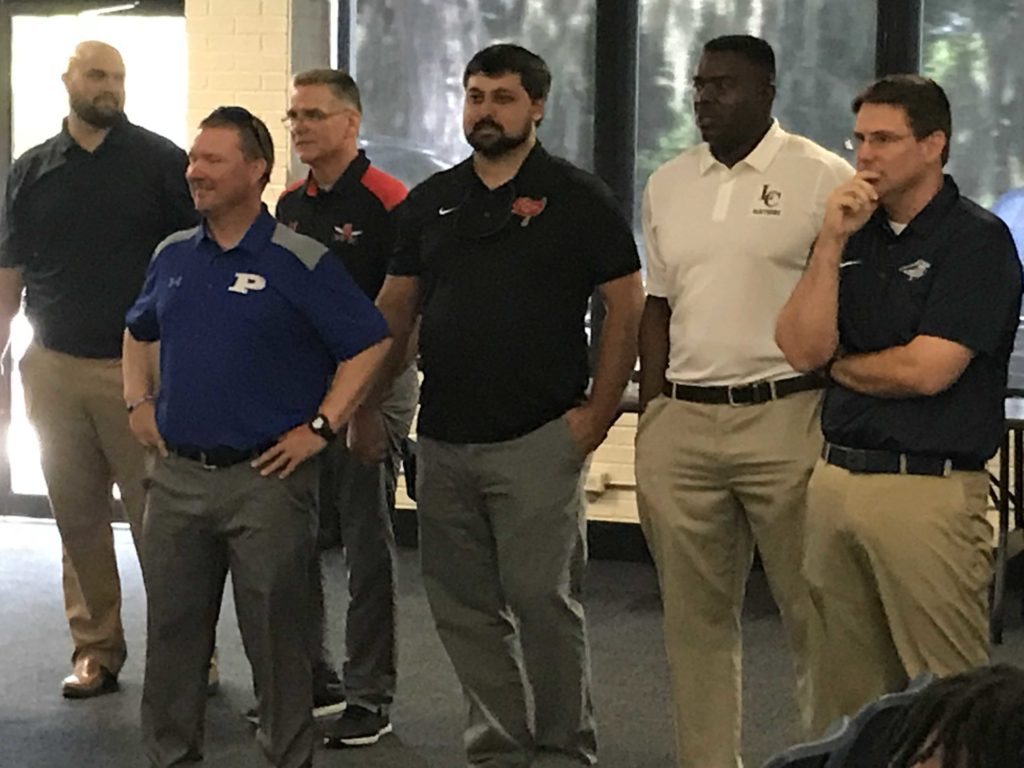 The Pierce County and Appling County football teams will clash in a huge Region 2-3A game Friday night in Baxley.
Both teams are currently 3-0 in the region with two games left on the league schedule.
The Bears will play Liberty County, which lost earlier to Appling, next week in their regular-season finale while the Pirates will take on Tattnall County next week.
Pierce is 8-0 on the season and moved from third to second this week in the Southeast Georgia High School Football Power Poll released on Monday by AllOnGeorgia.
Appling is 5-3 overall and has won three in a row in the region since losing its final non-region game to unbeaten Wayne County.
The Bears average 278.5 rushing yards per game with senior running back John Jones topping the team's rushing list with 1,006 yards and 14 touchdowns for the season.
The Bears have posted five shutouts and have surrendered only 43 points all season.
The Pirates also specialize in running the ball as they average 218 yards per game on the ground. Their leading rusher is sophomore Sharode Roberts who has gained 443 yards. Appling has four ballcarriers who have gained 200 or more yards this season.
Appling is ninth this week in the power poll rankings.
Around Southeast Georgia, these are the other games scheduled for Friday night:
Camden County at Lowndes
This Region 1-7A matchup features two teams that lost their region openers last Friday.
Camden is coming off a 38-9 loss to top-ranked Colquitt County in Moultrie while the Vikings were beaten at home by 10th-ranked Tift County, 21-17.
Lowndes (6-2) has one of the state's most high-powered offenses. The Vikings are averaging 436 yards a game with just over 300 yards coming on the ground each time out.
The team is led by senior Travis Tisdale who has carried for 1,283 yards and 17 touchdowns this season. He ran for 414 yards and six touchdowns on 21 carries last month against rival Valdosta. Against the Blue Devils last week, he managed just 82 yards on 22 carries and did not score for the first time this season.
Camden is 6-2 for the season and is third in the Southeast Georgia power poll.
New Hampstead at Ware County
The Gators need a win to set up a game between two teams unbeaten in Region 2-5A when the Gators and Wayne County meet next Friday in Jesup.
Ware, still fourth in our power rankings, is 6-2 for the season with its losses coming to Class 6A power Coffee and Lowndes.
Freshman quarterback Thomas Castellanos has passed for 789 yards and six touchdowns for the Gators while also rushing for a team-high 511 yards and 11 touchdowns.
The Phoenix ae currently third in Region 2-5A with a 1-1 record. They are 4-3 overall.
Clinch County at Charlton County
The Swamp should be overflowing with excitement when the Indians and Panthers collide in Folkston in a key Region 2-A game.
Both Charlton and Clinch are tied for second in the region standings with a 4-1 record. Top-ranked Irwin County, which has already beaten both teams, sits atop the league with a 5-0 record.
Charlton is 6-2 overall and ranked No. 6 in the Class A public school rankings while Clinch is 7-1 and ranked second. Charlton is fifth in the Southeast Georgia power rankings.
Charlton leads the overall series with Clinch with a 28-27-1 all-time record in the deep South Georgia rivalry.
Brantley County at Liberty County
The Herons and Panthers will square off in a Region 2-3A meeting in Hinesville.
Brantley (1-7) has won just one game this season and is 0-3 in the region with two league games remaining.
Liberty (5-2) is currently third in the region with a 2-1 record. The Panthers are 10th this week in the power poll.
McIntosh County Academy at Portal
The Buccaneers will go to Portal looking to break through with a win in a Region 3-A game.
MCA is 0-8 overall and 0-4 in league play.
Portal is 1-7 overall, but is also 0-4 in the region.
The Panthers' lone win of the season came in their second game on Aug. 24 at they defeated Treutlen 35-7.
Portal has scored only 25 points since that game as it has scored 60 total points all season.
McIntosh has scored a total of 90 points in eight games.