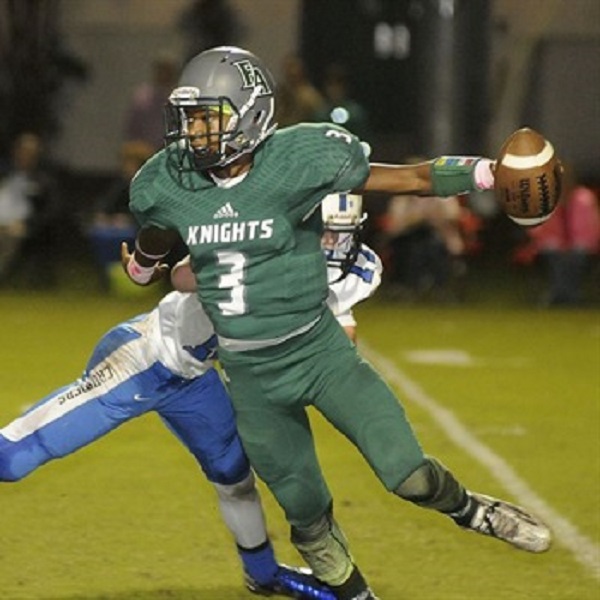 The Frederica Academy Knights are back in the Class 3A state semifinals in the Georgia Independent School Association.

This is where the Knights lost a tough one to rival Valwood a year ago on their home field on St. Simons Island.
On Friday night, Frederica will face off against the same team it defeated in the quarterfinal round last fall to earn a berth in the semifinals.
But, this Heritage School team that Frederica Academy will encounter is much better than the one the Knights pounded 51-14 last season, according to FA head coach Brandon Derrick.
And this time, the Knights have to play the Hawks on their home turf.
"They're a lot better," Derrick said. "But, we might be better, too. I don't know if that cancels out the fact that they are better or not."
With school out for the Thanksgiving holiday, the Knights practiced early Thursday morning to make their final preparations for Friday's game in Newnan.
The team plans to leave at 9 a.m. Friday for the game and will stop off in Dublin for a walk-through practice at Trinity Christian. The Knights will then go on to Newnan for their pregame meal before making their way to the stadium to play the game.
"We've got to go play well," Derrick said. "If we do what we do and do it how we've been playing, we're going to be a hard team to beat. But, we've got to go five hours up there and do that."
Frederica is 8-3 on the season following last week's 60-27 victory over Valwood which ended the Knights' season this time last year.
Last Friday, the Knights led the Valiants 33-0 at halftime and cruised to the quarterfinal win to also avenge an earlier 7-6 overtime loss to Valwood in a regular-season meeting in August.
In last week's victory, the Knights got another huge game from senior running back Isaiah Jackson who scored six touchdowns and ran for 235 yards on 15 carries.
The Knights started fast and never looked back as they got three touchdown passes in the first half from senior quarterback and Auburn committ Jaylin Simpson to jump out to a 20-0 lead early in the second quarter. One of those touchdowns was a 57-yard catch and run by fellow senior and Auburn committ Jashawn Sheffield.
Derrick said the Knights hope to follow a similar script to a victory on Friday night.
"They are big up front on defense," he said of the Hawks. "They have two defensive tackles that are close to 300 pounds, so we're gonna have to do a good job to move them out of the way. They also have good skill kids on defense who get to the ball and do a good job.
"But, we're not gonna change our game plan. We're still gonna try to make them chase us from sideline to sideline and eventually run inside later as well."
The Hawks, who are 9-2 on the season, won Region 1 this season with a perfect 3-0 record.
They got the home game this week in the semifinals against the Knights who also are a region champion as the team designated to host the semifinal on the bracket in the event that like seeds advanced to this game.
To be at home on Friday, the Knights needed Southland Academy to beat the Hawks last week as the No. 2 seed from Region 3, but Heritage rolled to a 34-16 win after defeating Southland by just 15-14 in a regular-season game.
"They run it well and throw it well," Derrick said of the Hawks who also run a spread offense. "Their tailback is quick and elusive. They have a good mix of kids."
The Hawks' losses this season came on Sept. 14 against Valwood (28-24) and Oct. 12 against Tiftarea (47-7). Both games were played at Heritage.
Tiftarea and John Milledge are meeting in the other semifinal game. The two semifinal winners will play for the state championship next week at Mercer University in Macon.
The Knights are favored to be there while the other semifinal is being viewed as a toss-up.
Derrick has warned his team that nothing is guaranteed.
"It's not gonna be a cakewalk for us," he said.
Friday's game is set for a 7:30 p.m. kickoff from Newnan.
You can listen to the Frederica radio broadcast on 103Q on your FM dial.
The game will also be streamed and you can access the live feed by clicking here.