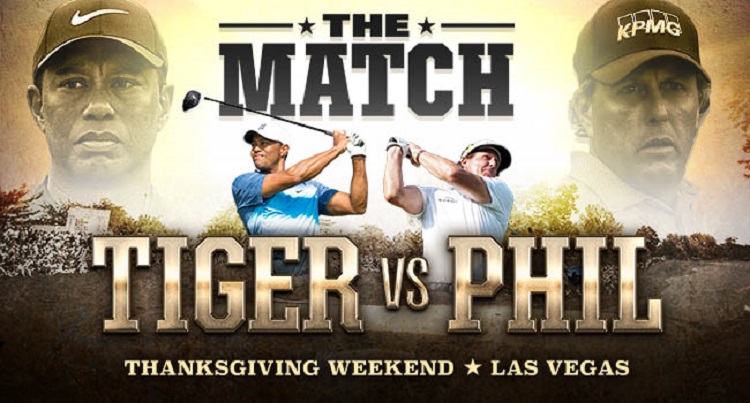 The views of the author may not be the views of AllOnGeorgia. 
---
What could I do with $19.99 on Friday afternoon?
Well, I could probably get a discounted afternoon greens fee and cart to play 18 holes before dark.
Or, I could maybe buy a ticket to a movie and possibly get a small drink and box of popcorn at the local cinema.
I could also wait until Friday evening and maybe grab a decent meal and have money to tip the waitress.
Or, I could use that money to buy gas for a trip somewhere in South Georgia to watch a quarterfinal game Friday evening in the high school football playoffs.
And yes, I could purchase the pay-per-view broadcast of Tiger vs. Phil in The Match. That's the going rate.
This showdown between two of the all-time great golfers will take place at 3 p.m. Friday at Shadow Creek in Las Vegas.
I must admit it's tempting to give in, fork over the money, grab a beer and some peanuts and sit back and watch the show.
After all, for those around my age, these guys are our father's Arnold Palmer and Jack Nicklaus.
They are the ones we've followed around the course or watched on television as they have racked up the tournament wins, the major championships and have amazed us with their amazing skills with a golf club in their hands.
Thing is, I'm with all those who think this Tiger vs. Phil thing is some 10 or 15 years past due. This dual would have been better when both were in the prime of their careers and might have been real rivals who perhaps would have made us wonder if they really didn't actually like each other all that much.
It's not like either one is a has-been. Mickelson won earlier this year to end a long drought without a victory on the PGA Tour, and the performance that Woods delivered this year in his season-long comeback from all those back surgeries has only added to the remarkable story that is Tiger's career.
Had this match happened a decade ago, I would have picked Woods. And on Friday, I would place my bet on him, too.
But make no mistake. Mickelson, also known as Phil the Thrill, is probably better suited for this one-day golfing adventure than he is a four-round, grind-it-out tournament for one of golf's premier prizes such as a major championship.
Mickelson's aggressive, go-for-broke style and his love for gambling on his golfing abilities make him a potential birdie machine in an event like this that could make most any opponent walking the fairways with him crumble in the moment.
I'm not so sure that won't happen to Woods on Friday if Mickelson gets on some sort of roll.
Tiger is relevant again and closed strong by winning the Tour Championship to end his incredible comeback, but along the way, there were more than a few moments when he seemed like any other ordinary professional golfer.
Again, a decade ago, Woods probably wouldn't have been fazed by any Mickelson magic with his short-game mastery or something of the like.
He likely would have answered with something magical of his own that Mickelson wouldn't have in his arsenal.
Of course, Woods still has the mental edge on Mickelson. He has many more tournament wins, many more major championships and not as many Sunday hiccups as Mickelson like all those at the U.S. Open which Lefty will likely go to his grave having not won.
Mickelson has had a brilliant career, one of the best of all-time in professional golf. He knows, though, if not for Woods playing at the same time he might have been the best golfer on the planet in his generation.
At this point, I could almost care less about who wins this competition on Friday. Mickelson is acting like he'll feel better about things if he can get the best of Woods in this one-on-one moment.
But the outcome of this thing really doesn't mean anything at all in the grand scheme of things. It's a made-for-television event that will hopefully be entertaining for the golf fans who do watch and the already rich golfer that wins it will have $9 million more to put in his bank account.
It will be nothing more than a footnote in the careers of both Tiger and Phil.
And because it's a meaningless competition, I haven't decided if it's compelling enough for me to watch.
What I am wrestling with is the entertainment value that is could have. Both players and their caddies will be wearing microphones during the match, so we will get a sense of what goes on inside the ropes of a regular tournament as they discuss things such as yardages, wind, targets and how much a putt might break.
They also will wager their own money on side bets for longest drive, closest-to-pins and such.
In case you missed it, Mickelson has already bet Woods $100,000 that he would make a birdie on the par-4 first hole. Woods said they should make it a $200,000 bet. Wow!
All this money that either player makes on these type wagers is said to be going to charity, and that's a cool deal.
Also, fans have the chance to make wagers, too. Just like with the Super Bowl, there are prop bets out there on things such as whether Tiger will hit the green in regulation on the first hole or which player will have the most one-putts during the round.
There are also those like what color shirt will the players wear, will either of them mention LeBron James during the round or will Donald Trump be in the gallery watching the match.
And all the while, the PGA Tour will monitor the betting that takes place around this match. The Tour knows full well that the new legislation passed recently that allows sports wagering to be legal in any state that is willing to have it could change its game forever with fan engagement opportunties such as "in-play" wagering during any and all golf tournaments.
Will Justin Thomas make the birdie he needs on the 18th hole to win the Memorial?
Will Dustin Johnson hit his drive further on the 10th hole than his playing partner Bubba Watson?
Will Jordan Speith get up and down from that deep greenside bunker?
Who in the next threesome gets closer to the hole on the famed 17th green at TPC Sawgrass.
There is a good chance the time will come where you can place a wager based on your answer to any of the above as you watch the action from your living room recliner.
Golf is perfect for gambling. It happens everyday at local country clubs and also in professional golf. You just don't see the money changing hands on television.
But, you'll see and hear about the wagers on Friday.
And, Tiger vs. Phil is made for you to play along, too.
One day soon, you might be able to play in similar ways during the serious four-day tournaments as well.
The Match is likely just the start.