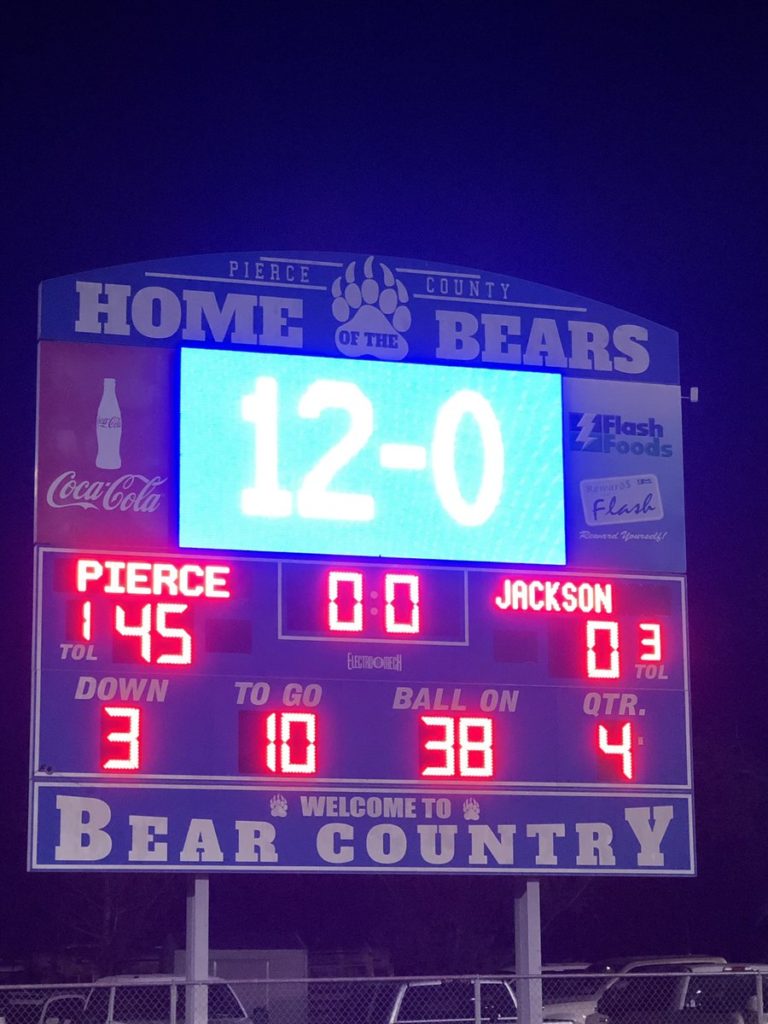 History will be made at Pierce County on Friday night.

And the night will be even sweeter if it ends with a victory by the Bears.
Pierce is hosting a Class 3A state quarterfinal game for the first time in the history of its program, and the Bears will advance to the semifinals for the first time if they can get past Monroe Area in the 7:30 p.m. game at Bearville Stadium in Blackshear.
The Bears are expecting to play in front of a packed house as they put their 12-0 record on the line against the also 12-0 Purple Hurricanes.
"This is a pretty special deal," said Pierce second-year coach Jason Strickland. "Playing the day after Thanksgiving at our home stadium, this is a pretty special event for us. I can't tell you how excited our community is."
This will be the fifth appearance for the Bears in the quarterfinal round, but they have never advanced beyond the Elite Eight.
They made it this far just two years ago when they lost at Crisp County in their final season under head coach Sean Pender who left after the 2016 season to become head coach at Brunswick.
The four other previous quarterfinal games for the Bears were all on the road. They are hoping the home-field advantage will help push them over the hump this time.
The Bears are 8-0 at home this season with victories the last two weeks in home playoff games. They have outscored opponents 355-69 on their home field while posting five shutouts including last week's 45-0 rout of Jackson in the second round.
A victory Friday night would be a major accomplishment, though. That's because Monroe is easily the best team that Pierce has played this season, at home or on the road.
Strickland said the Purple Hurricanes are well-coached on both sides of the ball.
"This crowd, what they do from an offensive standpoint to put you in such confusion makes you constantly adjust to match numbers and personnel," Strickland said.
"And from a defensive standpoint, we always look at how the defensive linemen play with their hands and how disciplined the secondary guys are and they are as well-coaches in both areas as anyone."
Monroe runs a spread offense with the quarterback lining up in the shotgun formation.
The Purple Hurricanes mainly want to run the ball, and they have a two-headed monster that leads an offense that averages 43.2 points per game.
Their biggest weapon is senior quarterback Chandler Bryon who has rushed for 2,615 yards this season, the most by a quarterback in state history.
Bryon, who stands 6-foot-2 and weighs 190 pounds, has the chance to become only the third player in state history to run for more than 3,000 yards in a season along with Daccus Turman from Washington-Wilkes (3,172) and Herschel Walker of Johnson County (3,167).
Last week, Bryon ran for 244 yards in Monroe's 49-17 victory over Dawson County. It was his eighth game this season gaining more than 200 yards rushing.
He has scored at least two rushing touchdowns in every game. Bryon had three last week to give him 36 for the season.
Bryon is also passing threat. He is 59-of-94 for 1,221 yards with 16 touchdowns and only three interceptions for the season.
Bryon's backfield mate, senior running back Jakia Thompson, is pretty salty, too. The 180-pounder has carried for 1,096 yards and nine touchdowns this season and he also is a standout on defense as  a starting safety.
"You obviously have to focus on the quarterback. He runs like a deer," Strickland said when asked about the one-two punch for Monroe, "but the kid standing beside him is pretty special also. He's an 1,000-yard rusher, a two-way player and may be more athletic. He's probably their best defensive football player, too."
Pierce is pretty stout also. The Bears' offense averages 43.4 points per game and the Pierce defense has performed admirably all season.
The Bears are led by Region 2 Player of the Year John Jones, a senior running back who has gained 1,476 yards this season while scoring a team-high 23 touchdowns.
Senior running back Dee Bethea, this week's Southeast Georgia High School Football Player of the Week, is also an explosive player. He has carried for 753 yards and is the team's leading receiver with 593 yards. He has scored 17 touchdowns running and catching the ball.
Last week, he had 235 yards from scrimmage both running with the ball and also catching it. He was the leading rusher for the Bears with 174 yards and a 31-yard scoring run.
Sophomore quarterback Jermaine Brewton has been a stead player, too. Brewton has thrown for 1,628 yards and 21 touchdowns. He has thrown to seven different receivers including Parker Peagler who has a team-high 38 receptions for 524 yards and seven scores.
The winner of Friday's game will face the winner of Friday's quarterfinal matchup between Cedar Grove and Benedictine.
Also, Friday's winner will have to go on the road for the semifinals as a universal coin flip by the Georgia High School Association earlier this week gave the home games to teams in the bottom half of the bracket when opponents have the same seeding.
Cedar Grove and Benedictine are in the bottom half of the Class 3A bracket while Pierce and Monroe are in the upper half.
All four teams are No. 1 seeds after winning their respective regions.
More info: www.ghsa.net; www.maxpreps.com