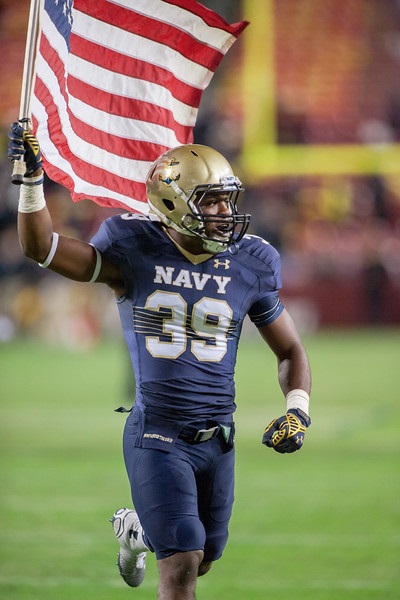 Shakir Robinson might not be playing football any longer.
But don't mistake that to mean the former player at Brunswick High and the Naval Academy is removed from the game.
Robinson, now a United States Marine, still eats, sleeps and breathes football, much like his former BHS classmate, teammate, and close friend Justin Coleman, now a defensive back for the NFL's Seattle Seahawks.
Coleman, who got married earlier this month with Robinson standing by his side as a groomsman, is using what he learned playing for the Pirates and Tennessee Volunteers to make money playing professional football.
Robinson, meantime, is now utilizing his football talents and what he gained from being around the game from the youth ranks up through college to make him a better leader of men in the Marine Corps.
Whether it's a speech he uses that he took from a former coach or a principle he learned from playing football that can be applied to a real-life situation, particularly an adverse one that could take place in military battle, Robinson is quick to point to football to help him through various daily exercises.
"In Japan, I had a platoon of 34 Marines. That was my football team right there," Robinson said. "I've had to call the plays, take command of the huddle, rally the guys at the half.
"I relate everything to football. I tell the guys when you get deployed, it's game time, and you've got to train and prepare like you would for a game. You never know when the time is going to come."
Robinson was back home in Brunswick earlier this month following two years on his first official tour of duty after graduating from the Academy and being commissioned a second lieutenant in the United States Marine Corps.
AllOnGeorgia took the opportunity to sit down with him over a glass of orange juice at a popular eatery just down the road from the new Brunswick High while he was here.
In the nearly two hours of back-and-forth conversation, we covered his journey from high school to his current career in the Marine Corps and what he might like to do in the future after fulfilling his military obligation.
Going Back to The High
Robinson stood out when he walked the halls as a student at the old Brunswick High which faced Habersham Street.
He was smart and made good grades.
He was involved in all sorts of school activities outside of sports from student council to the future business leaders club.
And yes, he played sports – soccer, track-and-field and obviously football, earning all-region honors as a starting linebacker for the Pirates during his prep career.
You might also say he was hip and handsome, walking the school halls with a confident demeanor and a head full of hair that he was known for in high school.
His dreadlocks made him distinguishable from his twin brother Jabari who also played football and followed their parents into the Air Force.
Almost needless to say, Robinson was one of the most popular Pirates on campus.
And clearly, he had the makings of a future Midshipmen.
Yet, it was Robinson who pursued the Navy football team before it actually started recruiting him. His coach, Victor Floyd, had a connection to the coaching staff and Robinson penned a letter expressing his interest in attending the Academy and becoming a part of the football program.
Months later, he had an appointment to the Annapolis, Md., school and would soon be signing with the Midshipmen come February's National Signing Day.
It was between him signing with Navy and graduating from Brunswick High that John Cornell, the marketing director at the College of Coastal Georgia and a former member of the Navy athletics staff, got to know Robinson.
"I just heard about this kid from Brunswick who was going to the Naval Academy, which I obviously have a passion for," Cornell said.
He invited Robinson to his office to get to know him better while seeing if he could help him with anything as he prepared for college at the Academy. They became friends, have talked Navy football many times since, and still stay in touch today.
"He was a smart, smart kid. He was tutoring other kids at Brunswick High his whole senior year. He was very bright," Cornell said.
While Attending the Academy
Cornell took pictures of Robinson when he signed his letter of intent to play for Navy at his signing day ceremony which also included other BHS players signing with their chosen schools.
The two didn't yet know each other, but Cornell knew then one thing about Robinson would have to change before he went through inauguration at the Academy.
He'd have to cut his hair. The dreadlocks would have to go.
Robinson knew it, too, but it actually was something he never dreaded – no pun intended, really.
"The musical influences I had growing up is what led to the dreads," he said. "It was tough. I started growing them in third-grade, so I had them for nine years. Everyone here knew me for the dreads. All my college buddies know me with short hair, so it's kind of funny.
"But really, it was a small sacrifice to have to cut them off. I was getting a free college education. I was going to Navy to play football. So, it really wasn't all that hard."
While at the Academy, Robinson played four seasons with the Midshipmen. He was a defensive safety, but never started a game and played mostly on special teams when he did get on the field.
For someone who had always been a major player from youth football through his prep career, Robinson had a hard time accepting his status early on with the Midshipmen.
"It was definitely tough on the psyche," he admitted. "Everyone wants to play, but everyone has to play a different role for the team to be successful."
A natural-born leader, Robinson quickly found his niche in the locker room. His name might not have been on the team's two-deep chart, but No. 39 was on a first-name basis with the entire roster and coaching staff as one of the team's most respected players.
"I kept the guys' spirits up when we were working out in the weight room or when we were on the practice field. I worked with the guys who would start, so we could be successful as a team," he says.
Before long, Robinson became a leader on the scout team and eventually became a scout-team captain.
"I learned a lot doing that," he said. "Without a good look at the other team's defense in practice, our offense couldn't prepare like it needed to for us to have our best chance to win. I took pride in doing that."
That pride definitely stood out. It was noticed by teammates and coaches, including the head coach who remembers Robinson as the model student-athlete.
"Shak is an amazing young man," said Navy coach Ken Niumatalolo. "Very intelligent, always had good grades. Very trustworthy, never got in trouble and always did what he was supposed to do and more. Very kind, always the first to volunteer for community service. Shak will always be one of my favorite players. He is a special person!"
And Robinson was a part of a successful football program that had three winning seasons in his four years and won two of the three bowl games it played. Navy also captured a couple of Commander-in-Chief trophies which earned Robinson and his teammates a visit to the White House to receive the award from President Barack Obama.
Best of all, though, the Midshipmen were 4-0 against rival Army during Robinson's time at Navy, those wins being part of a 14-game winning streak that stands as the longest by either side in the storied history of this great collegiate football rivalry.
Robinson, of course, will always cherish those victories over the Cadets and the entire Army-Navy game experience. He dressed in the blue and gold uniform of the Midshipmen for three of the four games they played in the series while he was on the squad.
"It's a cool atmosphere with all the Cadets and Midshipmen being there, the flyover during the National Anthem and then it's usually a pretty good game between two teams that are usually pretty-evenly matched playing the only game in college football that Saturday. Going four and oh, that's definitely a point of pride," he said.
So were his academics. Robinson graduated in the top third of the 2015 class which numbered around 1,000 total students. He earned a bachelor's degree in history, but took what he called a lot of tough classes such as Calculus III, which he noted would humble you in a hurry.
Robinson wasn't just a leader within the football program. He was a standout among the student body as well.
Before spring semester of his senior year, he was selected for one of the top leadership positions in the Brigade of Midshipmen. Robinson was one of two students chosen as Regimental Commanders which put him in charge of the First Regiment while he assisted the leader of the entire Brigade who also was a fellow football player.
Robinson summed up his time in Annapolis with a quote that would probably make headlines in any promotional material published by the school.
"Having the opportunity to go to the Naval Academy was like getting a ticket to Hollywood to be on American Idol," he says.
"You may not know fully what you are getting into at first, but you realize it will take you places. I got a first-class education, there are a lot of resources up there, and there are a lot of opportunities you get from being there and graduating from there."
Becoming a Marine
Once he had his degree in hand, it became time for Robinson to decide on his course to fulfill his five-year military service requirement.
He could choose the Navy or become a Marine. He chose the latter, and it was largely because of his football mentality.
He thought about becoming a pilot and even trained briefly to go that route. Instead, though, he decided to get out of the air and remain on the ground where he felt he could be more effective.
"The Marine Corps is more like football, more physical," he said. "I like the idea of the opportunity to be on the ground with 20 or 30 Marines. That was enticing to me, being able to lead in that capacity."
Robinson's first tour of duty sent him to Southeast Asia, where he made stops in 11 different countries over the last two years.
He might have had a whistle like a football coach, but instead of drawing up plays on a whiteboard, he was in charge of training and moving troops and equipment as a logistics officer in the Corps.
He didn't try to be Coach Floyd or Coach Niumatalolo while leading his men. But, he says he learned a lot from both as coaches and mentors that prepared him to lead his guys.
"Both of them really put a big emphasis on character and taught you things you could use later in life," he said. "You can't be lazy; you need to look sharp, be on time, be disciplined.
"The thing I always tell people about Navy is that it's really more than football. You're there to win, yeah, but it's more than that. You're being prepared to lead sailors and Marines. It's about you representing with morals and discipline before getting into the fleet.
"I think Coach Niumatalolo does a great job with all those things, and the fact that he always put others before himself, I think resonated with me and all the players."
And now, as he leads his Marines, Robinson tries to lead by example, too. And he uses a lot of football analogies as he communicates with his platoon.
"A lot of strategy in football also plays into the Marine Corps," he notes. "Playing on game day in front of a crowd is similar to performing in the military.
"If we need to get 500 men from Point A to Point B and the transportation isn't on time, we're wasting time, and no one can do their jobs. So now, everyone has to go on defense because the offense didn't do its job."
Robinson said he also strongly believes in getting down the basics which better prepares a group to complete tasks individually and as a unit.
"I talk about teams like Alabama and New England all the time," he said. "They're all about fundamentals. With them, it's accountability, discipline, honor, all those things.
"It's about the team. Everyone has a job to do, a role, and everyone needs to do their job so we all can be successful."
Tackling a New Challenge
After his recent visit with family and friends at home in Brunswick – his parents still live and work here – Robinson was due to leave for his next assignment at Marine Corps Base Camp Pendleton in San Diego County, Calif.
He planned to make the cross-country trek by car, stopping off several times along the way to visit other military friends, along with participating in the wedding of his buddy Coleman who married recently just days ahead of the start of training camp later this month with the Seahawks.
At Pendelton, the major Marine Corps base on the West Coast and a current training facility for various commands, Robinson will continue to serve as a logistics officer and help train units for future deployment.
He expects to finish out his five-year military commitment at the West Coast post, but said he likely will stay in the service beyond his required time.
Ultimately, though, Robinson would love to return to the Naval Academy to serve as a company officer, a role in which he would be a mentor and guide to the current Midshipmen.
"You're basically their sounding board, their point of contact. You help them with their academics and military requirements," Robinson explained.
And at some point, Robinson would like to use his organizational and leadership skills to work with a college athletic program or professional sports franchise.
"I'd want to work logistics, maybe with an NFL or NCAA team," he said, alluding to a role such as a director of football operations. "I'd like to maybe a couple that with working with player development, also."
Always Representing
Even in high school, Robinson was known as a promoter, making videos and such to market himself, his team or his school.
While serving in the Marines, he's always taken photos with the "Don't Give up the Ship" Navy flag in the places he's been stationed and visited around the globe, always searching out fellow south Georgians for photos.
For him, these photos will one day serve as a reminder of where his service to his country took him.
But for now, they represent his appreciation for the Academy and the Navy football program and also show those back home what opportunities that exist well beyond this little corner along the Georgia coast.
"South Georgia gave me a good foundation, and I'd like to come back here one day," Robinson said. "But, I (take those pictures and post on social media) because I want people to see what military life is like and the opportunities that there are.
"Spending time in different countries, experiencing different cultures, it's been pretty cool. I just want the kids, like students at Brunswick High, to see that yes they live in a great place, but there are a lot of other great places out there and a lot of opportunities possibly awaiting them, too."
Already Giving Back
Robinson obviously hasn't gotten home much since becoming active in the military and serving overseas.
But he doesn't mind answering calls, texts or emails from anyone back in the Golden Isles about a military career or possibly pursuing an appointment to the Naval Academy.
He's visited his alma mater several times to talk with students and has already mentored several including one who is about to enter her junior year at the Academy.
Robinson also sponsors a scholarship that annually goes to a college-bound senior from Brunswick High. It's a one-time payment that began at $500 and now is up to $1,000.
"I started it my freshman year at the Academy," he said. "I know how thankful I was to get a scholarship, so I just thought I'd help students with their education, help cover the cost of college even if it's in a small way."
Those interested in applying for the scholarship are required to submit a one-page essay – typed and double-spaced – on a topic that Robinson himself chooses. He picked the winner the first six years, but his mother, a retired local educator, picked the recipient this past school year.
"My parents usually present the scholarship at Honor's Night," he said.
One of the earliest recipients just recently graduated from Harvard.
"We grew up in the same neighborhood," Robinson points out.
Brunswick High has this thing called "Pirate Pride, and Robinson is certainly full of that. Always will be, he says.
And Cornell said his hometown school, and also his community, should be proud of him, as well.
"What he did with football, seeing his success in academics and on the military side, it's just been great to see him progress through his early career," he said. "Shakir has been a tremendous representative of Brunswick and South Georgia."
And of course, the U.S. Naval Academy and now the United States Marine Corps.