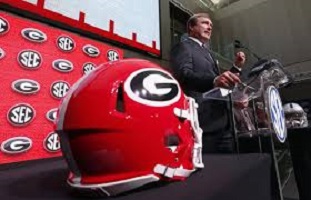 Today, AllOnGeorgia releases the seventh installment of "You Tell Me, MP" featuring legendary Glynn County-based sports writer Murray Poole. In this weekly summer series, current AOG writer Kevin Price will ask Poole a series of questions and the longtime Brunswick News sports editor and 2016 Glynn County Sports Hall of Fame inductee will answer them. Price's goal is to capture the opinions, thoughts and especially the memories that Poole has from yesteryear in local athletics. This week, the county's unofficial sports historian answers SEC football questions including several about the Georgia Bulldogs.
---
This week started with a bang with Brunswick's Warren McClendon committing to the Bulldogs. Your thoughts?
Just happy to see the McClendon legacy at Georgia continue. Willie of course was a great player at Glynn Academy and went on to become SEC Player of the Year in 1978 while leading those "Junkyard Dogs" to many stirring victories.
Then Willie's brother, Tyrone McClendon, played in the defensive line for the Bulldogs in 1986-87. Of course, Willie's son, Bryan, was a standout receiver for Georgia from 2002-2005, before then coaching at UGA and now serving as the offensive coordinator for the South Carolina Gamecocks.
Now Warren, the nephew of Willie and Tyrone and first cousin to Bryan, has joined the Bulldog family. And like all the other McClendons, Warren is a very polite and well-spoken young man who also is a truly outstanding football player. Warren is of course the first McClendon to play for Glynn's cross-town foe, Brunswick High, and will be leading the Pirates' offensive line in the upcoming 2018 season. Then Warren plans to enroll at UGA in January and at 6-5, 300 pounds with his skill set, will be simply enhancing the talented group of offensive linemen Kirby Smart has recruited to Athens the past three years.
You were at SEC Media Days this week in Atlanta. Did the Georgia fans turn out in large numbers to see Kirby Smart and the players like Alabama fans usually do to see the Crimson Tide when the event is in Hoover, Ala.?
When Smart and his three Bulldog players … Terry Godwin, Jon Ledbetter and J.R. Reed … made their appearance at the College Hall of Fame Tuesday morning, there were many UGA fans who turned out to see the coach and his players walk down the "Blue Carpet" that wound from the front of the building and into the huge print media interview room, which was set up on the football field replica in the hall of fame where new members of the hall are inducted each year.
Like all members of the Bulldawg Nation, the Georgia fans were very enthusiastic in greeting the players and Coach Smart, seeking autographs and posing with them for pictures but, to answer your question, the Georgia fans didn't compare in number to all those rabid Crimson Tide fans that have overflowed the lobby at media days in Hoover, on the days Nick Saban and his 'Bama players come to the event.
This was the third SEC Media Days for Kirby. Did he seem more comfortable and confident and open this year to you?
Yes, I think Kirby has gotten more comfortable with this event each year. And he's always been confident when it comes to promoting the Georgia program. But being in his third year as head coach now, he knows more what to expect and seems at ease when he takes his turn speaking at the podium before hundreds of media folks.
Like his old boss Nick Saban, Smart would much rather be out on the football field instructing as opposed to talking and answering questions from reporters, but each time he makes his speech now at SEC Media Days, Kirby never fails to say, "I want to again thank you guys for all you do for football in the SEC!"
Coach Smart said there are no plans to redshirt Justin Fields which figured to be the case. Smart noted what he can bring to the offense with his running talents. Coming out of media days what are your thoughts on how Fields will be worked into the UGA offense?
I've heard some people say there's a quarterback battle at Georgia for the starting spot. That's not the case at all going into the 2018 season as, make no bones about it, Jake Fromm is the Bulldogs' starting quarterback after leading Georgia to a 13-2 record and the national championship game last season while gleaning Freshman All-America honors.
Now, that said, Fromm WILL be pushed by Mr. Fields, who was the nation's No. 1 prep dual threat quarterback last season while playing for Harrison High in Atlanta. And  you better believe Smart and co-offensive coordinators Jim Chaney and James Coley will have special packages for Fields … especially inside the opponents' red zone where the 6-3, 225-pound Fields can cause a whole lot of damage with his running and passing abilities.
Because of the talent of both Fromm and Fields, I will be most surprised if the Bulldogs' offense isn't explosive from the get-go this season.
You talked to Terry Godwin. Do you think he could emerge as Georgia's go-to receiver?
I really think Godwin has been a go-to receiver for the Bulldogs the past two seasons. Last year, he was overshadowed a tad by the tall, high-leaping Javon Wims but No. 5 is the team's leading returning receiver this season and no question that Godwin had the catch of the year when he fell backwards in the Notre Dame end zone and made a truly spectacular one-handed catch for a touchdown.
Terry says he needs to step up his leadership in this, his senior season, and I think he will do just that, becoming a steadying force for the likes of fellow wideouts Mecole Hardman, Riley Ridley and, yes, Demetris Robertson, if the California transfer suddenly becomes eligible for this season.
Based on what you heard from J.R. Reed and Jonathan Ledbetter are they ready to fill some big shoes and be the leaders of Georgia's defense?
No question about that and those two guys have to assume big leadership roles on Mel Tucker's defensive unit, due to the absence now of Roquan Smith, Lorenzo Carter, Davin Bellamy, John Atkins, Dominick Sanders, Aaron Davis and the like. Both Reed, the junior corner, and Ledbetter, the senior defensive end, are very good football players and in talking to both in Atlanta this week, you can tell they know it's their time to lead and motivate this Georgia team and thereby continue the unprecedented success the 2017 Bulldogs experienced last season.
Do you think Atlanta and the College Football Hall of Fame have been well-received as a venue for media days?
I think Atlanta really rolled out the red carpet (blue carpet in this case) and did all the little things right in hosting SEC Media Days for the first time. Just the event being held in the College Hall of Fame and adjacent Atlanta Omni Hotel at CNN and within a long punt of the Mercedes-Benz Stadium, site of the national championship last January, seemed to me to give media days more of a big-time college football feel than when the event is held in Hoover.
Of course, SEC Media Days is returning to the venue south of Birmingham next July and it remains to be seen how often it will be held back in Atlanta. But, one thing, we ran into SEC Commissioner Greg Sankey on Tuesday in the hotel elevator and he couldn't say enough about the splendid job Georgia's capital city did in hosting media days for the first time.
There always seems to be a coach on the hot seat in the SEC. Whose seat is the hottest going into this season?
That's a tough one, but I will go with the two Tiger coaches, Gus Malzahn at Auburn and Ed Orgeron at LSU. Malzahn just got a new contract on the plains and you wouldn't think he would be going anywhere anytime soon but the end of the 2017 season didn't leave a good taste in Auburn fans' mouths.
After the Tigers scored a tremendous win over bitter rival Alabama, they lost in the SEC championship game to a Georgia team Auburn had blown out in the regular season and then the Tigers seemed uninspired in a bowl game loss to UCF in the Chick-fil-A Peach Bowl. If Auburn can duplicate last year's 10-win season, Malzahn should be fine and dandy, but if the Tigers were to revert to the 8-5 finish of two years ago, things will get restless in the Loveliest Village on the Plains.
Entering his second season as full-time head coach of LSU, Orgeron is hoping to build on the 9-4 finish of 2017 when the Tigers beat Arkansas, Tennessee and Texas A&M in their final three regular-season games before then losing tough, by 21-17 to Notre Dame in the Jan. 1 Citrus Bowl. No doubt, the LSU faithful expect their Tigers to challenge Alabama and Auburn and the rest of the SEC West teams on an annual basis for a trip to the conference title game and if Orgeron — who couldn't get the Ole Miss program going in his three years there from 2005-2007 — were to take a step backwards this season in Baton Rouge, then the Tiger fans would be wondering, "Why is Les Miles no longer coaching here?"
 ESPN and Paul Finebaum agreed to a new contract before media days. There was speculation this might not happen. He has quite the following on his daily show and plays a major role on the SEC Network. Are you glad he's back or do you wish he would have taken his act elsewhere?
I have no problem with Paul. It's hard to sit and watch his monotone expression for a full three hours each day. but his afternoon show on the SEC Network does provide me with a good many chuckles at times, what with the so-called "football nuts" around the SEC kingdom calling and ranting and raving to Finebaum about what their team is going to do to another during the course of the season while he sits there and doesn't crack a smile.
Some UGA fans call Finebaum an Alabama and Nick Saban homer and with his call-in show being stationed in Birmingham for so many years, there's no question he has somewhat of an allegiance to the Crimson Tide. But fact is, he's a Tennessee graduate and I've always found him to be fair in all his interviews with coaches and players of the Southeastern Conference.
The media's predictions for the two division champions and the eventual SEC champion will be released at the end of the week. Who did you cast your votes for and why?
Yes, I went along with what the majority is going with … picking Alabama to win the SEC West and Georgia to capture the SEC East Division again. In the SEC title game at Mercedes-Benz on Dec. 1, I'm very tempted to pick a Bulldogs team that could be more explosive on offense and a lot better on defense than people think to gain revenge on the Tide this season.
But after being dominated for three quarters in last year's national title game, Alabama somehow found a way to beat the Dawgs in overtime and you just kind of have to make the Tide the favorite one more time, until Georgia or someone else can prove differently.