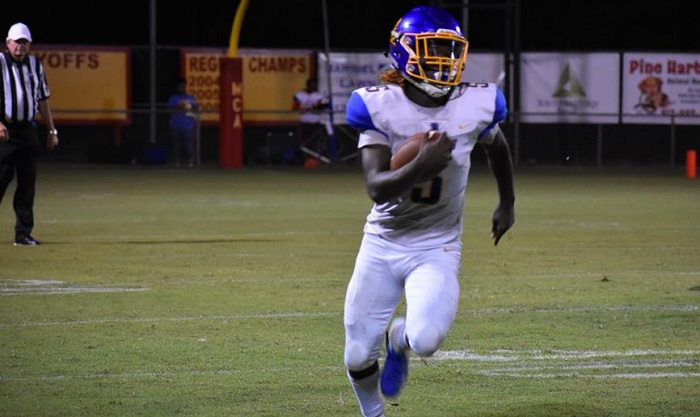 Bob Sphire might just be someone who worries to be worrying.

The second-year Camden County coach hasn't been in Southeast Georgia long enough for anyone to really know.
But this week, Sphire has been concerned about his team and also the Brunswick squad his Wildcats will face when the teams renew their rivarly Friday night at Glynn County Stadium.
A surging Camden team has already equalled its win total from last season, but that's exactly why Sphire is worried about his team's current mind set.
Will the Wildcats (3-1) continue to play with a sense of urgency or will they rest on their laurels after winning three of their first four games? The latter is not an acceptable option, the coach notes.
"Do we get comfortable, although I know where we still are?" Sphire asked this week in a pregame interview. "We are getting better every day, but we still have a lot way to go. Things occurred to make this program hit rock bottom that we're still climbing out of.
"We're better, but nowhere near where we need to be. We can't take anything for granted."
And as for this Brunswick team, he is worried that Friday's game might just be the Pirates' breakout game and that could spell trouble for the Wildcats.
"This is a real trap game for us," Sphire says. "They've played two of the best football teams in the country, certainly in the Southeast. Coffee is one of the best teams in Georgia and Bartram Trail is one of the best in Florida. If we played their schedule, we'd probably be 1-2 as well."
Brunswick coach Sean Pender would love nothing more than to see his young team put together a strong performance after struggling with youthful mistakes in their opening losses to the teams Sphire mentioned before physically overwhelming a rebuilding McIntosh County Academy team in Darien two weeks ago.
But, Brunswick's second-year coach knows Camden is much improved and capable of bullying his Pirates if they don't step up to the challenge.
"They're better and they're well-coached on both sides of the ball," Pender said when asked about Camden. "This is a great test for us. They're very physical, and their players are gonna be in the right spots regardless of the talent they have because they are so well-coached."
Camden kicked off its season with a 27-20 win at home over West Forsyth on Aug. 17. The next week, the Wildcats lost 25-14 to Wren (S.C.) in a game played at Mercer University in Macon.
But two weeks ago, Camden rebounded with a 51-13 win over Locust Grove before winning 33-6 last week at Richmond Hill.
Camden has been much more efficient on offense thus far than it was all of last season when Sphire was teaching the team a spread system after ditching the Wing-T attack that the Wildcats used to win three state titles in the early 2000s.
The Wildcats are hitting big plays through the air and on the ground, and also on special teams. Last week, they faked a punt and scored a touchdown on the play and also blocked a punt that led to a short field and a touchdown against Richmond Hill.
"They run the screen game as good as anyone," Pender said, referencing the team's improved passing attack.
Pender hopes his team can gain yards in chucks through the air as well against an aggressive Camden defense that features good foot speed, too.
A subplot in the game will be two head coaches who are spread-game gurus playing a chess match with the opposing defensive coordinator.
Both teams have first-year starting quarterbacks. Logan Watson won Camden's starting job after an open competition in the offseason and has played well to date. The junior has passed for 640 yards and nine touchdowns in the Wildcats' first four games.
For Brunswick, sophomore KJ Lee has taken most of the snaps, but shared time in the last game with junior Anthony Mountain. Pender said both quarterbacks will probably play Friday.
Lee has thrown for 424 yards and four scores in three games bur also has thrown four interceptions.
The Pirates are averaging 203 yards per game rushing and 153 passing.
Sphire said he expects to see some wrinkles from the Pirates that the Camden coaches haven't seen on film and that they'll  have to adjust to on the fly Friday night.
"Brunswick is athletic as they can be, and they're a big play waiting to happen," Sphire said. "I know Sean, and I've seen him work his system. I know he'll have some things dialed up for us."
Pender, of course, isn't about to reveal any secrets, but he did say the Pirates will try to get a run game going against the Wildcats which no one has done this season. He doesn't want to have to rely soley on his inexperienced quarterbacks to move the chains through the air.
Senior running back Jaylen Trimmings leads BHS with 263 yards rushing. Trimmings ran for 118 yards and two touchdowns last season when Brunswick ran for more than 250 yards against the Wildcats in their 43-27 win in Kingsland.
"They ran it down our throats," Sphire said.
Last year's win was the first for the Pirates against Camden since 1999 when Brunswick played for the Class 4A state title.
Friday's game is set for 7:30 p.m.