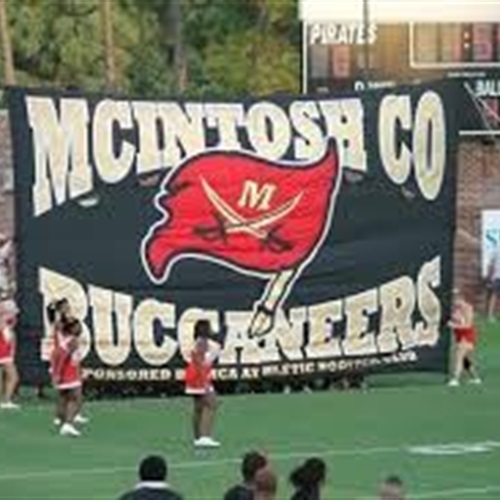 The McIntosh County Academy football team has had as many off weeks as game weeks thus far in the 2018 season.
The Buccaneers opened with a loss to Pierce County at home, and then after a bye week, they lost at home to Brunswick High.
Last week, the Bucs were off again, but now they are set to play seven straight weeks starting with this Friday night's home game against Jenkins County.
The Bucs were missing six starters in their 49-7 loss to Brunswick, but MCA head coach Tony Glazer said he expects three of those players to be back in the lineup on Friday.
The Eagles compete in Region 3-A along with the Bucs, but they are in Sub-region B while McIntosh is in Sub-region A.
Jenkins County is 1-2 for the season with losses to Windsor Forest (28-22) and Metter (21-14) before knocking off Portal (26-7).
The Bucs lost 22-18 at Jenkins County last year.
Atkinson County at Charlton County
The Indians are set to open Region 2-A play Friday with a home game against Atkinson County.
Charlton was off last week after kicking off its season with wins over Frederica Academy and Brantley Couty before going down 21-0 two weeks ago at Appling County.
Charlton is ranked sixth in the Class A public schools poll by the Atlanta papers.
For the Indians, senior quarterback Raykwon Anderson is the leading rusher with 114 yards on 27 carries. Anderson has passed for 318 yards and five touchdowns in three games.
Cook at Appling County
The Pirates will be at home for the third time in four games when they host the Hornets on Friday.
Appling opened the season with a 28-20 loss at home to Vidalia before winning 21-0 at home the next week at Charlton County.
The Pirates then fell 14-7 last week at Dodge County, the sixth-ranked team in Class AA.
The Pirates are averaging just over 196 yards rushing a game. Junior Matthew Nails is the leading rusher with 135 yards and two touchdowns on 18 carries.
Cook is 2-2.
Cross Creek at Liberty County
The Panthers will be at home for the second straight week to take on Cross Creek.
Liberty opened the season with a road win over Bradwell Institute (40-17) before losing on the road the next week at Statesboro (21-6).
Last week, the Panthers made their home debut and knocked of Evans (32-19).
Liberty had been ranked in Class 3A, but dropped out of the state poll when it lost at Statesboro.
The Panthers are averaging 313 yards rushing per game with big performances from senior running back Kris Coleman who already has 703 yards rushing for the season along with eight touchdowns on 56 carries. Coleman is averaging 12.6 yards a carry and is averaging 234 rushing yards per game.
Cross Creek is 2-2.
Tattnall County at Bradwell Institute
The Tigers are off to a frustrating start this season as they have suffered losses in each of their first three games, although they lost to quality opponents each time.
Bradwell opened the year with a loss at Dodge County, which is ranked in Class 2A, before also losing to rival Liberty County and at Valdosta.
Against Valdosta, the Tigers did not have senior running back and South Carolina commit Kevin Harris who sat out the game with a minor injury.
The Tigers will try to get their first win of the season when Tattnall visits Olvey Field in Hinesville on Friday. The Battle Creek Warriors are also winless after three games and they have not scored more than 14 points in any game.