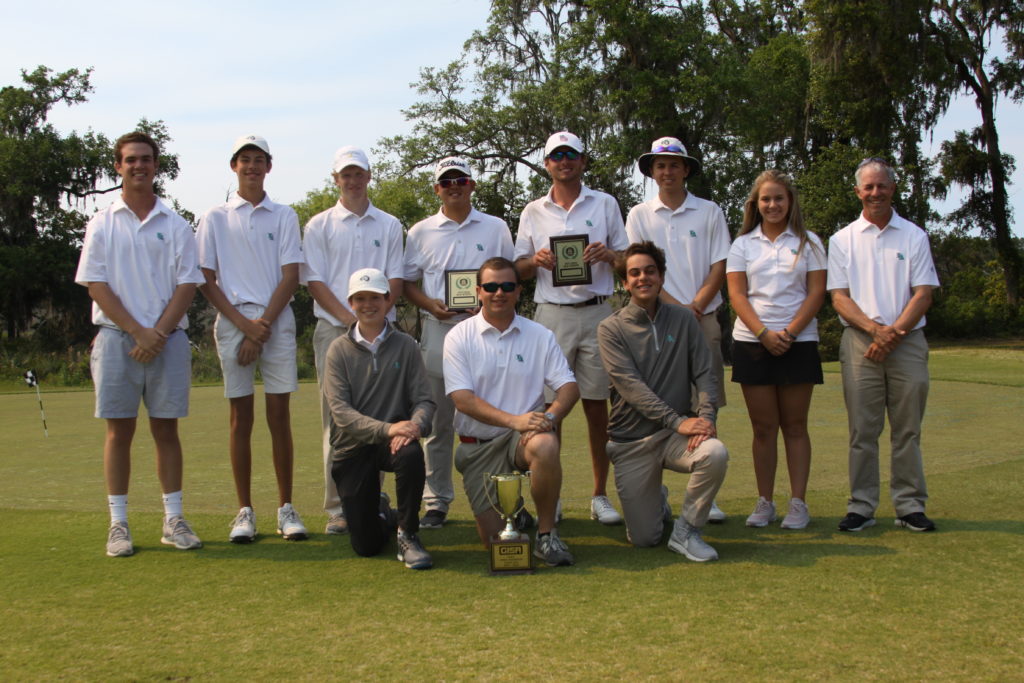 The Frederica Academy golf team has won yet another state championship.
The Knights blew away the field Monday in the Georgia Independent School Association Class 3A state tournament to claim their 11th consecutive state crown and their 14th title overall.
Playing the 18-hole affair at the Sapelo Hammock Golf Club in Shellman Bluff, the Knights carded a 299 score to record a 29-shot victory over Brookwood and Pinewood Christian who both finished a distant second with their 328 tallies.
"It was a great day for us on the links as we were able to run away from the field after somewhat of a rough start," said longtime FA coach Tom Willis.
The state tournament was originally scheduled for last Monday but had to be postponed a week due to inclement weather.
On Monday, the Knights were led by seniors Sarut Vongchaisit and Thomas Hogan who both shot 1-under-par 71 to tie for medalist honors. Both players have already signed with Ole Miss.
Vongchaisit also won medalist honors last year in the state tournament and Willis said he believes Vongchaisit is the only player in GISA state-tournament history to repeat as an individual champion.
"Sarut started out over par early, bogeying the first and third hole," Willis said "But, he got it back with a birdie at the fifth and the seventh and nearly a birdie on the ninth.
"He struggled on 10 through 16, playing those at 2-over, but he birdied 17 and hit the most gorgeous last approach shot of a high school career on the 18th – a 7-iron from 185 yards that landed two feet from the pin for an eagle at the last that tied him for the low medalist."
Vongchaisit also set a new single-season record for scoring average as he finished the year with a 70.9 average. The previous season-best mark was 72.0 by Park Brady during the 2014 championship season.
Hogan, a four-time state champion with the Knights, finished out a strong showing in his four years playing in the state tournament. His tie for first this year comes on the heels of three straight runner-up performances in the state event.
Willis lauded his performance. "Thomas had a steady round with a bogey early, but birdies on nine and 10 to get it to 1-under," the coach said.
"He would bogey the par -4 13th, but he came back with a birdie on the 16th after hitting an approach to four feet. He parred in to tie for low medalist honors."
Hogan also finishes his prep career with the lowest career scoring average by a Frederica golfer. Over his five years with the Knights, Hogan averaged a 75.1 score, besting the previous low average of 76.8 by Billy Shuman who starred for the Knights from 2008-12.
Both Vongchaisit and Hogan earned all-state honors with their first-place finishes in the state championship.
"Thomas and Sarut will both have super golf careers at Ole Miss and will be great assets for that team," Willis said.
Also earning all-state recognition was Ryan McHugh who shot 77 for the Knights over Monday's 18 holes, drawing praise from Willis for a solid season.
The Knights' other counting score was an 80 by senior Jack O'Hara who is currently struggling with his swing. O'Hara has already signed with Villanova.
The Knights also got an 81 from freshman Cason Cavalier.
"Jack will have a great golf career at Villanova. He's a super athlete," Willis noted.
"Cason Cavalier had it going well, too. He shot 39 on the front and then parred the next 5 holes. He had several good opportunities at birdie and just couldn't get a putt to fall. Then, it all fell apart on the last four holes as he played them 6-over.
"That's too bad. He's had a great run the last several weeks. He's been in the 70s a lot and will be huge for this team in future years as he's only a freshman."
Frederica's state title run began in 2008 when the Knights were led by seniors Dru Love, who went on to play at Alabama and is now playing professionally, and Shuman, who played collegiate golf at Furman.
Willis said the Knights should field another strong team next season with McHugh and Cavalier returning to the lineup. The roster also will include Michael Tindle, Josie Arant, James Cruikshank, and Roy Boyd.
"They're all good players and will have a big hill to climb to fill the shoes of these seniors," Willis said. "But, they are talented and tournament-hardened, so I think they have a good shot to pull of a 12th straight title.
"For now, we'll enjoy this one and wish our seniors well."