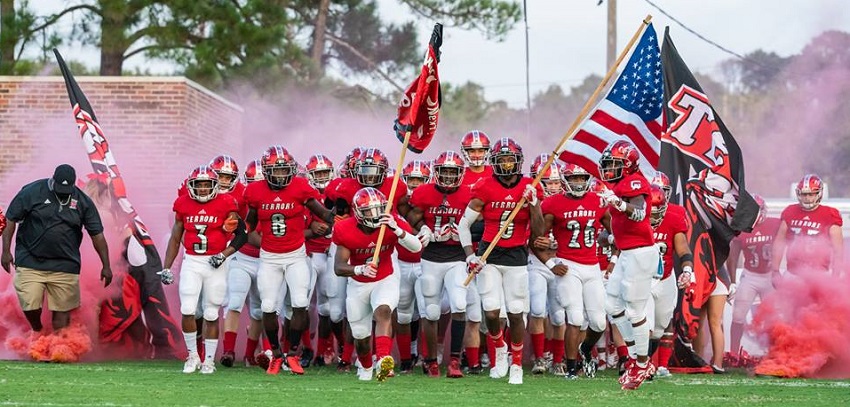 The Brunswick Pirates will remain on the road this week, but the Pirates won't be venturing far from home to play their third game of the season.

Brunswick will make the short trip to Darien to face off against McIntosh County Academy on Friday night.
Both the Pirates and the Buccaneers will be looking for their first victory of the young season.
McIntosh lost 48-14 two weeks ago to Pierce County at home in its season opener before having an open date last week.
The Pirates, meantime, lost at Coffee and Bartram Trail (Fla.) in their first two games.
BHS and MCA have actually only played twice in the regular season against each other. The Pirates won both meetings including the 2015 contest by a 35-12 score.
Brunswick competes in Class 6A while McIntosh is a Class A school.
The Pirates will be heavy favorites Friday over an MCA team which is rebuilding under first-year coach Tony Glazer.
"I know their players are gonna play hard, but we're going to go in there and concentrate on us," said BHS coach Sean Pender.
"We are bigger than they are. We have more players than they do. We're gonna try to out-physical them in this game and get this thing rolling, get off this losing streak."
BHS has been its own worst enemy in its first two games against two teams that played for state championships last fall. The Pirates have dropped passes and committed turnovers in the red zone in each of their opening two games, and last week the defense got carved up by a pass-happy Bartram Trail offense.
On Friday, Pender is hoping for better execution on both sides of the ball.
"We want to stop tripping over our own feet," Pender said.
Groves at Glynn Academy
The Red Terrors will be at home a third straight week to open the season as they host Groves Friday night at Glynn County Stadium.
Glynn got its first win of the season last week with a 42-6 victory over Washington (Atl.) as it rang up 436 total yards including 356 on the ground.
The Rebels opened their season last week, losing 77-14 at Effingham.
Glynn and Groves have played 46 times with the Terrors holding a 31-15 advantage in the series. They have not played since the 2013 season.
Friday's game will be Glynn's Homecoming contest.
"We may be better than them. We may be a lot better than them," said GA coach Rocky Hidalgo. "But, we need to focus on being the best Glynn Academy team we can be.
"It's not even about them. It doesn't matter what they do. It matters what we do."
Frederica Acdemy at Lanier County
The Knights will go on the road for the first time this season after suffering a pair of tough losses at home to open the season.
In Week 1, Frederica fell 28-21 to Charlton County when the Indians returned an interception for a late score.
Last week, the Knights fell 7-6 in overtime to Valwood after the teams were locked in a scoreless tie at the end of regulation.
This week, the Knights will take on Lanier County which opened its season last week with a 38-18 loss to Montgomery County.
Like Charlton, the Bulldogs compete in Class A in the Georgia High School Association.
They will be the third GHSA team the Knights have faced. Last season, Frederica played at Wesleyan, where the Knights lost their first-ever game against a GHSA school.
A win Friday would be the first of the season for the Knights and their first-ever against a GHSA school. Frederica is a member of the Georgia Independent School Association.
"They're athletic. They're big, but they're young, I think," said FA coach Brandon Derrick of the Bulldogs. "(Lanier coach Kurt Williams) is a new guy. It's his first year, so they're trying to get everything put together and get the program going in the right direction. They're doing some good things, but like all of us, they have things they have to work on also."
The Knights will have several starters standing on the sidelines Friday night with injuries. One of those is senior quarterback Jaylin Simpson who is not expected to play due to turf toe.
Also, senior all-purpose player Jashawn Sheffield can't play by rule after being ejected last Friday in the Valwood game.