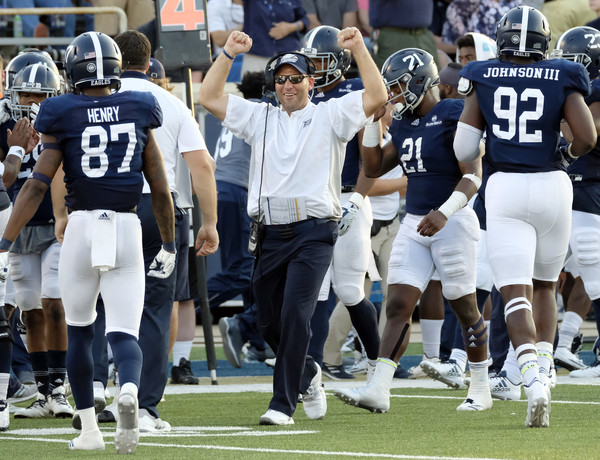 Georgia Southern's 18-game experiment with Tyson Summers as head coach clearly did not work out for the Eagles.

Now, this proud football program is under the direction of former GSU assistant Chad Lunsford who hopes to get the Eagles playing winning football again.
Lunsford was named interim head coach last season when the school dismissed Summers following an 0-6 start to the 2017 season.
With Lunsford at the helm, the Eagles did win two of their final six games including a 52-0 victory over South Alabama and a close victory over Louisiana down the stretch.
Lunsford was named the head coach after the 2017 season and is set to guide the Eagles into his first full campaign as the leader of the program. Georgia Southern opens its 2018 season this Saturday with a game against South Carolina State at Paulsen Stadium.
The new boss has also brought in a pair of new coordinators as the offensive coordinator and play-caller will be Bob DeBesse who has installed a shotgun-based option attack that longtime Georgia Southern faithful should like when it starts to click.
Most recently, DeBesse led an offensive revival at New Mexico before joining forces with Lunsford in Statesboro. His Lobos offenses ranked in the top 10 in rushing yards per game for five consecutive years.
Also, the GSU defensive coordinator is new. Lunsford hired Scot Sloan away from Appalachian State where he had coached the last decade.
Sloan has replaced Georgia Southern's 4-3 scheme with a 3-4 scheme as the Eagles plan to put speed on the field and have the ability to cover from sideline to sideline going forward.
In all, the Eagles return eight starters on offense and nine on defense from last season.
Offensively, developing continuity on the line will be critical as 10 different players started at least one game up there for the Eagles last season.
It appears sophomore quarterback Shai Werts is ready to take a step forward after running for 722 yards and throwing for seven touchdowns last season.
The Eagles also return senior Wesley Fields who rushed for 811 yards last season.
GSU will also try to get the ball in the hands of tight end/H-back Ellis Richardson who can make plays and help out a receiving corps that is lacking in depth.
Defensively, the Eagles will employ the 3-4 scheme even though a recruiting priority will be to add talent and depth at the linebacking positions which are lacking in both departments right now.
The team will rely heavily this season on inside linebackers Tomarcio Reese and Todd Bradley to lead the middle of the defense.
The defensive front will be anchored by senior Ian Bush, but depth is also a concern across the line.
The secondary is the defense's strength. Juniors Monquavion Brinson and Kindle Vildor are back as standout cornerbacks while safeties RJ Murray and Joshua Moon are skilled and versatile players who can move around and cause confusion for opposing offenses.
Following the opener, the Eagles will host UMass and play at Clemson prior to an off week. They will host Arkansas State on Sept. 29 for their opening game in the Sun Belt Conference.