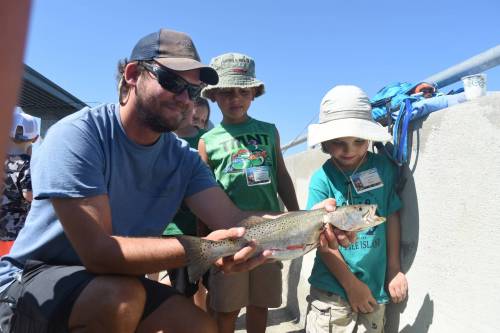 The Department of Natural Resources is taking precautions to keep the public safe and prevent the spread of Covid-19.
Due to the importance of public safety, the annual Golden Isles Fishing Event, typically scheduled for the first weekend in June, has been canceled.  Coastal Resources Division will present two-hour camp events during the summer to smaller groups, including families, at the Coastal Regional Headquarters at One Conservation Way in Brunswick.  These Family Fun Camps are geared toward beginner anglers interested in learning more about Coastal Georgia.  During the camp, participants will learn about fishing gear and local fish species.  The camps will be offered on the following dates:
Thursday, June 4 from 8:00 AM – 10:00 AM
Friday, June 5 from 8:00 AM – 10:00 AM
Monday, June 8 from 9:00 AM – 11:00 AM
Tuesday, June 9 from 9:00 AM – 11:00 AM
Monday, August 3 from 8:00 AM – 10:00 AM
Thursday, August 4 from 8:00 AM – 10:00 AM
Adults are required to participate with kids during these camps (one adult/guardian must be present for three students to participate).  Participants are required to sign a waiver to join the fun.  All gear is provided during the camp.  Participants over the age of 16 are required to have a valid fishing license, but there is no additional cost to participate.  These camps will be filled on a first-come-first-serve basis and space is limited.  A maximum of eight participants will be able to register for each camp.
To reserve dates, please contact Cate Williams at cate.williams@dnr.ga.gov.