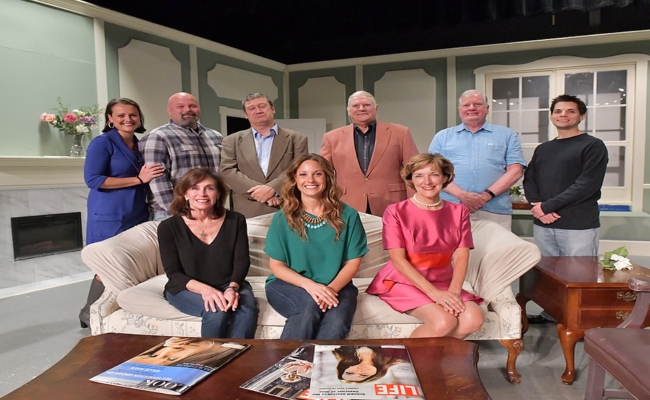 The St Simons Island Players are currently performing their production of Neil Simon's hit, Plaza Suite, which originally opened on Broadway in 1968 and is being performed through May 20th.  Plaza Suite is a three-act play, which follows three different couples who, in succession, rent suite 719 of New York City's Plaza Hotel. 
Bob Boles is directing the production of Plaza Suite. While it is his first time directing the Island Players, he isn't new to directing productions or the performance group. He has been working with the Island Players for the past three years, and was assistant director of a previous production.  Boles holds a degree in speech/theater and has worked as a stage manager and director for off-Broadway plays in New York City.  He is really excited about directing Plaza Suite, stating that "there's so much talent in this area". 
There are nine actors in the play, including Rochelle Fournier.  Fournier, who plays Karen Nash, describes her character as a "pleasant, affable 48-year-old woman.  She is a multi-dimensional, complex character with a broad range of emotions." 
The Island Players hold a summer workshop, where children put on a play and learn what goes on behind the scenes.  This summer's production will be Lion King Jr., and will open July 18th.  Auditions will be held on May 19th from 9:00 a.m. to noon, and then again from 2:00 p.m. to 4:00 p.m., as well as May 20th from 6:00 p.m. to 9:00 p.m.  Boles says the workshop is a great experience for children who want an overview of play production.  He talked about the benefits to the child, saying "it's a wonderful way to use their imagination. It can help them become more self-confident.  They get to work on a creative project with lots of other kids and adults that really want to help introduce the children to all different aspects of theater."
Putting on shows since 1956, the Island Players put on four shows per year, in addition to the summer workshop.  Residents, both full and part-time, are invited to attend, audition for a role, or work behind the scenes.  Boles says plays are unique because "they are live, and you never know what you're going to see.  Sometimes you know the performers." Fournier added that "each cast member brings a lot of energy to the stage.  The show is full of laughter and sure to entertain the audience."
The Island Players perform at Casino Theater, located at 530 Beachview Drive on St Simons Island.  Ticket prices are $20 for adults, $10 for military or students, and $5 for those under 18.  For more information, please call 912-638-0338 or check out their website or Facebook page.