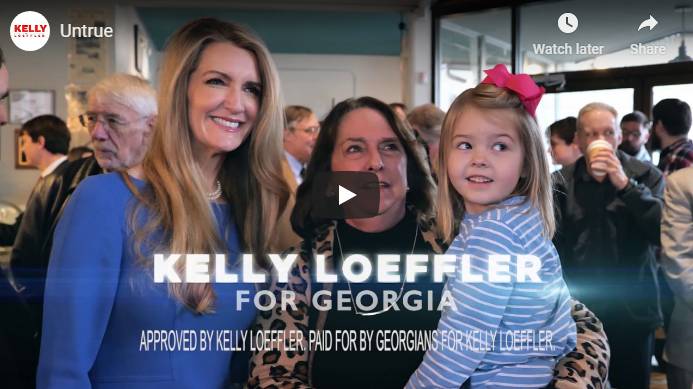 Loeffler launches $4 million ad campaign
The Loeffler campaign announced three new digitals ads on Monday – each set to begin airing on cable this week.
The campaign said the ads are focused on "exposing the left's false political attacks and highlighting her efforts to deliver relief to Georgians impacted most by COVID-19."
"During times of crisis, people want servant leaders—not politicians—to solve tough situations and deliver results, and that's exactly what Kelly has done since day one of this pandemic," said Stephen Lawson, Communications Director. "From helping secure funding and loans for Georgia hospitals and businesses to launching an online portal to help families get the assistance they need, she has worked around the clock to deliver relief to those impacted by COVID-19. While the Left, media and her opponents play politics, Kelly will not be distracted by their false attacks. Instead, she remains laser-focused on helping Georgians emerge from this crisis stronger than ever."
The three new ads, "Georgia First," "Untrue," and "Strong," will launch statewide on broadcast, cable, radio, and digital mediums.
The Democratic Party of Georgia was quick to comment on Loeffler's ad campaign:
After leaked GOP internal polling found her deeply underwater with Georgians, unelected "political mega-donor" Senator Kelly Loeffler is now doubling-down on her desperate efforts to blame just about everyone and everything but herself for her stock trading scandal with a new $4 million ad campaign.
Loeffler is now claiming that "liberal lies" and being "a strong conservative woman" are somehow responsible for her and her husband's coronavirus stock trades. Loeffler even attempts to deflect from her scandal in the ads by bragging about her secretive private jet she routinely uses to hop back and forth from Georgia to DC.
"Kelly Loeffler's attempts to distract from her scandal and deflect blame on to others is exactly why Georgians don't trust her to do what's right for our state," Alex Floyd, spokesman for the Democratic Party of Georgia, said. "Instead of being honest with Georgians about her coronavirus stock trades, Loeffler is setting $4 million on fire in an attempt to blame everyone else for a mess she made. No matter how many ads she runs, Loeffler can't buy Georgians' trust — and she clearly has no intention of trying to earn it."
You can watch all three ads below.