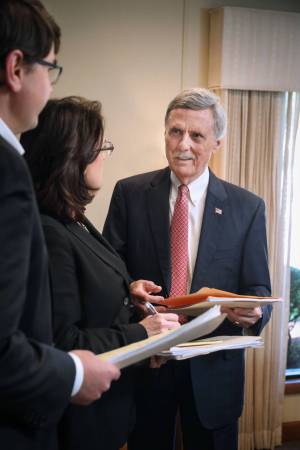 The race to fill the unexpired term of the late Senator Jack Hill is heating up and one candidate is aligning himself closely with the policies of Governor Kemp.


Billy Hickman, a longtime accountant in Bulloch County, announced his support for Governor Kemp's plan to reopen the state in a news release Tuesday. The alignment with Kemp comes as the state has largely been divided over the Governor's handling of COVID-19 responses and even more so with regard to how the state should incrementally reopen.
From Hickman's news release:
"I fully support Governor Kemp's measured plan to reopen Georgia," said Billy
Hickman. "As a businessman and certified public accountant, I've spent my career
helping families and businesses through tough times. The Governor's decision to reopen
the state by taking a measured, data-driven approach with the proper precautions and
responsible guidelines will keep Georgia's economy roaring, keep our businesses
thriving and allow Georgians to provide for their families while remaining safe and
healthy."
"The citizens of Senate District 4 do not need the government running their lives. I trust that with the safety guidelines Governor Kemp has put in place for businesses and the protections for the elderly and medically-fragile, business owners and individuals will be able to make the best decisions for themselves, their businesses and their communities. We cannot let the response to this virus be worse than the virus itself – it's time that we get Georgia back to work.
"I put my trust in God and the people – not the Government. In the Senate, I will put
personal responsibility over government control, and I will not allow the special
interests or the radical left to dictate what's best for our people and businesses."
Hickman's campaign alludes to the notion that Hickman is well-connected politically, using the same campaign consultants as Kemp and running a heavy paid social media campaign with advertisements of his endorsements of both Congressman Buddy Carter (GA-1) and House Majority Leader Jon Burns, who represents Bulloch and Effingham counties.
Outside influence is already taking hold of the 4th Senate district, which encompasses Bulloch, Candler, parts of Emanuel, Effingham, Evans, and Tattnall counties. The Georgia Chamber of Commerce has pledged support for Brooklet doctor Scott Bohlke.
Hickman will face Scott Bohlke, Kathy Palmer, Stephen Jared Sammons and Neil Singleton in the June 9th primary election.