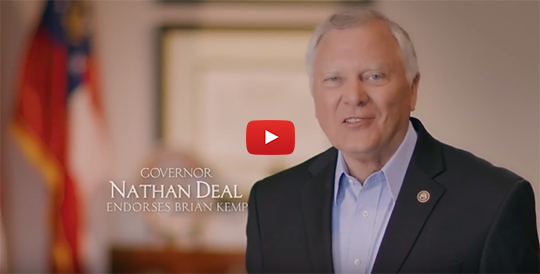 Georgia's top leader for the last eight years is throwing his support behind Republican candidate for Governor Brian Kemp in hopes that Kemp will keep Georgia on the same track.

In a new 30 second television ad released Monday, Governor Nathan Deal voices his opposition to Stacey Abrams' "extreme agenda and re-affirms his support of businessman Brian Kemp."
Over the last several weeks, Democratic candidate Stacey Abrams has released television ads promoting her alliance with Deal on justice reform and other issues, touting a bipartisan record in the Georgia legislature.
In a press release issued with the ad, Kemp said:
"I am honored to have Governor Deal's strong support in this historic race. As governor, I will build on the Deal legacy. We will continue to grow jobs, lower taxes, invest in public education, promote early learning, protect the HOPE Scholarship, and lead in criminal justice reform. 
"Thanks to Republican leadership at the State Capitol, our state is the best place to live, work, build a business, and raise a family. As governor, I will work around the clock to keep Georgia moving in the right direction."
You can watch the ad below:
Script:
This election is about Georgia's future.
We can't afford billions in big government with higher taxes.
Brian Kemp is the only candidate who will keep Georgia moving forward.
Brian is a businessman who will grow our economy and create jobs by investing in education and a skilled workforce.
And Brian will keep Georgia safe and strong.
I'm Nathan Deal. Brian Kemp will keep Georgia moving in the right direction.