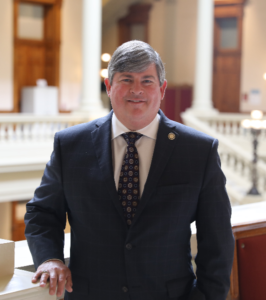 By: Sen. Larry Walker (R – Perry)

Our time here is seeming to go by in the blink of an eye and although we are less than two weeks away from our final day, we're continuing to work hard to serve the great people of this state. Our days in Chamber, voting on legislation, have slowed down since last speaking with you, but much of those energies have been redirected to committee meetings. Each one of the bills we have still standing play a critical role in your lives and we are continuing to listen to you to understand your priorities in our remaining time left. As the Senate nears the end of the legislative session, we're rapidly working to make sure our promises to you are accomplished by Sine Die.
Agriculture, the largest and arguably most impactful industry in this state, dominated several of our discussions, reminding those in the legislature of the critical role our farmers and industry workers play in the way our state operates. Relative to the issue areas we covered in the Senate Chamber, House Bill 693 and House Bill 336 both address different aspects of farming and transporting goods. The first bill, HB 693, establishes provisions for farm tractors and implements that keep our roads safe for members of the public, as well as operators. This includes outlining the conditions in which a farming implement does or does not have a right-of-way. Through this measure, HB 693 specifically recognizes instances where a wide-load farming vehicles may not be able to safely move to the right-hand-side and gives them priority on the road. This ensures the successful transfer of food and fiber, which helps place food on the table and the clothes on our back.
The second bill, House Bill 336, revises the Georgia Hemp Farming Act that was first introduced in 2019 in order to streamline our processes and regulations with federal standards. The updates provided in HB 336 include altering the definition of processing to remove traditional methods, prohibiting the cultivation of hemp in residential structures and raising the surety bond requirements for processor permittees. While still a relatively new farming industry in the state, interest in hemp cultivation has grown exponentially in the last year and although this has led to new innovative developments, the sheer amount has made it more difficult to regulate. Aligning state procedures with federal should assist the Department of Agriculture's work in this field and the state's invested interest.
Our agribusinesses, as you are familiar with, touch upon nearly every aspect of our daily lives; however, another area that impacts Georgians every day is our taxing infrastructure. Through your perseverant efforts, our state economy was able to withstand the obstacles of the pandemic and while much of that can be contributed to our businesses staying open, tax returns played a heavy hand in that. With the changing state of our nation, now more than ever it is essential that we, as your elected officials, remain fiscally responsible and conservative when asking for your hard earned dollars. House Bill 593, a bill that I had the privilege of carrying, emphasizes the importance of moderation in our tax code by crafting a tax cut that would save up to $140 million and move the state closer to federal standard deductions. This bill, the Tax Relief Act of 2021, would increase a taxpayer's standard deduction when filing a federal income tax return for all categories. This would equate to an increase from $4,600 to $5,400 for single or head of household; $3,000 to $3,550 for married filing separate; and $6,000 to $7,100 for married filing jointly. Ultimately, HB 593 ensures that you are able to see more of the dollars you worked so hard for returned back.
On a similar theme, reopening Georgia's economy placed us well ahead of other states in the nation and that is thanks largely to Gov. Kemp's leadership throughout the pandemic. Through his guidance and expertise, Georgia was able to maneuver through uncertainty to get our state, and you, back on its feet. When making this decision, however, it was imperative that we reopened businesses in a way that didn't hinder their operations and was safe for Georgians. We were able to achieve that through the "Georgia COVID-19 Pandemic Business and Safety Act," which provided businesses certain immunity for claims of damage or injury that resulted from contracting COVID-19 on the premise. HB 112 extends the protections offered to our businesses for an additional year, providing further grace to our workers who had to alter their systems in order to adjust to the needs of the pandemic. While resilient, I know the challenges you have been faced with and I hope HB 112 offers continued support.
The final bill I would like to touch on is House Bill 114, a testament to the idea that Georgia is a great place to raise a family. Through HB 114, the state will increase the income tax credit provided for the adoption of a foster child from $2,000 to $6,000 during the first five taxable years and then $2,000 for every year thereafter. This would last until the child reaches the age of 18  years old, fueling Georgia's economy while also incentivizing adoption within our foster care systems. Our foster families, and those who chose to adopt, are making the selfless decision to serve a life other than themselves. Through their actions, they are changing the lives of these children for the better and HB 114 enables them to continue making a positive impact on the state of Georgia and all those who reside here. I would like to offer my endless gratitude to these individuals who are providing more children with a safe and loving home.
The passage of Senate Bill 241 was a pivotal moment for the legislature in moving towards substantial elections reform. This week, the Senate Ethics Committee took up the House alternative, House Bill 531, which offers added changes to our current elections system, including the use of drop boxes and wait times. As we continue to promote legislation that restores faith in our systems, know that we are also working on other measures that heavily impact you, your families and your businesses. The Fiscal Year 2022 budget should take precedence next week, but the end is quickly approaching and there is still much work to do. If you have any questions about our efforts under the Gold Dome, don't hesitate to reach out.
---
Sen. Larry Walker serves as the Majority Caucus Vice Chairman and Chairman of the Senate Agriculture and Consumer Affairs Committee.  He represents the 20th Senate District, which includes Bleckley, Houston, Laurens and Pulaski counties.  He may be reached by phone at 404.656.0095 or by email at larry.walker@senate.ga.gov.