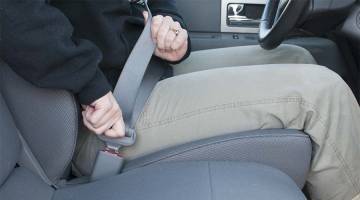 Georgians could see enhanced seat belt laws if the legislature takes up the recommendations made recently by a Senate study committee.
The state Senate committee that convened to study the impacts of seat belt usage heard testimony on Georgia's current seat belt statute, the personal safety and medical cost implications of being properly restrained in passenger vehicles, and the failure to use seat belts being admissible evidence in civil cases over the last several months. The committee, officially named 'The Senate Study Committee on Passenger Vehicle Seat Safety Belts,' has since recommended that adult passengers in the back of a vehicle be added to the list of people who must wear a seat belt when a vehicle is in motion.
Under current law, Georgia drivers, front seat passengers, and children under the age of 17 who are riding in the back seat are required to buckle up. The Peach State joins nineteen others in not regulating what adults do in the back seat.
The committee is also recommending that juries on civil trials be permitted to consider whether or not a person was wearing a seat belt when assessing comparative fault.
The committee was authorized by the passage of Senate Resolution 366. The Chairman of the Senate Public Safety Committee – John Albers – also chaired this committee, which Senators Tonya Anderson, Bill Cowsert, Donzella James, and Chuck Payne served on after being appointed by Lieutenant Governor Geoff Duncan. Among those who testified before the committee:
Allen Poole, Director of Governor's Office of Highway Safety
Colonel Mark McDonough, Commissioner of the Georgia Department of Public Safety
Nathan Humphrey, NFIB
Terry Norris, Georgia Sheriff's Association
Dwayne Orrick, Georgia Association of Chiefs of Police
Emily Bagwell, Georgia Association of Property and Casualty Insurance Companies
John Robinson, Alpharetta Police Department
Mark Middleton, AAA
Albers has said the legislation "will save lives."
The Georgia legislature convenes the second week of January for the 2020 session. You can read the complete study committee report below.
FinalSeatbeltStudyCommitteeReportwithSignatures