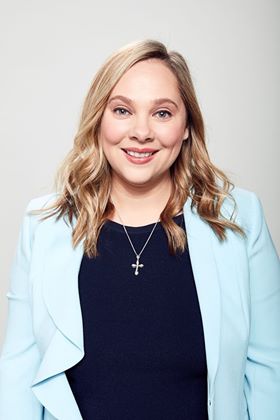 Sarah Riggs Amico announced her campaign to become the next Senator from Georgia and the first woman elected to the United States Senate from the state. The launch video, about the values and faith that have grounded Sarah's life and career, can be viewed here.
"I'm running to restore Georgians' faith that they can have a champion in the US Senate who will fight for their families instead of wealthy special interests. If we make public policy grounded in our shared values, I believe we can build a government as good as the people of Georgia," said Amico.
"It's time for new leadership that will fix a broken system that is rigged against Americans who are working hard to provide for their families and achieve the American Dream. Senator David Perdue and Republican leaders in Washington have failed Georgia families and communities: from farmers suffering under the GOP-led trade war, to the families at risk of losing their healthcare as Republicans try to dismantle the Affordable Care Act and end protections for people with pre-existing medical conditions," she continued.
Amico has personally confronted head-on the challenges of the broken system that Senate Republicans have refused to address. The multiemployer pension crisis and the disastrous trade war with China helped lead her family's business, Jack Cooper Transport, to announce a financial restructuring this year. Due to her advocacy and commitment to her workers and her values, she ensured the proposed deal would prevent cuts to wages, jobs, and health care benefits.
Now, Amico is running for Senate to stand up for the millions of Americans who shouldn't have to worry about losing the hard-earned pensions they and their employers have paid into for decades. In the Senate, she'll be able to advocate not only for workers at Jack Cooper, but workers everywhere.
During the 2018 cycle, Sarah was nominated as the Democratic candidate for Lieutenant Governor of Georgia and campaigned alongside Stacey Abrams, and she traveled across 150 counties. Amico received over 1.8 million votes statewide – more than any other Democratic Lieutenant Governor candidate in history. Her path to victory lies in building on last year's successful blueprint of speaking to shared values and issues that impact all Georgians, and exciting a broad electorate to turn out in 2020.
BACKGROUND ON SARAH RIGGS AMICO
Sarah Riggs Amico comes from the business and transportation sector, and enters this race as a political outsider. She serves as Executive Chairperson for Jack Cooper, one of the largest car-hauling enterprises in North America, employing thousands of hard-working union truckers and mechanics. She attended public schools growing up and went on to Washington & Lee University before earning an MBA from Harvard Business School. Sarah lives in Marietta with her husband, Andrea, an Italian immigrant, and their two daughters, Ava and Sofia.