74-year-old U.S. Senator Johnny Isakson announced Wednesday that he will not complete his Senate term and will step down at the end of the year.
Isakson was diagnosed with Parkinson's disease in 2013 and recently suffered from a fall in his apartment in Washington, D.C. which left him with four fracture ribs and a torn rotator cuff.
He issued the following statement announcing his resignation:
"After much prayer and consultation with my family and my doctors, I have made the very tough decision to leave the U.S. Senate at the end of this year. I have informed Georgia Governor Brian Kemp today that I will resign my Senate seat effective December 31, 2019.
"I am leaving a job I love because my health challenges are taking their toll on me, my family and my staff. My Parkinson's has been progressing, and I am continuing physical therapy to recover from a fall in July. In addition, this week I had surgery to remove a growth on my kidney.
"In my 40 years in elected office, I have always put my constituents and my state of Georgia first. With the mounting health challenges I am facing, I have concluded that I will not be able to do the job over the long term in the manner the citizens of Georgia deserve. It goes against every fiber of my being to leave in the middle of my Senate term, but I know it's the right thing to do on behalf of my state.
"I look forward to returning to Washington on September 9 when the Senate goes back into session. And after December 31, I look forward to continuing to help the people of Georgia in any way I can and also helping those who are working toward a cure for Parkinson's."
Isakson's Senate term ends in 2022, and there will be three years left in the term when he vacates the seat in December. Governor Brian Kemp will appoint a Senator to serve through the general election in 2020, at which time there will be a special election for Isakson's replacement to resume through the end of 2022.
Isakson is the only elected official in Georgia to serve in the Georgia House, the Georgia Senate, the U.S. House and the U.S. Senate.
News of his resignation spread quickly with elected officials around the state offering their thanks for his service and well wishes:
Governor Brian Kemp:
"No one embodies the heart and soul of Georgia more than Johnny Isakson. Our state and
country have been immeasurably blessed by his leadership in the Georgia General Assembly, U.S. House, and U.S. Senate. Senator Isakson's list of accomplishments on behalf of the state that he loves is long and revered, but what Georgia should be most thankful for is the high standard that Johnny held as a true gentleman, a fighter for his constituents, a trusted advocate for our nation's veterans, and one of the greatest statesmen to ever answer the call of service to our country. Marty and I are forever grateful for the friendship that Johnny and Dianne have shown us over the years and wish them the very best in the years to come. I will appoint Senator Isakson's replacement at the appropriate time."
First Lady Marty Kemp:
"Senator Isakson is a lifelong family friend, and we are deeply grateful for his dedicated
service to our state and nation, including alongside my father in the Georgia General Assembly," said First Lady Marty Kemp."Georgia is incredibly blessed to have had Johnny on our side for all these years. Our family is praying for Johnny and Dianne as they embark on this new journey."
U.S. Senator David Perdue
"When Johnny Isakson speaks, people listen. He is a true statesman, and it shows every day. It is my high honor to serve as Johnny's partner in the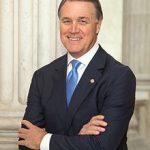 United States Senate. Like so many Georgians, I was surprised and saddened to learn that he will not finish the rest of his term. Together, we are able to get real results for Georgia. Throughout his four decades of service, Johnny has always been a champion for the people of Georgia, especially our veterans. Bonnie and I are grateful for Johnny and Dianne's leadership, and we are proud to call them our friends."
Attorney General Chris Carr:
"I cannot express my appreciation deeply enough to Senator Johnny Isakson for his service
to our state and his friendship to me and Joan. Johnny is a shining example of how to be successful professionally, politically and personally. I will be forever grateful that he was willing to take a chance on me in 2004 and that he has served as a mentor to me ever since. Whenever I am confronted with a tough decision, I often ask myself, What would Johnny do?
"For over 40 years, Johnny has served our state as a state legislator, State School Board Chairman, a member of the U.S. House of Representatives, and now as a United States Senator.  Our state and our nation are better because of Johnny's service. I wish my friend and mentor well as he crosses the finish line of a stellar career in public service."
Congressman Jody Hice:
"Senator Johnny Isakson is the definition of a statesman. His four decades of public service
to the State of Georgia and our Nation will leave a lasting legacy for generations. I am thankful for his mentorship, leadership, and thoughtful approach to public policy. I pray for his full recovery in the hopes that we can call on his wise counsel and steadfast courage for years to come. Dee Dee and I wish Johnny, his wife, Dianne, and their entire family the very best as he transitions to his well-deserved retirement."
Sarah Riggs Amico, Candidate for U.S. Senate
"I wish Senator Isakson and his family the best during this difficult time. Georgia is now
officially a battleground state, with two of the Senate seats Democrats need to flip the chamber, and I look forward to continuing my campaign to hold David Perdue accountable for his failure to represent working families in Georgia."
Lt. Governor Geoff Duncan:
"Over the course of his career, Senator Isakson consistently put Georgians first and embodied what it means to be a workhorse and not a show horse in Washington. He built the Republican Party of Georgia from the ground up, and I am so thankful for his conservative leadership. His commitment to our Georgia values is something every elected official in our state should seek to emulate. Brooke and I wish him and his family all the best in the coming years."
Stacey Abrams, Speculated to Run by Political Pundits
"Our thoughts are with Senator Isakson and his family," an Abrams representative said in a
statement. "Leader Abrams' focus will not change: she will lead voter protection efforts in key states across the country, and make sure Democrats are successful in Georgia in 2020."
"While she will not be a candidate herself," the statement said, "she is committed to helping Democratic candidates win both Senate races next year."
Democratic Party of Georgia
"We thank Senator Isakson for his years of service to his state and country, and wish him all the best for his future.
With now two Senate seats up for election in 2020, it has never been clearer that the path for Democratic victory runs through Georgia. We are the battleground state, and Georgia Democrats are ready to fight and deliver both the Senate and the presidency for Democrats across the country in 2020."
National Republican Senatorial Committee (NRSC):
"The path to a socialist agenda will not run through Georgia, but the growing and contentious Democratic senate primary field didn't get the memo. Failed business executive and former Stacey Abrams' sidekick Sarah Riggs Amico joins a primary contest that has embraced an extreme and out-of-touch agenda that stands in sharp contrast to David Perdue's positive record of delivering results for all of Georgia." -NRSC spokesperson Nathan Brand
Below is the letter he sent to Kemp.
08-28-19 Sen Isakson letter to Gov Kemp