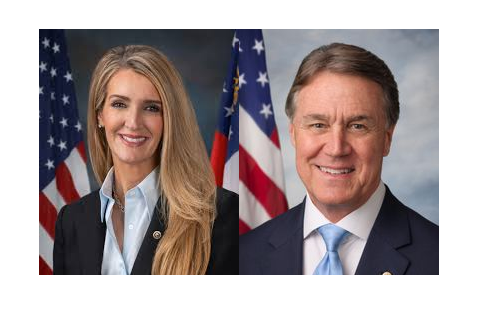 Both U.S. Senators from Georgia have been selected by President Donald Trump to serve on his task force to re-open the American economy.

Loeffler released a press release Thursday:
Senator Loeffler, who spent her career in business creating jobs and opportunity throughout the country, will lend her decades of private sector experience to help President Trump and his Administration revive the American economy.
"COVID-19 has infected our country while undermining economic growth and opportunity," said Senator Loeffler. "With over 22 million Americans out of work and almost 1 million newly unemployed Georgians, it's clear that our nation needs decisive action to deliver relief to those impacted most and get the American people – and our businesses – back to work.
"As a conservative businesswoman, I understand what it will take to reignite productivity and restore our economy to full strength. I look forward to using my experience as a business leader and CEO to help President Trump and his team enact policies that ensure a safe, healthy, and prosperous future for our state and country."
Perdue's office also made an announcement:
The Senator joins a number of bipartisan, bicameral congressional leaders who will provide direct counsel to President Trump on the re-opening of America in the wake of the COVID-19 crisis.
"President Trump's agenda created the greatest economic turnaround in U.S. history. However, the COVID-19 crisis and the resulting shutdown of much of our country has taken a serious toll on our economy. Many Americans are not only worried about their health, but also whether they can keep their jobs, run their businesses, and provide for their families," said Senator Perdue. "Even while we are still fighting this virus, we need to begin thinking about how to reopen our economy. Going forward, our objective should be to find a balance between keeping people healthy while protecting jobs and the economy long-term. While still focused on protecting human life in this crisis, President Trump worked with Congress to enact and sign into law the CARES Act to provide a bridge for businesses to keep people employed. As a former business CEO, I'm humbled to be named to the Task Force and look forward to helping get us all back to work."
Senator Perdue is a political outsider who was involved in successful turnarounds of major American companies during his business career. Senator Perdue has been an advisor to President Trump and the White House in crafting and implementing policies that led to the U.S. economic turnaround prior to COVID-19.
As we purpose to reopen our economy, Senator Perdue will work to find a balance between fighting the virus and getting our economy going again.
Sarah Riggs Amico, candidate for U.S. Senate against Perdue in November, released the following statement in response to the appointment as well:
"Having scored himself a spot on Donald Trump's pandemic recovery task force, we're reminded that David Perdue has never missed an opportunity to enrich himself at the expense of hard working Americans. As CEO of Pillowtex, he abandoned his employees after just nine months on the job, lining his pockets with a $1.7 million buyout months before the company shuttered and put over 7,000 people out of jobs. As a Senator entrusted with serving the people, he's used a public health crisis to invest more in stocks than in saving lives. We can only wonder whose interests he will serve on this task force, but we're sure his broker is grinning from ear to ear."