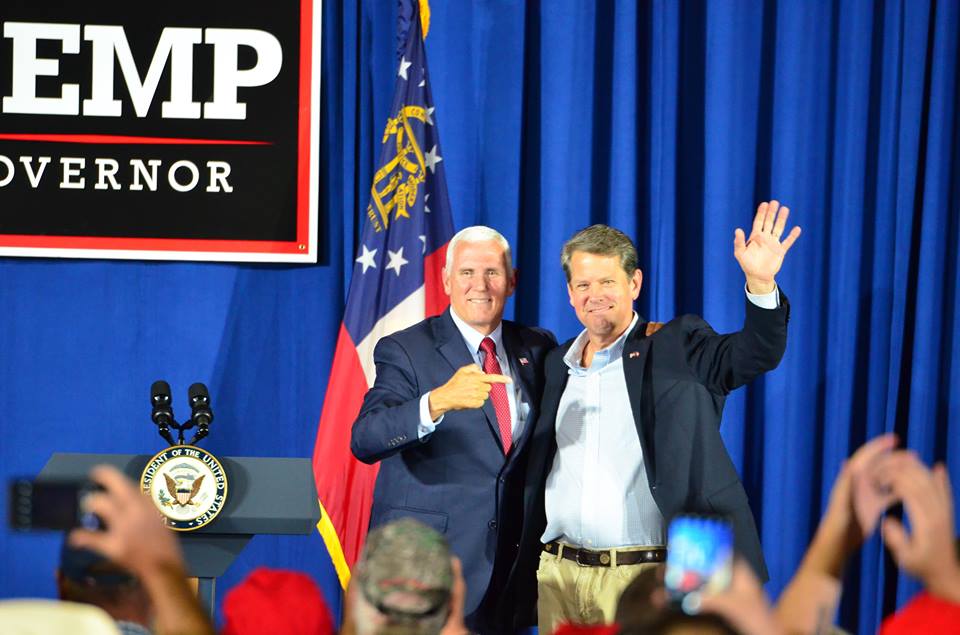 Vice President Mike Pence will visit Georgia again ahead of the November election, according to two high-ranking Georgia politicains – Sonny and David Perdue.
The news broke over the weekend when WMAZ reported from the Georgia Republican
Party's 8th District Fish Fry in Macon. The Perdue cousins said Pence is planning another campaign stop.
Junior U.S. Senator David Perdue said it could be as soon as early September when Pence joins Republican candidates on the campaign trail again. He also said President Trump will stump for Kemp at some point as well.
Pence stumped on behalf of President Trump for Republican candidate for Governor and current Secretary of State Brian Kemp. At the time, Kemp was facing Lt. Governor Casey Cagle in the Republican primary runoff. Kemp defeated Cagle by a 70-30 margin, claiming 157 of 159 counties across Georgia. Polling released after the primary runoff in July showed Kemp poised to defeat Cagle, but a Trump and Pence endorsement that came the week before Election Day caused a surge, ultimately yielding a landslide defeat.
ANALYSIS: Kemp Claimed 157 of 159 Counties, Cagle Decline Started with Deal Endorsement
Whether or not the support of Trump and Pence will help Kemp among moderates and Independents remains to be seen. In June, some outlets reported a slide in Trump's approval rating across states but data showed that the slide was less in Georgia than many other states.
Kemp will face Democrat Stacey Abrams in November, former Minority Leader of the Georgia House of Represenatives and the woman vying to be nation's first black female governor. Abrams told attendees of the Democratic State Convention over the weekend that the entire race will come down to turnout.
Read more about the July visit by Vice President Mike Pence in the AllOnGeorgia coverage of the rally in Middle Georgia:
What VP Mike Pence Said About Brian Kemp on the Campaign Trail