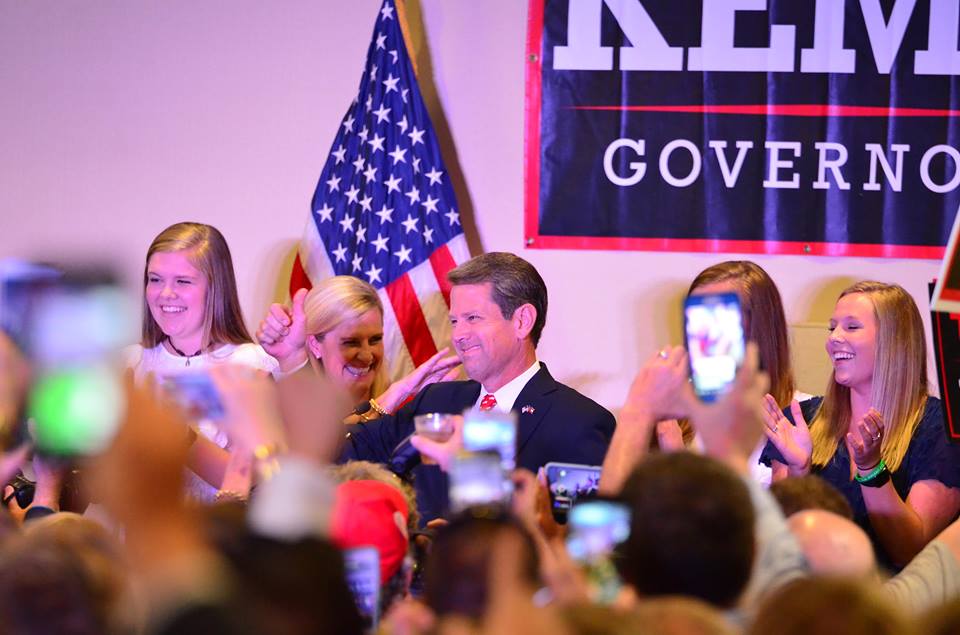 In a clean sweep that was decided just over an hour after the polls were closed, Secretary of State Brian Kemp swept the state winning the majority of the votes in 157 of Georgia's 159 counties, effectively defeating Lt. Governor Casey Cagle.  
The race was called by multiple media outlets around 8:17 p.m. and Cagle took the stage at his own election night party to concede. He also reportedly called Kemp to concede officially. Kemp defeated Cagle by a 69.5-30.5 margin.
Cagle, who was the frontrunner for the Republican Party since the announcement of his campaign, was endorsed by Governor Nathan Deal, but was never able to overcome the blowback from the tapes recorded by former candidate Clay Tippins.  
Most of the attacks the Cagle campaign attempted to sling at the Kemp campaign did not stick. Cagle targeted Kemp's work as Secretary of State, worked to coin a slogan of 'InKEMPetence,' and went after supposed poor business deals, but voters seemed unfazed. The endorsement of President Donald Trump and Vice President Mike Pence seemed to only seal the deal.
When did it start to tank for Cagle?
Political strategists began posting internal polls and other information on Twitter late Tuesday night, alleging that the steep decline for Cagle came immediately after Trump's endorsement of Kemp the Wednesday (July 18) before the election. The endorsement of Vice President Mike Pence followed on Thursday (July 19) and the VP campaigned at a packed rally for Kemp on Saturday in Macon. The decline only grew steeper for Cagle in the days that followed.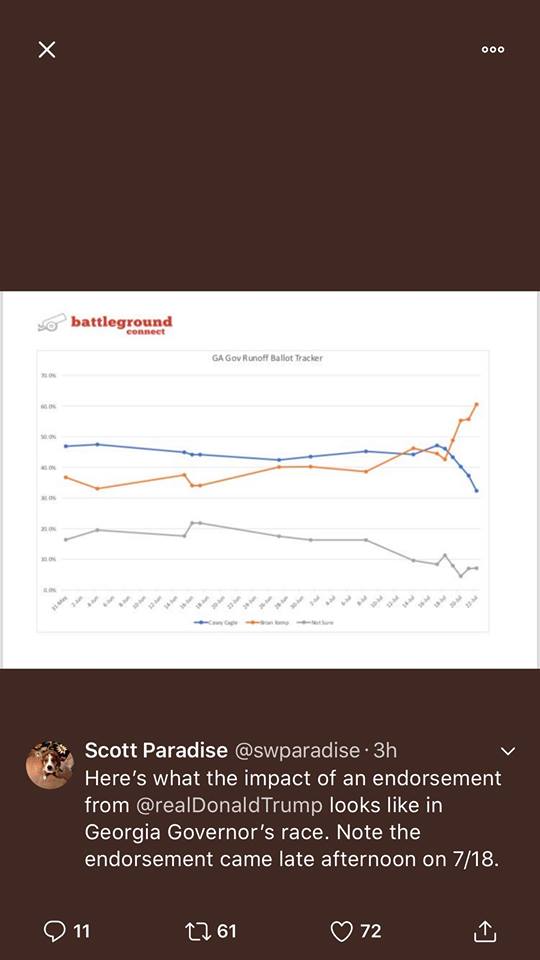 Kemp, depicted by the orange line, showed a steady momentum over the course of the runoff election, while Cagle largely stayed in the same range before tanking nearly 18 percentage points in the last week of the campaign.
The chart also illustrates a downtick for the Cagle campaign after the endorsement of Governor Nathan Deal, which happened on Monday, July 16.
As the chart shows, Kemp likely would have won the election, even without the endorsements of the President and Vice President, but both caused the overwhelming surge in favor of Kemp.
Voter Turnout
585,515 Georgians voted in the Republican runoff for Governor, putting voter turnout around 9%.
Absentee & Early Voting Numbers
While Kemp still led the race in early voting, the margins between Cagle and Kemp were much smaller in the earlier election returns. In some rural counties, like Bulloch in southeast Georgia, the early voting and absentee totals were within one vote of each other.  
County Breakdowns
Cagle did not claim a victory in Hall County, his home county, and led the totals in only Monroe County and Stephens County. Kemp, in his capacity as Secretary of State, was at the center of dispute between county border lines, involving Monroe and Bibb counties. Monroe County was on the losing side of the dispute decision and the county ultimately lost tax revenue and commercial development projects to Bibb County. But even in Monroe County, Cagle only took 51% of the vote. His Stephens County win was at 61%.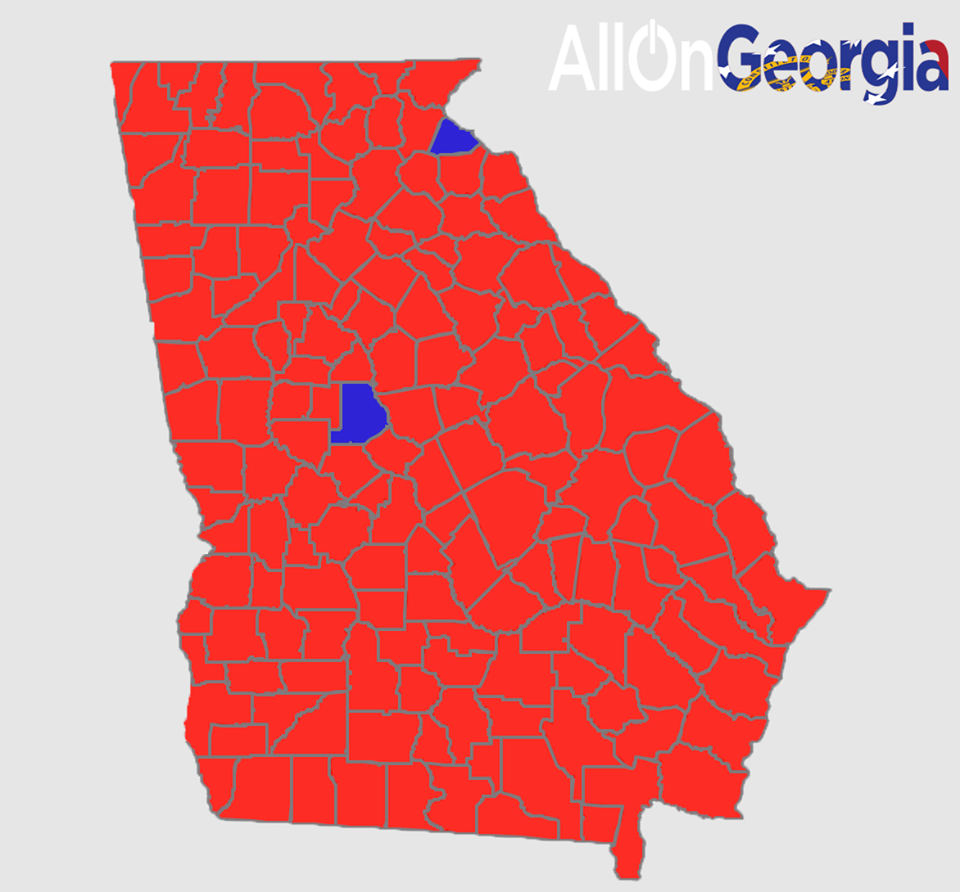 Kemp performed the best in Oconee County garnering 84.73% of the vote.
His top percentage garnering counties include:
Oconee — 84.73%

Walton — 84.68%

Clarke – 82.69% [Kemp home county]

Haralson — 82.37%

Berrien – 81..85%

Newton — 81.97%

Oglethorpe — 80.87%

Appling — 80.57%

Bartow — 80.38%
Kemp in Metro Counties
Cherokee –76.52%

Cobb — 70.35%

DeKalb -62.65%

Douglas — 73.17%

Fayette – 70.85%

Forsyth — 70.05%

Fulton —  62.93%

Gwinnett – 72.76%

Paulding — 76.03%
Kemp in Rural Counties
Northwest Georgia
Catoosa — 60.63%

Chattooga — 64.44%

Dade — 62.78%

Floyd — 65.67%

Gordon — 71.63%

Walker — 65.80%
Northeast Georgia
Fannin — 66.06%

Habersham — 64.85%

Lumpkin — 63.02%

Rabun –66.99%

Union — 6988%
Southwest Georgia
Baker — 73.58%

Colquitt – 69.77%

Decatur — 63.42%

Echols – 76%

Seminole – 55.78%
Southeast Georgia  
Bulloch — 62.47%

Candler — 61.85%

Emanuel — 61.54%

Evans — 60.55%

Tattnall – 62.79%
Coastal Georgia
Camden — 71.57%

Glynn — 69.20%
Cagle tweeted late Tuesday evening congratulating Kemp.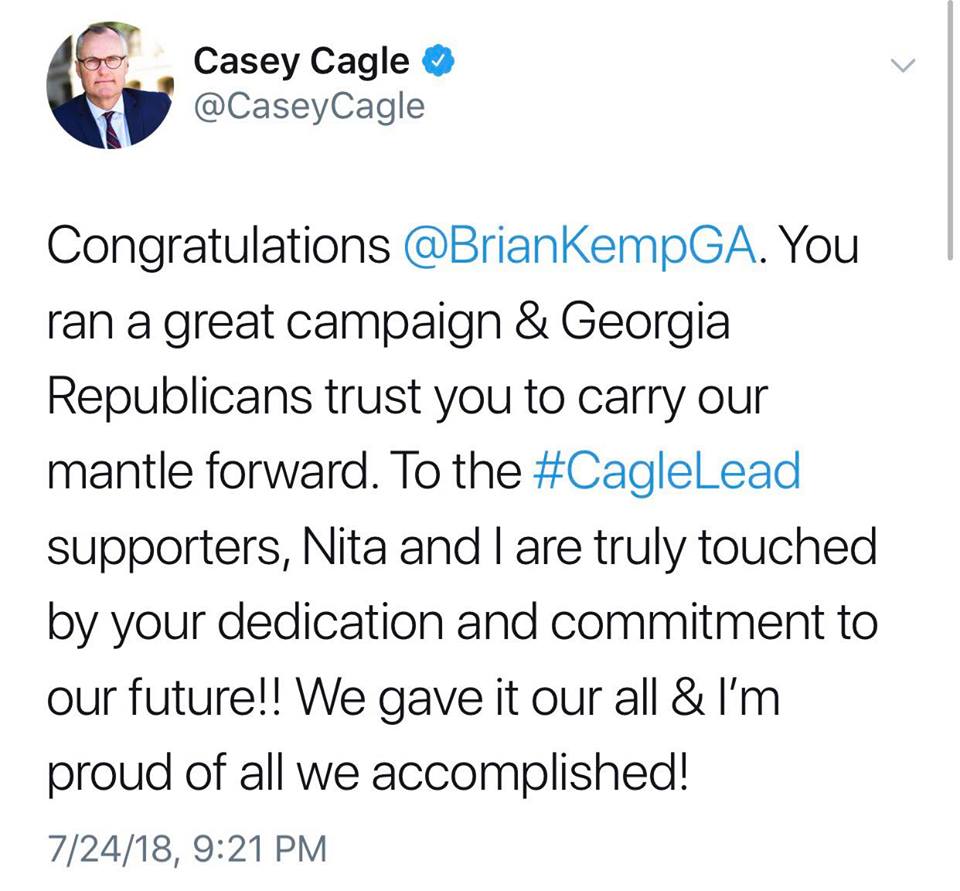 Election Night photo gallery from Kemp Victory Party — Photos by Rick Austin