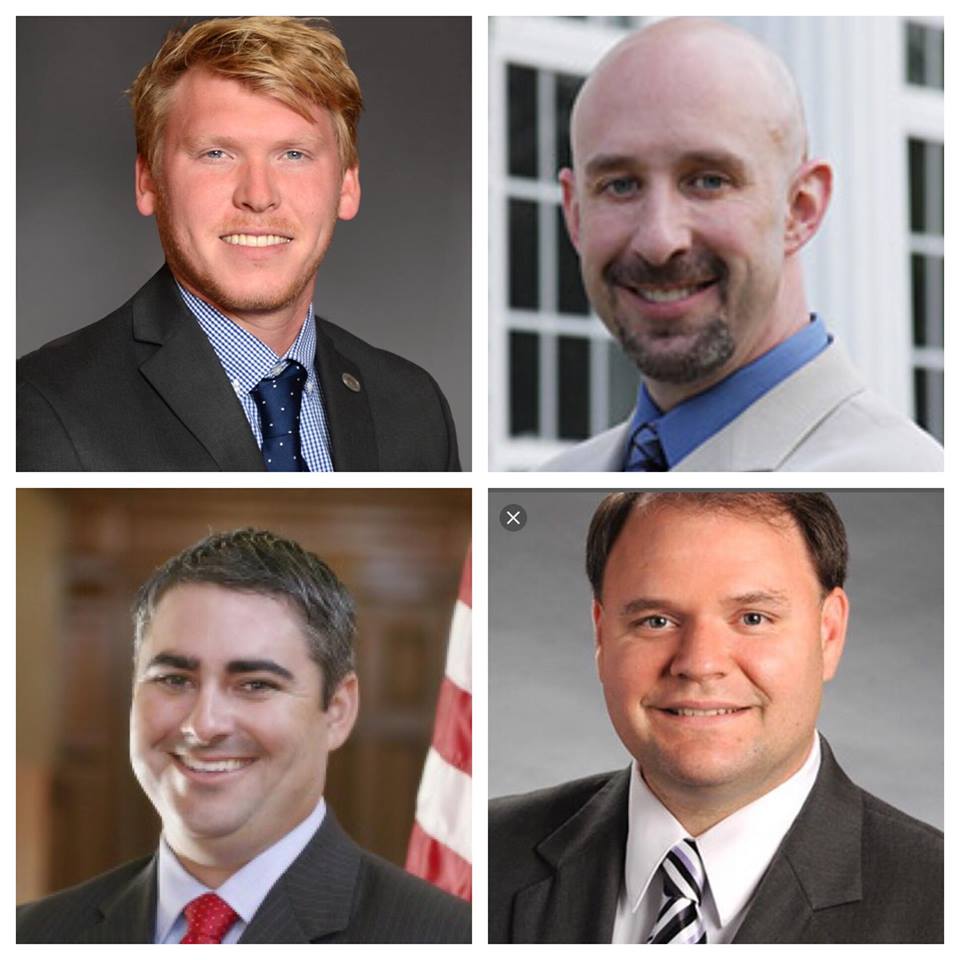 It's an age old political question that comes about every time election season arrives: Should people outside of a district try to meddle in elections to influence how people vote?
The issue is one that has long been debated, but made national headlines not too long ago when now-Congresswoman Karen Handel faced Jon Ossoff in a special election. Millions of dollars were funneled in, directly and indirectly, in attempts to influence the outcome on the race in Georgia's 6th Congressional District.
Since campaign donations have long been held as "free speech" and therefore protected under the First Amendment, it would be unlikely that we would see a day and age when out of district campaign donations are prohibited or banned. But out of district influence does bring up a lot of other questions: Does it work? Where is the money coming from?
And the one most voters ask: "Why do people outside the district care so much?"
In rural Georgia, voters often associate outside influence with an attempt to back a candidate who will agree with leadership and perhaps even set aside the needs and desires of their own district to stay in good graces with the majority. Those who fall victim to the attack ads are often classified as 'independent thinkers' and more than likely have a track record of voting NO.
WHO IS MEDDLING IN ELECTIONS IN 2018?
The Georgia Coalition for Job Creation is one organization that has been blitzing mail boxes around the state in an effort to campaign against known conservative representatives.
But a little digging into the "coalition" yields few results. The website shows a measley landing page and a gmail address for contact information. The organization is listed with a creation date back in April 2014 and is classified with the IRS as a 527 organization and a "Georgia independent expenditure political committee." The first year it meddled in legislative races, onlookers speculated that the organization was created to defeat both Charles Gregory and Sam Moore, both incumbents who touted limited government and more no-votes than anyone else. Both were ultimately defeated. In 2014, the organization spent roughly $173,000 on mail pieces.
In 2016, the Atlanta Journal Constitution reported that the Georgia Chamber of Commerce and the Georgia Coalition for Job Creation tend to "overlap" donors and in 2016, the year after the Transporation Tax of 2015, both groups spent considerable time and money trying to defeat lawmakers who voted against the tax increase legislation backed by the Chamber. The Chamber, while it is not a political think tank, has historically favored more liberal, big government, and pro-big business legislation. In 2016, the organizations spent about $300,000 in an effort to defeat conservative lawmakers.
Fast forward two years. In the Republican Primary, the Georgia Coalition for Job Creation is still slamming conservatives from northeast Georgia to the Florida border. State Representative Matt Gurtler, State Representative David Stover, State Senator Marty Harbin, State Representative Jason Spencer, and former State Representative Delvis Dutton, who is seeking the seat he once held, have all been targets of the attack ads. Gurtler, Stover, Harbin, Spencer, and Dutton are all in contested primary elections while simultaneously holding some of the most conservative voting records in the state.
The mailers are being refuted by those they target as half-truth and misrepresentations of personal finances, voting records, and attendance records in their respective Chambers. In some instances, the candidate that is supported by the Chamber gets off without being accused of negative campaigning, thanks to the efforts of the Coalition.
The Georgia Chamber of Commerce has never denied the association with the Georgia Coalition for Job Creation and in 2014, the Coalition issued a press release congratulating its chosen candidates, which included quotes from the Chamber of Commerce. The media contact was Scott Paradise.
Georgia_Coalition_for_Job_Creation_Congratulates_Winning_Candidates

So where does the money from the Georgia Coalition for Job Creation go and how are they spending it?
DONATIONS TO THE ORGANIZATION
List is not comprehensive. Information from Cal Beverly of The Citizen.
AGL Resources Georgia PAC, $25,000
AT&T, $105,000
Coca-Cola North America, $50,000
Cousins Properties, $10,000
Delta Airlines, $50,000
Ga Chamber Political Affairs Council, Inc. PAC, $25,000
Ga Chamber of Commerce Independent Expenditure Committee, $50,000
Georgia Chamber of Commerce State PAC, $45,000
Georgia Power Company, $200,000
Metro Atlanta Chamber of Commerce PAC, $120,000
MGM Resorts International, $10,000
Newell Rubbermaid, $25,000
Pruitt Health, $25,000
Suntrust Good Government Group, $25,000
The Home Depot, $25,000
Yancey Bros. Co., $25,000
HOW ARE THEY SPENDING IT?
Advertising. Mailers, radio ads, and phone calls.
Here is a gallery of some of their mailers. Click to enlarge:
Here is an ad running in Camden County in House District 180 where Representative Jason Spencer is facing Steven Sainz.
https://www.youtube.com/watch?v=CNvknEAdlCU&feature=youtu.be
DIRECT MONEY FROM OUTSIDE THE DISTRICT & CAMPAIGNING BY HOUSE LEADERSHIP
In many areas of the state, money from lawmakers and lobbying groups are pouring into campaigns against the same conservatives on the receiving end of the negative campaigning.
Coweta & Fayette counties 
In House District 71, Representative David Stover faces an opponent in Sam Anders.
The Georgia Chamber of Commerce has donated $1,000 to Anders and State Representative Christian Coomer – who is most well-known for skipping more than 100 votes on the House floor while he was present in the House Chamber – donated $2,000 to Anders. Coomer is also the House Majority Whip. 3rd District Congressman Drew Ferguson donated the maximum contribution ($2,600) to Anders, as Stover supported Ferguson's primary opponent in 2016 when he was first elected. Ironically, Anders was also in the contested primary and came in 6th out of 7 candidates.
Stover has received $1,300 from outside the district and is largely funding his campaign himself.
Evans, Tattnall & Wayne counties
In House District 157, where Bill Werkheiser faces challenger and former State Representative Delvis Dutton, $54,300 in out-of-district money has been donated directly to Werkheiser from lawmakers, attorneys, and organizations outside of the district while Dutton collected just $250 from outside of the district. Nearly 100% of the money Werkheiser has reported since qualifying ended and session adjourned has come from outside of Evans, Tattnall, and Wayne counties. More money has been sent from outside the district in this race than any other in the state.
Speaker David Ralston hosted a BBQ lunch for Werkheiser in early May in Dutton's hometown after donating the maximum contribution to Werkheiser and the Georgia Coalition for Job Creation has sent out at least two mailers in favor of Werkheiser and against Dutton. Former Democrat Congressman Lindsey Thomas, who does not live in House District 157, has also offered his endorsement.
Camden, Charlton & Ware Counties
State Representative Jason Spencer is facing Steven Sainz in House District 180. In addition to nearly 1/3 of Sainz's donations coming from outside the district ($8,650), the Georgia Chamber of Commerce has sent Sainze $1,000.
The Georgia Coalition for Job Creation has also sent multiple mailers attacking Spencer and is running negative radio ads on a Christian radio station in the district.
Bulloch & Bryan counties
Speaker David Ralston and Governor Nathan Deal both hosted a fundraiser for incumbent Jan Tankersley who is in a contested primary against Statesboro attorney Robert Busbee. Tankersley has garnered more than $10,000 in out of district money in the last two years and $144,000 over her eight year legislative career.
Northeast Georgia
And in perhaps the most egregious effort to defeat a conservative, House leadership, the Governor, and the Georgia Chamber of Commerce have teamed up to fight State Representative Matt Gurtler in Rabun, Towns, Union, and White counties in northeast Georgia.
Speaker David Ralston hosted a fundraiser for Gurtler's opponent, Mickey Cummings, and donated to his campaign. Cummings has also garnered the support of the Governor, Representative Matt Hatchett of Dublin, Rules Chairman John Meadows, Ways & Means Chairman Jay Powell, Appropriations Chairman Terry England, Rep. Chad Nimmer from South Georgia, and the Georgia Chamber of Commerce. All of donated at least $1,000.00 to Gurtler's opponent, Cummings, in an unprecedented effort to defeat a sitting House Republican. $13,000 from outside the district has been sent to Cummings. Gurtler has reported $7,365 from outside the district since qualifying.
Whether or not the Georgia Chamber of Commerce, the Georgia Coalition for Job Creation, and House leadership will be successful will be determined in just one week. Without a doubt, the negative campaigning is a referendum on limited government conservatives who vote NO. If voters of this state oppose NO-votes in the Georgia legislature, they'll vote against these men on May 22. If they stand behind the effort of all of them, perhaps it would send a strong message to the three powerful entities pushing for their demise.
Former State Senator Mike Crane, who also ran for Congress in 2016, posted a video on his Facebook page Monday taking to task the organizations working to influence races around the state.
My thoughts and suggestions on how to filter through the noise of the upcoming elections and make an informed decision.

Posted by Mike Crane on Monday, May 14, 2018