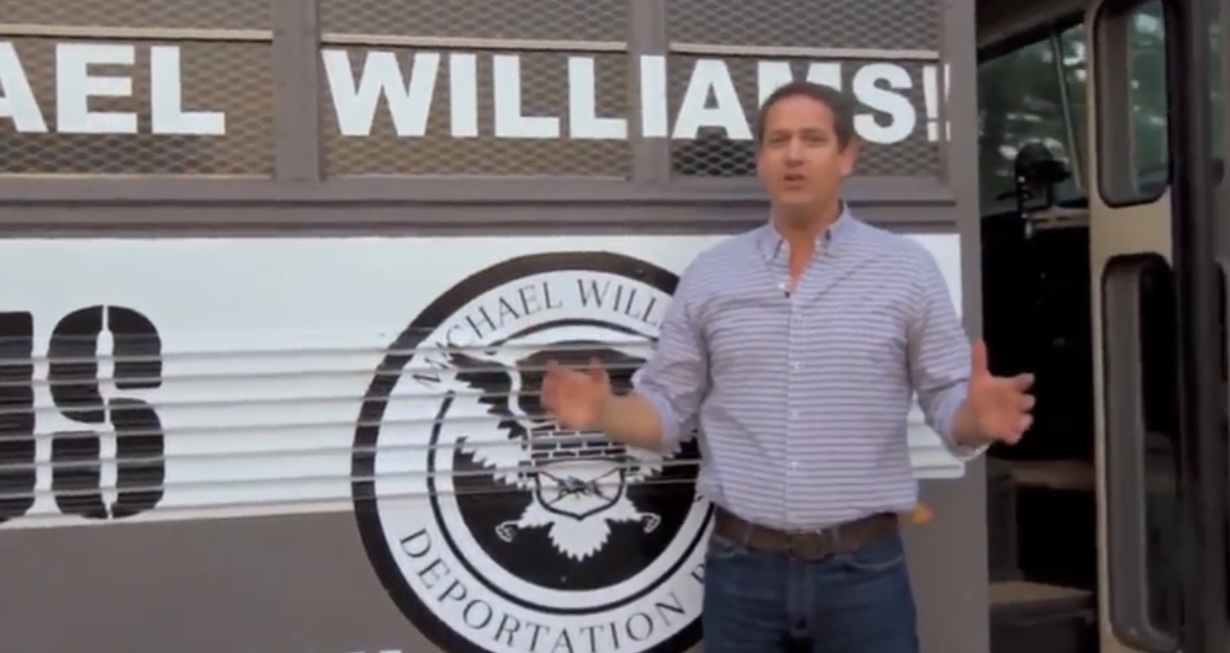 As candidates work to make their final laps around the state ahead of the May 22nd Primary Election, one candidate is drawing attention by doing things a little differently.
Senator Michael Williams, a Forsyth County Republican on the gubernatorial ballot, will make his rounds on the campaign "Deportation Bus."
According to the Williams campaign, the tour will begin by visiting sanctuary cities, including
Decatur, Athens, and Clarkston, where illegal immigrants have been the center of public debates ending with local governments offering safe havens. In many sanctuary communities, local law enforcement will not act on an Immigration and Customs Enforcement order to detain someone on an immigration offense unless a judge has signed a warrant for it. National think-tank Center for Immigration Studies has deemed Clayton and DeKalb counties as "sanctuary communities," not cities because Georgia's 2009 law is technically for cities, not counties. The Peach State also requires cities to certify that they're not sanctuary cities by cooperating with federal immigration officials in order to receive state funding.
A press release sent Tuesday said "Williams will expose how dangerous illegal aliens ruin local economies, cost American jobs, increase healthcare costs, and lower education standards."
The campaign also released a video to accompany the kickoff.
https://youtu.be/oCvtj0DqY4Y
"Illegal immigration is a fierce subject in Georgia's race for governor; only Michael Williams has the record and the plan to shut down illegal immigration in Georgia. Under Casey Cagle's failed leadership, Georgia now outranks both Arizona and New Mexico in the total number of illegal aliens. Cagle's own hometown of Gainesville has developed a reputation for turning a blind eye to criminal illegal aliens," the campaign said.
After visiting the above-mentioned communities, the bus will then venture on to other corners of the state to meet with Republican Primary voters.
You can visit DeportationBus.com to see a calendar of stops.
Republican voters are wholly expecting a runoff between current Lieutenant Governor Casey Cagle and one of the other five candidates, but at this point, it is anyone's spot to claim.
Williams just announced his TV ad Monday, which also highlights illegal immigration as a campaign priority.
TV Commercial: "Destroy The Corrupt Establishment"

Michael Williams Releases Pro-Trump TV Spot in Georgia Gubernatorial Race Blasting the Corrupt Establishment.Conservative businessman Senator Michael Williams, Republican candidate for Governor of Georgia, released a TV spot titled "Destroy The Corrupt Establishment" that will begin airing statewide excluding Atlanta."Destroy The Corrupt Establishment" highlights that Williams was the first Georgia elected official to endorse Donald Trump and that each of his opponents refused to endorse Trump, even in the General Election against Hillary. The ad also highlights that he is self-funding his own campaign, will cut taxes, deport illegals, and destroy the corrupt establishment. Williams' spokesman Seth Weathers said, "Michael Williams is surging all across Georgia. Voters are looking for an alternative to the same crop of candidates who are funded by special interests, lobbyists, and big corporate. On top of the statewide radio buy that was just released, this TV ad will solidify Michael Williams' place in the runoff on May 22nd.Weathers continued, "Casey Cagle has proven himself to be a deliberate liar throughout this campaign. Michael Williams is the only candidate who has continually exposed Cagle's lies throughout this race and is the only candidate prepared to expose him in the runoff."###

Posted by Michael Williams on Monday, May 14, 2018
You can learn more about him by following his Facebook page or visiting his campaign website.