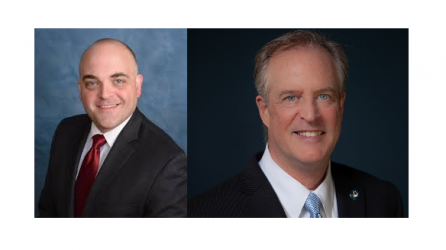 The State Board of Education last month selected a new slate of officers. Scott Sweeney (6th Congressional District) will serve as chair and Jason Downey (8th Congressional District) will serve as vice chair.

"I look forward to working with Scott and Jason to pursue continued improvements in Georgia's K-12 public schools and expanded opportunities for our students," State School Superintendent Richard Woods said. "They are both upstanding individuals with strong experience in education governance, and Georgia's students will benefit from their leadership."
Scott Sweeney is a Senior Business Advisor for InPrime Legal, a business law firm recognized as one of four 2019 Small Business ROCK STARS by the Georgia Department of Economic Development and the Georgia Economic Developers Association. Scott served as an eight-year, two-term elected member of the Cobb County Board of Education in roles including the Board Chair, Vice-Chair, Budget Liaison, and Facilities & Technology Committee Liaison. He currently serves as a member of Georgia's Career, Technical, and Agricultural Education (CTAE) Business & Advisory Committee and as a member of the Cobb Chamber of Commerce Government Affairs Committee.
He is the past president of the Georgia Education Committee representing more than 40 percent of Georgia's K-12 public education students and served several years as a legislative affairs committee member for the Georgia School Boards Association. Scott has served as a board or committee member on national, state, and local non-profit organizations. He is a frequent speaker at industry and education events and an author of articles for industry publications and education within the Cobb County community. Scott earned his Economics degree at UCLA. He and his wife, Sandy, reside in East Cobb with their two children.
"It's an honor to serve as Chairman of the State Board of Education," Sweeney said. "I look forward to working with Governor Brian Kemp, Superintendent Richard Woods, and my board colleagues as we all strive to do our best serving Georgia's K-12 students, their families, teachers and administrators."
Jason E. Downey was appointed by Governor Brian Kemp as the 8th Congressional District's member of the State Board of Education in April 2019, and previously served on the Macon-Bibb County Board of Education from 2013 to 2017 where he held the positions of Vice-Chairman, Treasurer, and Legislative Liaison.
Downey graduated in 2000 from Marshall University in West Virginia with a Bachelor of Arts in Communication Studies, and in 2003 from Mercer University Walter F. George School of Law with his J.D. He currently practices law as in-house counsel for Allstate Insurance Company. Downey is married to Connie who has been an elementary counselor in Jones County for 20 years. They live in Macon with their daughter Cate. Downey also coaches competitive travel softball in his spare time.
"Chairman Sweeney and I share a common vision for the Georgia Board of Education, and I look forward to working with him, Governor Kemp, Superintendent Woods, and our fellow board members to continue enhancing Georgia's public education system," Downey said.​