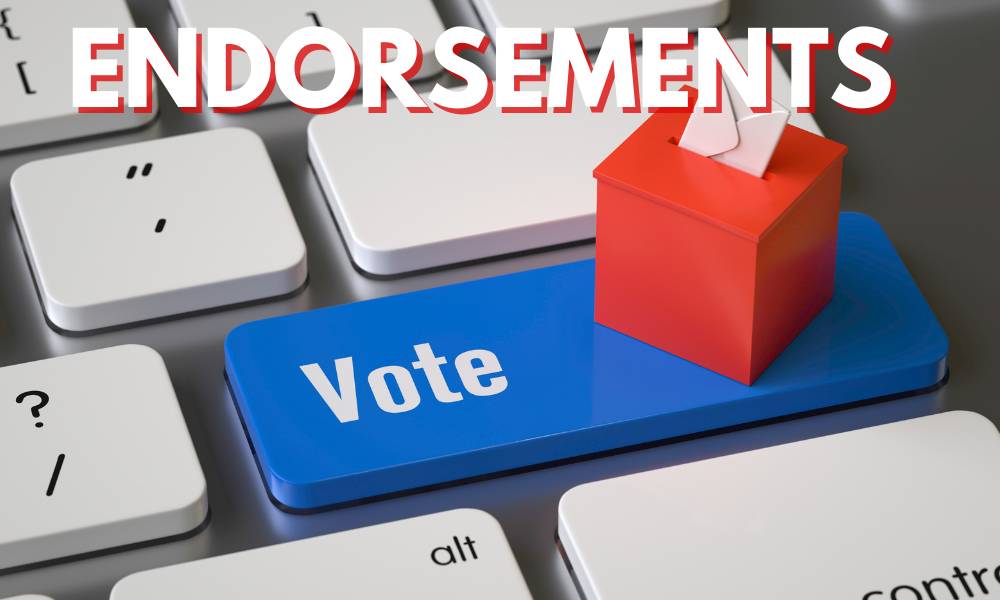 Political endorsements from individuals, organizations, and other elected officials continue to roll in as candidates embark on the final week of early voting ahead of November 3rd.
Shane Hazel – Jon Ossoff – David Perdue U.S. Senate race
Sen. Tim Scott: David Perdue is the Statesman Georgia Needs
"If there were more bipartisan problem solvers like David Perdue in the Senate, we'd be better off as a country."
Read Senator Tim Scott's piece in the Augusta Chronicle here

President Barack Obama Endorses Jon Ossoff
President Obama on Ossoff: "I know he's got what it takes to stand up to corruption in Washington and protect health care for families in Georgia."
"Jon's wife, Alisha, is a OBGYN doctor," says Obama, highlighting Dr. Alisha Kramer's work as a physician in Georgia. "Alisha knows if her patients lose their insurance, they won't be able to afford their care. So Jon will defend the protections for pre-existing conditions I fought so hard for."
Georgia Chamber Endorses Senator David Perdue For Re-Election
"The Georgia Chamber endorses Senator Perdue because he truly knows and cares about Georgia small businesses, our large employers, family farmers, foresters and manufacturers," said Georgia Chamber President and CEO Chris Clark. "He has grown up in Georgia's communities, attended Georgia schools, and he actually knows Georgia's hard workers, seniors, and students. We have watched him tackle big and small issues from deepening the Port of Savannah to supporting the Marine Corp Logistics Base in Albany and securing funding for Georgia's family farmers. Senator Perdue has consistently reached across the aisle and across the state. He has the heart of a true public servant and is exactly what we need in Washington D.C."
Alliance for Retired Americans Endorses Jon Ossoff 
"Jon's positions demonstrate a strong commitment to ensuring that all Americans have the  secure retirement they have earned. We welcome his leadership on issues such as strengthening and expanding Social Security and Medicare and protecting them from cuts," Roach, Peters, and Fiesta said. "Our members support his candidacy because of his belief in more affordable health care, including lower drug prices, pension security, and quality long term care. The Alliance for Retired Americans believes that Jon's election to the U.S. Senate will enhance the quality of life for older Americans."
National Federation of Independent Business (NFIB) endorsed U.S. Senator David Perdue
"Small business owners need representatives in Congress who are strong and reliable now more than ever," said NFIB National Political Director Sharon Sussin. "Senator David Perdue has proven himself to be a true champion for our members and we are proud to endorse him today for re-election."
Congressional Black Caucus PAC Endorses Jon Ossoff for U.S. Senate
"Jon Ossoff is committed to ensuring that every Georgian has access to health care, that our economy works for everyone and that we are able to root out corruption," CBC PAC Executive Director Yolonda Addison said. "Congressional Black Caucus PAC is proud to endorse him for the U.S. Senate in Georgia. We look forward to welcoming him in the Senate so that he can vote to ensure every American has health care, pass a new Civil Rights Act and Voting Right Act, and put working families and small businesses first." 
Jungle Primary for Seat Currently Held by Kelly Loeffler
The 21 names which will appear on the ballot are as follows:
Al Bartell (Independent)
Allen Buckley (Independent)
Doug Collins (R)
John Fortuin (Green)
Derrick Grayson (R)
Todd Greene (I)
Annette Davis Jackson (R)
Debra Jackson (D)
Jamesia James (D)
Wayne Johnson (R)

DROPPED OUT BUT NAME NOT REMOVED

Tamara Johnson-Shealy
Matt Lieberman (D)
Kelly Loeffler (R)
Joy Felicia Slade (D)
Brian Slowinski (L)
Valencia Stovall (Independent)
Ed Tarver (D)
Kandiss Taylor (D)
Raphael Warnock (D)
Richard Dien Winfield (D)
Georgia Public Service Commissioner Tricia Pridemore endorsed Doug Collins for U.S. Senate.
"Doug Collins was a conservative leader in the Georgia House and in Washington. Doug is the proven conservative choice to represent Georgians in the U.S. Senate," said Commissioner Tricia Pridemore. "I've known Doug Collins for over a decade. He is a man of faith, he loves his family, he loves and knows Georgia, and he is a strong conservative fighter. If Doug Collins is good enough to defend President Trump and uphold our Constitution, he is certainly good enough for Georgia in the United States Senate."
Former Acting Director of National Intelligence Richard Grenell endorsed Kelly Loeffler in her race for U.S. Senate. Acting Director Grenell served as President Trump's U.S. Ambassador to Germany from 2018-2020. He was appointed by the President to serve as Acting Director of National Intelligence from Feb – May 2020.