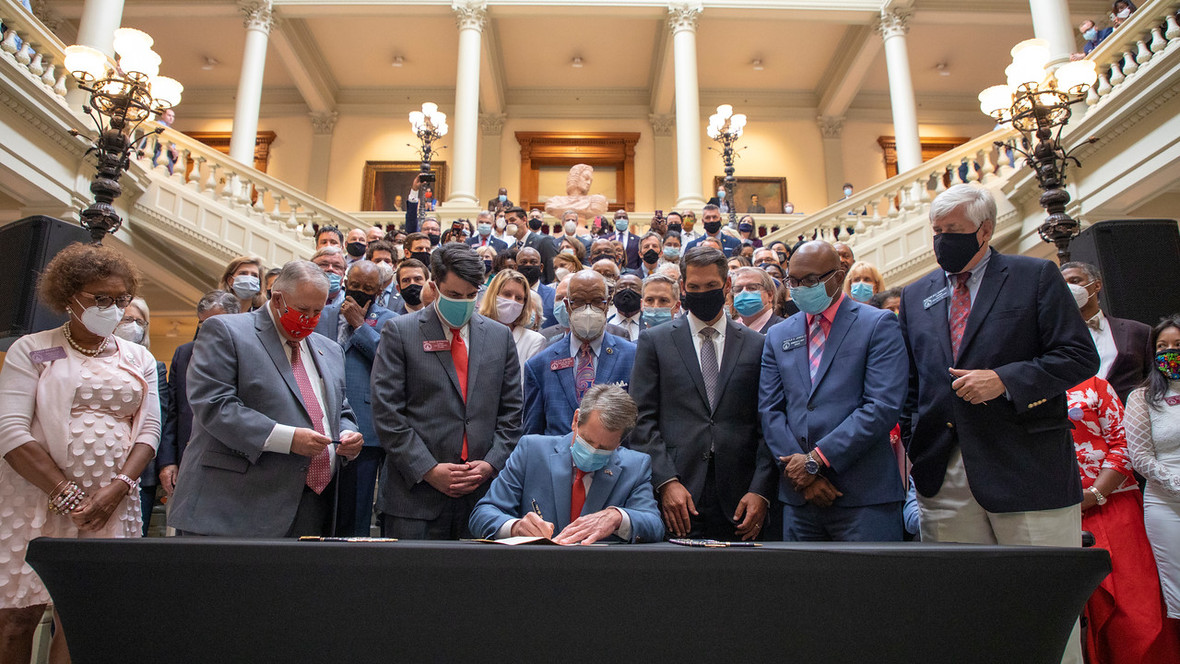 The Peach State is stricken from the list of states that does not have a hate crime law.

Lawmakers approved the measure in its entirety Thursday, one day before the Georgia legislature adjourned for 2020, and Governor Kemp signed the bill into law Friday. The measure passed the House in a vote of 127-38. In the Senate, the measure passed 47-6.
The final version provides sentencing guidelines for anyone who commits a crime based on race, sex, sexual orientation, color, religion, national origin, mental disability, or physical disability. The guidelines would apply for felonies and in misdemeanor offenses of simple assault, simple battery, criminal trespass, battery, and misdemeanor theft.
"[W]e took an important, necessary step forward for Georgia. We stood together as fellow Georgians to affirm one simple but powerful motto: Georgia is a state too great to hate," said Governor Kemp. "The signing of HB 426 is a sign of progress and a milestone worth applauding. This legislation will enhance public safety and ensure that justice is served for all Georgians – regardless of race, gender, religion, nationality, or sexual orientation. Today we reaffirmed our desire to put progress ahead of politics. While this legislation does not right every wrong, it is an important step, and we will continue to do our part as state leaders to ensure that Georgia is a place where all people can live, learn, and prosper. Working together, will continue to fight for fairness and do the right thing – even when no one is watching."
"On this historic day, we have made it clear that Georgia rejects hate," said Speaker David Ralston. "House Bill 426, a bipartisan piece of legislation, demonstrates that Georgia is a welcoming state to each and every person regardless of their race, religion, gender or sexual orientation."
But not everyone is pleased.
The Georgia NAACP and the mother of Ahmaud Arbery both condemned Brian Kemp's actions on hate crimes and police protections.
Wanda Cooper-Jones, mother of Ahmaud Arbery, said Friday, "Though we stand in full support of all law enforcement, we believe that HB838 is more dangerous to our community than HB426 is good. To see the legislature prioritize HB 838 instead of repealing citizens arrest is heartbreaking and does not do justice for my son."
Rev. James Woodall, President of the Georgia NAACP, echoed her statements: "This compromise in the political process will forever ring throughout history as a signal that Black lives are a bargaining chip toward a political end and dead, black bodies are a expendable commodity in the halls of legislative power."
The NAACP said Friday that it will continue having dialogue between elected officials to ensure that there is "a robust legislative package in January that addresses codified racism and will move Georgia in a direction that all people will truly be protected."
House Bill 426 had a long path to passage, beginning back in 2019. The Senate, led by
Lieutenant Governor Geoff Duncan, refused to take up the bill during the 2019 legislative session and the first half of the 2020 session.  It was not until the death of Ahmaud Arbery in Brunswick made headlines across the country that Duncan decided to give consideration to the legislation due to the political environment that gave way for his support.
The bill was revived two weeks ago when lawmakers returned to the Capitol after a three month COVID-induced hiatus and Duncan held a press conference seeking to overhaul the legislation all on his own. Duncan sought to include veteran status, homelessness, those exercising their First Amendment, and those participating in civil rights activities to the list of protected people – though he garnered little support for his idea.
Now, only Arkansas, Wyoming, and Indiana are without hate crime legislation.