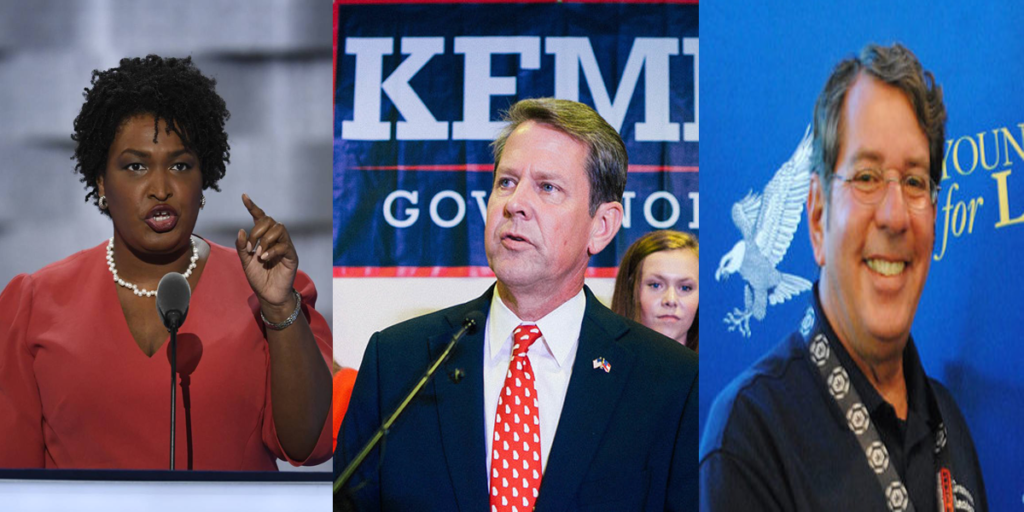 Three candidates are vying to become Georgia's next Governor. Stacey Abrams, Brian Kemp, and Ted Metz will face off in the November election.

One of the more divisive issues among voters is education and what each candidate plans to do with the mega budget allocated to education by the state each year. In fiscal year 2019, the state provided upwards of $9.8 billion for 1.7 million public school students, an increase of $353 million over FY 2018, and education already accounts for more than 50% of the annual budget for Georgia. Whether it's because you have children in the school system or merely because you're a taxpayer, education policy is important, as it is a duty guaranteed by the state Constitution.
So where do the gubernatorial candidate stand on education?
---
Stacey Abrams (Democrat)
Stacey Abrams has a nine page plan on her campaign website dedicated to ideas and reasoning, as well as costs, for her K-12 initiatives.
Among her education platform points are:
A promise to fully fund our public schools and protect them from privatization. She is opposed to private school tax credits and vouchers and has promised to veto any legislation in favor of either.

Favorability of the adoption of a new funding formula.

A desire to increase wrap-around services at schools like mental health, primary health, and dental care.

Commitment to repeal campus carry law in Georgia

Abrams has suggested that Georgia's private school voucher program be eliminated and the taxes collected be redirected to other initiatives, like daycare for those aged 0-3.

Support for school resource officers across the state, with help from the state.

Creation of a Governor's Youth Council to encourage the youth to get involved in their communities and to promote summer employment

An effort to make technical college free and a push to make college 'debt-free'

Make HOPE 2.0 a reality with 'need-based' qualifications, not just merit-based. (

$100 million budget

)

With mandated entrance and exit reviews for students at public universities

Defend the rights of DREAMers in the higher education system

Provide free SAT/ACT testing
Abrams supports increased state funding for transportation of students to and from school, more dollars to the 4-H youth development programs, STEAM Afterschool Initiatives and library systems. Her higher education plan tops $100 million, her childcare program for 0-3 years old totals $350 million, and no estimate was provided for the K-12 plan.
Abrams says on her website that she opposed Governor Deal's Opportunity School District program, which she did in 2016 but it passed anyway and was rejected by voters. The legislature returned to pass similar legislation without approval by voters and Abrams voted in favor of that measure in 2017.  
Abrams has been endorsed by the Georgia Association of Educators and touts saving universal pre-K from cuts and preventing new requirements from being implemented on the HOPE scholarship.
Other details: Abrams has been endorsed by Hillary Clinton, Senator Bernie Sanders, former President Barack Obama, former President Jimmy Carter, former Governor Roy Barnes, 3 Congressmen from Georgia and many more.
You can learn more about Stacey Abrams by visiting her website.
---
Brian Kemp (Republican)
On his website, Kemp touts a plan to 'fully fund' education. FY 2018 was the first year in over a decade that school districts across the state didn't see austerity cuts. Kemp promised to build on Deal's achievement and has said in interviews with AllOnGeorgia that he would like to see changes to the QBE formula. His website also says 'there's no amount of money either that can magically make all students – regardless of zip code – reach their full potential."
Kemp also says on his 'Issues' homepage that he would 'raise teacher pay,' but there are no specifics.
Kemp has not taken a position on the Opportunity School District legislation and has not called for changes to the campus carry laws in the state.
Other details: Kemp has been endorsed by President Donald Trump, Vice President Mike Pence, GeorgiaCarry.org, and a number of business leaders.
You can learn more about Brian Kemp by visiting his website.
---
Ted Metz (Libertarian)
Ted Metz has a unique approach to education and his campaign initiatives are compiled below.
Metz supports:
Getting the government out of education and advocate for less influence from the federal government

Teaching the student to develop a lifelong passion for learning new things

Return to vocational training using apprenticeship programs

Teaching health & nutrition, early child development, sex education in the area of how pregnancy occurs and how to avoid it

Teaching law and how our legal system works

Teaching personal finances and how our financial system works

Teaching the proper role of government and self-governing.
Metz supports the campus carry law on the books in Georgia.
In a YouTube video, Metz had this to say about the education system:
"We are not educating our children to be critical thinkers. We are educating our children today to accept what authority tells them. They get upset if they have to think about something and that's wrong. So do as you're told, don't use your brain, is just so wrong. So the governor's control over the education budget would allow me to strike out some of these ridiculous Common Core educational standard subject matter and steer it toward developing a child's mind, developing their curiosity, developing their critical thinking skills as well as bringing in industries for apprenticeship programs.
We need to get kids out of high school job-ready and we don't have that now. Kids today getting out of high school, very few of them have any ambition to do anything other than go to college with some sort of education grant, scholarship or loan. So they delay going into the workforce and then graduate with $75,000 to $100,000 debt.
If we had vocational training in schools, if we had skills development in schools, and focused on health and nutrition and how to take care of your body…We teach now for everyone to rely on government from cradle to grave and now we have a bunch of entitled kids wanted more entitlement.
They're being trained wrong on purpose to keep them dependent."
Other details: Metz's campaign slogan is, "Leave Me Alone – Don't Tell Me What To Do – Don't Steal My Stuff – Don't Hurt Others" He touts himself as a "Red, White & Blue Statesman."
You can learn more about Ted Metz by visiting his website.
---
The deadline to register to vote is October 9, 2018. Early voting begins October 15. Election Day is November 6.