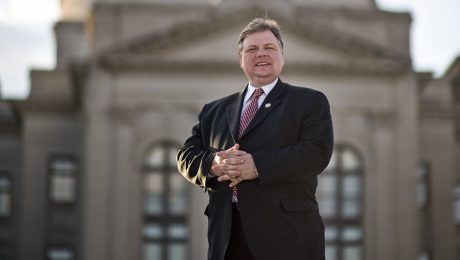 A Georgia state Senator well known for his attempts to limit First Amendment protections has filed a resolution that would address people who lie to state Senators. 

State Senator Jeff Mullis, a Republican from northwest Georgia, filed Senate Resolution 459 at the end of the 2019 legislative session but just recently appeared before the Senate Ethics Committee for a hearing on his initiative. The measure is co-sponsored by Senators Zahra Karinshak, Mike Dugan, John Kennedy, and John Albers. The late Senator Greg Kirk's name also appears on the measure as an initial co-sponsor as the bill was filed before his untimely passing in December.
The resolution would prohibit anyone who is deemed to have lied to lawmakers during the course of official business from testifying during the committee hearing process – which includes members of the public, lobbyists, and activists.
Senate Resolution 459 specifically reads that in the event that the Senate "determines that a nonmember of the General Assembly has lied in testimony presented to the Senate, or one of its committees, such person shall be subject to contempt and will be prohibited from presenting further testimony to this body for the remainder of the session in which the untruthful testimony occurred."
If an individual is found to have lied once and sanctioned for it, a second sanction will result in a lifetime ban on Senate testimony, meaning the person could never appear before a committee to exercise their First Amendment right again. 
Additionally, the resolution states that the Senate "reserves the right to refer the matter to the appropriate authority for lawful prosecution," but it makes no mention of how lies would be determined, who would be responsible for such, and the process for considering untruthful information. 
The resolution also excludes members of the General Assembly and only considers 'non-assembly members.'
You can read the resolution here.
185991