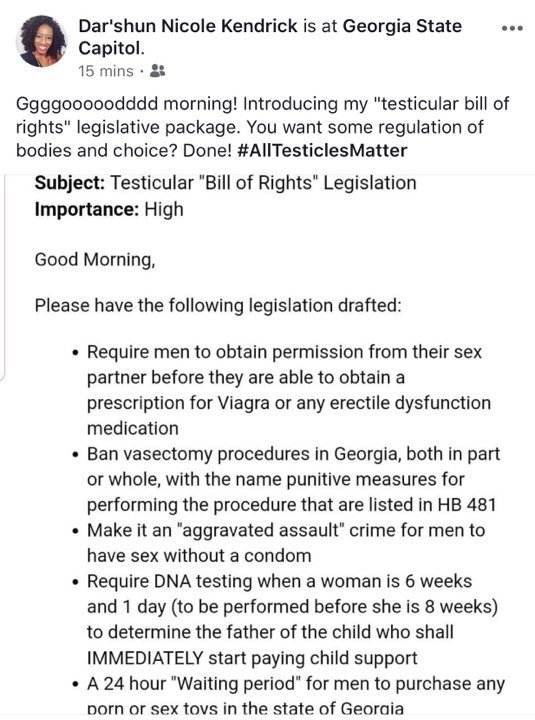 State Representative Dar'shun Kendrick posted on social media early Monday morning to announce that she was having legislative counsel draft a bill to regulate various aspects of men's bodies and their sexual activities. The post came after last week's passage of a restrictive abortion bill in the Georgia House,

one that, if approved by the Senate, would limit abortions in Georgia to 6 weeks.
Kendrick is a Democrat whose district encompasses DeKalb and Gwinnett counties. She has been a vocal opponent to the "heartbeat bill," which provides exceptions to the 6 week restriction only if a police report is filed for rape or incest.
Current law permits abortions up to 20 weeks in Georgia and the rollback to 6 week would be one of the most restrictive in the nation. HB 481, sponsored by Republican Ed Setzler, also seeks to count babies in the womb toward the population, consider them 'dependent minors,' and open up medical records of physicians and hospitals related to abortion to law enforcement.
You can read the heartbeat bill here. If the Testicular Bill of Rights bill is filed Monday, it will be available to the public on Tuesday. The idea is not a new one and a similar measure was filed back in 2012 after the fetal pain bill was introduced in Georgia. In Texas, a lawmaker went as far as to file legislation to fine men who masturbated, and the prohibition of vasectomies has been a talking point in Oklahoma and Missouri. 
The heartbeat bill that passed on Thursday has already drawn criticism over claims that it is unconstitutional because the 1973 Roe v. Wade decision prohibited the state regulation of abortion during the first trimester. Governor Kemp has said he will fight any court challenges and will sign the bill as soon as it is passed by the Senate.
The bill has been assigned to Senate Science & Technology committee chaired by Senator Renee Unterman.